Podcast
37. Mario's Miraculous Mushroom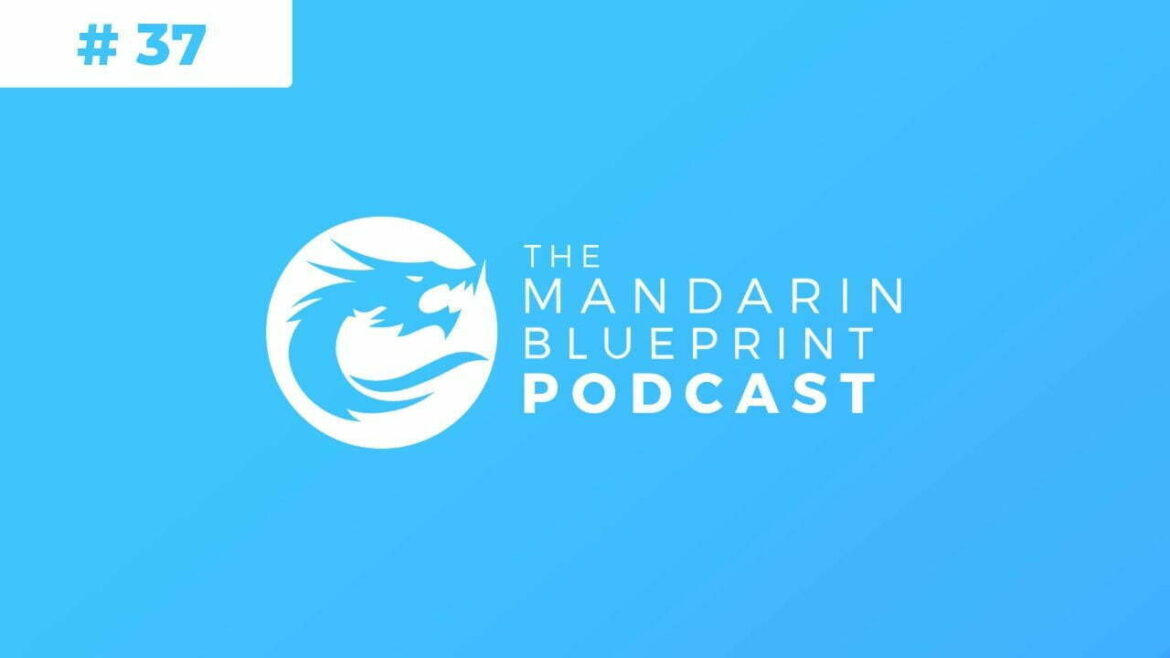 37. Mario's Miraculous Mushroom
欢迎光临! Welcome!
You can now subscribe to the podcast by the links below, or you can subscribe by copying the following URL into your favorite podcast APP.
欢迎光临! Welcome!
You can now subscribe to the podcast on iTunes, Stitcher, Spotify, or you can subscribe by copying the following URL into your favorite podcast APP:
https://www.mandarinblueprint.com/feed/podcast/
The Mandarin Blueprint Podcast focuses primarily on The Mandarin Blueprint Method online curriculum. Creators Luke Neale & Phil Crimmins answer questions and comments, discuss topics related to China and Mandarin learning, and have special guests.
37. Mario's Miraculous Mushroom
Updates: We've added a new FREE Anki deck called Conversation Connectors! You can download it here (comes with a PDF as well).
00:30

Props!
This blog post explains the theory behind props and Chinese character components.
NATHALY DEVIA ON "PICK A PROP 讠"

The sing of Information in touristic places.

JOHN HAY ON "PICK A PROP 九"

A "cat 'o nine tails" can be swung spectacularly in movie scenes.

CONNOR GRIFFITH ON "PICK A PROP 中"

Haha, thank you for that little tip on the side about darts. I'm glad someone pointed it out.

IJA AMRAHI ON "PICK A PROP ⺧"

What do you call a cow with no legs?

Ground beef.

CONNOR GRIFFITH ON "PICK A PROP 只"

After some thought I'm going with the lone wolf idea (even though they are usually in packs)

WILL HENRY ON "PICK A PROP 耂"

I'm going to give one of my actors a long white beard – whether male or female.

WILL HENRY ON "PICK A PROP 者 "

A big pile of doo doo

WILL HENRY ON "PICK A PROP 孝"

I'll use a whip since its used to get people or animals to follow orders and be obedient.

WILL HENRY ON "PICK A PROP 五"

Five Guys is a popular burger restaurant in the US, so I'll choose a humongous hamburger

WILL HENRY ON "PICK A PROP 广"

A few objects associated with vast area or distance. A sextant, binoculars, passport, plane ticket. I'm going to use the binoculars.

WILL HENRY ON "PICK A PROP 求"

A DJ takes requests. I'll have a DJ spinning some sick beats in my related scenes.

MAKAI ALLBERT ON "PICK A PROP 下"

Chose roots… which led me to Groot from guardians of the galaxy.

SANDY ON "PICK A PROP 午"

Can I choose a bed ?
Usually, noon for me is the time I take a nap

Or maybe a clock clicking 12 is better? To be able to use it more as a prop.

JOHN SPRAGUE ON "PICK A PROP ?"

I'm surprised Phil didn't think of it as a drum key. Looks like one to me.

JOHN SPRAGUE ON "PICK A PROP 午"

I agree with Daniel. It looks like Clint Eastwood with his hat cocked to the side smoking a cheroot in The Good, The Bad and The Ugly. Gary Cooper was in High Noon, not Eastwood. I'm going to use cowboy boots too.

WILLIAM EDMEADES ON "PICK A PROP 亼"

Yellow Pages phone book. As 亼 looks like the "Finger Walking" logo.

WILL HENRY ON "PICK A PROP 免"

I have a phobia of wasps so imagining a giant wasp buzzing around my set is hard to forget. It also works to create motivation for my characters to act out the scene.

WILL HENRY ON "PICK A PROP 买"

How about a big QR code? Haha people who live in China will definitely get this one. To make it easier to visualize you could imagine it on one of those little signs you find at the checkout counter.
12:20

Actors!
This blog post explains the theory behind actors and Pinyin Initials.
CONNOR GRIFFITH ON "CASTING CALL ZH- 10/55"

Jackie Chan

CONNOR GRIFFITH ON "CASTING CALL ER 12/55"

I already chose Jackie Chan for my Zh- initial so instead I'll go with the next best person being Yao Ming

SANDY ON "CASTING CALL 2/55"

if you can't remember anyone with "g" now, search ur contacts or FB friends.
it's really helpful and I found many options I can choose.

CONNOR GRIFFITH ON "CASTING CALL YI- 18/55"

Eve (Adam and Eve)… Depending on your level of skepticism this may not actually be a good choice. I guess I'm going with Ivanka Trump instead.

ERIN H ON "CASTING CALL P- 28/55"

I chose Paul Giamatti for this one
14:55

Sets!
This blog post explains the theory behind sets and pinyin finals.
CONNOR GRIFFITH ON "SET THE SCENE -AO 7/13"

When ever I think of the word cow I think of farms. I have worked on a farm before and thought this would be a decent association. Do you think this association is potentially too vague or could cause me to be confused with a different set?

SANDY ON "SET THE SCENE 2/13"

I have two option, my bro's name is "Andrew".
he is practically with me everywhere but I barely spent time in his room and one of my friends' name is "sandy", I went to her home only once.
which one should I choose?

better to choose "church" where I first met my friend Sandy and where we usually spent time, right?
20:40

Movies!
This blog post explains the theory behind Movie Scenes and learning characters.
CHAD RESSLER ON "MAKE A MOVIE 风"

Location: Current home (where i got ENgaged) [outside the entrance]
Actor: Phil Crimmins
Props: Witness Stand and Hedge Clippers

Relaxing on my day off, I hear a knock at the door. Opening the door, the person says "Remember me, I'm Phil Crimmins with Mandarin Blueprint". Apparently, he has tracked me down from when I lived at my first apartment. He proceeds to tell me that he wants to give me another chance to enroll in his course by teaching me another word. This time I make him stay outside the entrance. He goes to his car and pulls out a witness stand and a pair of hedge clippers, and he puts the hedge clippers in the witness stand. Just as he's about to explain it, a huge gust of WIND comes and almost knocks him over. Phil says, "That's amazing, as I was just about to tell you that by putting these two props together you make the Chinese word for WIND". I'm not convinced yet that I could learn Chinese using his method, but told him that I would think about it.
23:40
SANDY ON "SPECIAL EFFECTS & MEMORY ATHLETICS"

okay, I don't know if I'm doing this right or not xD
prop: stick (my teacher stick, she would take it around everywhere in class ) + cigarette
sets: childhood kitchen
actors: shady ( childhood friend in school, we always fought and he was kinda the bad naughty guy )

so scene as follow: we r in my childhood kitchen, I'm sitting beside the sink and holding the stick.
shady is beside the kitchen door smiling at me that annoying smile holding my exam paper in one hand as in "try and get it" , I got full mark in exam 10/10 (I was a nerd in school) and smoking in a dramatic way with his other hand totally unaffected by me and raising his eyebrows in anticipation and mocking as "show me what u got".
I throw the teacher's stick at him in slow motion and he dodges it easily then laugh.
27:40
SANDY ON "MAKE A MOVIE"

prop: twins (my sibling), stick (my childhood teacher's stick )
sets: outside the church, in front of the entrance
actor: Gamal (part of family + he is so religious and has a high status in church + he hates noise )

the scene as follow: in front of the church entrance the twins are thirsty ( we have this tradition in the church that some fasts we shouldn't eat or drink for a specific time ) so they searched the ground for something to play with to distract themselves.
they found a stick and fought over it causing so much noise.
so Gamal saw them when he was about to enter the church, scolded them about the noise and took the stick from them.
30:08
CLAYTON LEE ON "MAKE A MOVIE 奇"

Chi (my Qi character) comes into the kitchen in full body plaster, as she has been in a terrible accident.

Upon seeing her, I squeeze my soup CAN (可) and a Mario Mushroom (大) pops up from the top of the can.

She takes the Mushroom and makes a MIRACULOUS recovery, along with the Mario growing up sound effect.
31:32
WILLIAM EDMEADES ON "MAKE A MOVIE 首"

For 首 shǒu – The Head, I've got Sean Connery (sh-) in the living room of my -ou set with a Giant Nose (自) and a Viking Helmet (䒑) as props.

Sean, after serving many decades as the CEO of Sean Enterprises, is now ready to pass the torch on to someone else. Inviting the Giant Nose to sit at THE HEAD of the dining table, he bestows his Viking Helmet onto the top of the Giant Nose. The Nose, so overwhelmed with gratitude, sheds a tear, and Sean gives a warm, affirming nod. The Nose is now the new HEAD of the company.
32:52
SANDY ON "MAKE A MOVIE 什"

prop: Ahmed Masher (Arabian actor/Muslim) + Shady (childhood friend)
sets: school (in class specific for learning stuff like cooking, knitting .. etc kinda similar to the kitchen)

so shady enter the class and saw Ahmed Mazher holding crucifix over the food before eating, so he is so confused and like (what.. ?!) like in meme you mentioned above.
34:32
SANDY ON "MAKE A MOVIE 口"

props : cigar , stick , horse head statue.
actors : Kang ( My first Korean teacher )
set : one of my close family house, in living room

so scene as follows: Kang Ssn was sitting on the couch in the living room watching some Korean youtube song when the horse head hiccuped. he was so surprised that he took the stick that was beside him and poked the horse's throat to see if its real or not, and that's when a huge cigar got out of the horse's mouth and stood right under it.
the horse smiled with his mouth.
35:47
IJA AMRAHI ON "MAKE A MOVIE 使"

Keyword : To Cause
Actor : Sean Connery
Set : My childhood home
Props : Jason Momoa, Razor Blade, Julius Caesar

Sean Connery the British Spy and Jason Momoa, the guardian of Atlantis, found out on Twitter that Julius Caesar was back to conquer his lifelong mission of world domination and CAUSE mayhem to the peaceful modern world.

Sean, with Jason, kidnapped Caesar as he was roaming around looking for a "Roman Embassy" and hid him inside my childhood bedroom. 3 of them stood facing each other. Caesar had a fierce look on his face and Sean was anxious about their possible next CAUSE of action.

Jason told Sean there was no CAUSE for concern. Even though he was once an emperor, Caesar had a weakness.

Jason then took a razor blade, brought it closer to Caesar's neck …

.. and shaved all of Caesar's hair!

Caesar, who was very self-conscious about his receding hairline, was terrified, exerted all his strength to escape, and went into hiding.

Sean blamed Jason for being too kind to Caesar. Jason then explained that it was the best he could do to keep the scene non-violent.

——
P/s: It is reported that Caesar was last seen in China, pretending to be a Chinese teacher online – laced with hidden propaganda for his CAUSE.
38:47
IJA AMRAHI ON "MAKE A MOVIE 便"

Keyword : Convenient
Actor : Beyonce
Set : My anatomy Lab (AN-)
Props : Jason Momoa, Jabba the Hutt

Beyonce (wearing her golden 2017 Grammy outfit) was captured by Jabba the Hutt in the backyard of my anatomy lab.

Jason Momoa then appeared, holding a cup noodle he bought from 7-Eleven, and casually demanded the release of the prisoner (in exchange for food) in some unintelligible language.

Jabba refused ("There will be no bargain, young Jedi"), grabbed the cup noodle from Jason and gobbled everything down in seconds.

Uh oh. It was one of those super spicy Korean cup noodles and Jabba had to run to the bathroom, giving Jason and Beyonce a chance to escape.

Beyonce asked Jason about the words he spoke, and Jason replied "That's easy. I speak Jabbascript!"

Beyonce then marveled at how CONVENIENT it was to be able to speak foreign languages and how she probably should start learning one. Maybe Chinese?
40:58

Miscellaneous
WILLIAM EDMEADES ON "MAKE A MOVIE 廿"

With 988 lessons completed, this is officially halfway through the course! ?
Bring on the other half!!
41:42
JOHN SPRAGUE ON "(BONUS) 4 COMPONENTS OF HABIT BUILDING PART 2: ROUTINE"

My "cue" to study 4 days a week is arriving at work. Study an hour, movie, repeat. Anki when I wake, sleep or have a meal. Pimsleur driving to and from work. Very comfortable schedule.

I wish I had pronunciation practice exercises to use in the car/on my phone.
44:05
DAMIAN KISSEY ON "NASAL FINAL IONG (YONG): 穷 QIÓNG,凶 XIŌNG"

Same pinyin as "big brother " but different hanzi?
44:34
JOHN SPRAGUE ON "BONUS: SRS – THE FREQUENCY GAME"

You can reset the card count to zero for all decks making them all "new" if you were using ANKI without fully understanding how it is supposed to work…. not that I needed to do that… I swear.
44:59
JOHN SPRAGUE ON "(BONUS) HOW TO DEVELOP GREAT STUDY HABITS PART 4: BELIEF"

I'm grateful for your passion for the subject and positivity.
45:19
RUDAN ANGEL VIERNEZA ON "SIMPLE FINAL Ü (YU) QUIZ"

Hello, it's very useful to me at my work, thank you very much… every step was very interesting to me… keep up the good work…
45:45
ASTÈRE NDAYIRATA ON "SAMPLE LESSON – NEW VOCABULARY UNLOCKED"

Good job guys.
45:58
WILLIAM EDMEADES FROM EMAIL

Hey guys,I was reading one of the Anki sentences and it mentioned "老钟", which translated as "Brother Zhong" but I thought it meant "Old Clock". So I was wondering if there was a way to tell Chinese names and words apart?William