Episode
73. Coronavirus Update from Mandarin Blueprint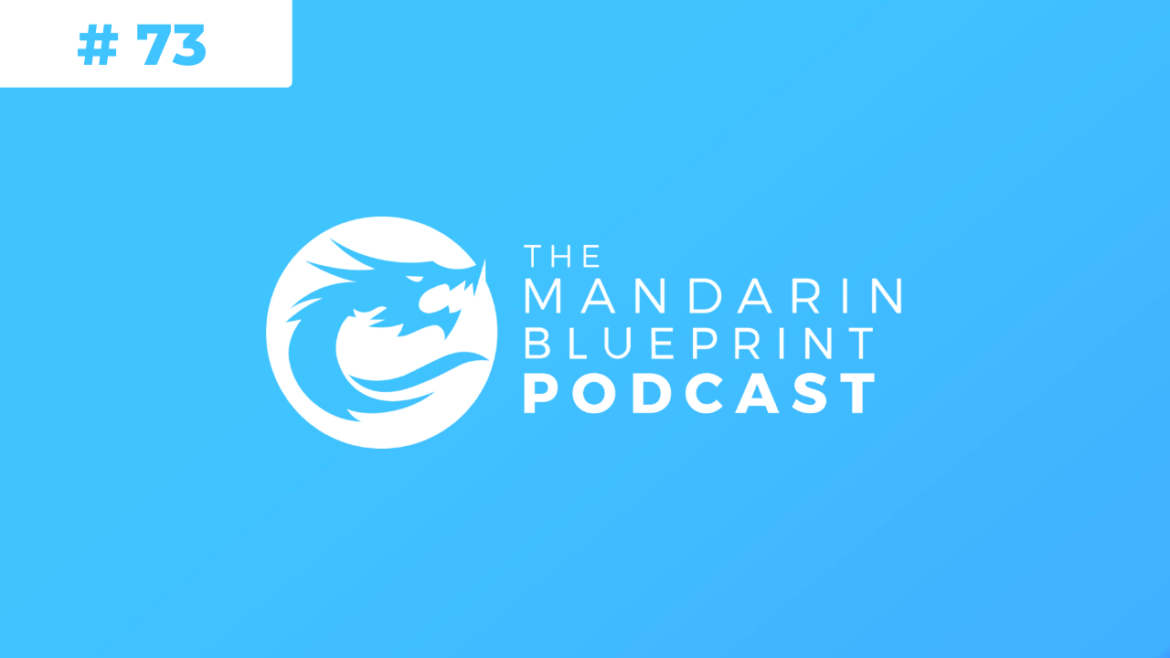 73. Coronavirus Update from Mandarin Blueprint
Podcast Duration: 01:03:08
欢迎光临! Welcome!
You can now subscribe to the podcast by the links below, or you can subscribe by copying the following URL into your favorite podcast APP.
The Mandarin Blueprint Podcast focuses primarily on The Blueprint online curriculum. Creators Luke Neale & Phil Crimmins answer questions and comments, discuss topics related to China and Mandarin learning, and have special guests.
Want to learn how to speak fluent Chinese fast? Join our free Webinar right here.
欢迎光临! Welcome!
You can now subscribe to the podcast on iTunes, Stitcher, Spotify, or you can subscribe by copying the following URL into your favorite podcast APP:
https://www.mandarinblueprint.com/feed/podcast/
The Mandarin Blueprint Podcast focuses primarily on The Mandarin Blueprint Method online curriculum. Creators Luke Neale & Phil Crimmins answer questions and comments, discuss topics related to China and Mandarin learning, and have special guests.
73. Coronavirus Update from Mandarin Blueprint
0:05

Coronavirus Update
DEV CHEN BY EMAIL

Hello Luke & Phil and everyone at Mandarin Blueprint,
Belated Happy Chinese New Year! 新年快乐! These are obviously trying times and so I wish everyone safety for this New Year.
Thanks for all the hard work you do creating such a great product.
Best Regards,

Dev Chen (曾天源)FROM 西洋参考 ARTICLE

对很多人来讲,这个春节也是生动的一堂教育课,看清楚了很多过去不理解或者不知道的事,伴随着恐惧、忧伤、焦虑、愤怒等各种情绪。
中国人长久以来迷恋"新"的事物,以为"新的"就是"好的"。以为新的一年一定比过去的一年更好,以为新的手机更好用,以为新的版本更流畅,以为新的男朋友更靠谱,其实并不尽然。比如这个新型冠状病毒,令最为喜庆的中国新年蒙上一层新的阴霾。

。。。

我总觉得,人要不断超越自己的天然局限。不管是湖北人、河南人,不管是武汉人、黄冈人,再进一步说,不管是中国人、外国人,你首先是一个人。是个人,就需要有人的尊严、人的权益,需要被平等地尊重。
13:46

Grammar Tag: #GW-Helper-Finished-助词-了-完成
我早上骂了我的儿子
wǒ zǎoshàng mà le wǒde érzi
I scolded my son this morning.
我吐了
wǒ tù le
I threw up.
我早上吃了面,还吃了一个面包
wǒ zǎoshàng chī le miàn, hái chī le yíge miàn bāo
I ate noodles and a piece of bread in the morning.
17:40

Miscellaneous
ALINA DANA COROIAN FROM MB COMMUNITY

Hello there, Luke & Phil. I just heard on the podcast about the big amount of scripts and props you get as comments in the course.
As for myself I just wanted to say: I am not expecting that every of my comments to be considered in the podcasts by you. Many times I've got helping ideas from the comments of other persons. And many times there were characters that initally seemed impossible for me to imagine a script – and those times I would have loved to have some ideas from other people on the course. So these are the main reasons I share – maybe too much ? – from my own scripts. I many times think: maybe this short story of mine will help some other person which just here doesn't have any idea and feels stuck. And maybe this other person will some day share something that will help me not to remain stuck at a certain point in the course.
21:12
CAMILLE RONDEAU BY COMMUNITY

Hello!
I'm reading other people's introductions and everybody seems to have a good, serious reason to want to learn Mandarin, and I'm afraid I don't have any! Well, maybe you'll get a laugh out of how I ended up here…
I've always liked languages, and the whole process of learning to read, write and speak. I know a few European languages, but I never learned anything from outside the Western sphere. I realised I was really craving the challenge when I started talking other languages in my dreams! So I started thinking that I could start something new, on top of my busy science student schedule, just to put my mind to something else!
Why Mandarin? Here's the crazy part! So I met a really cute guy, who studied Chinese in university and taught English in Beijing for a while. He lives far away at the moment, and we won't be together before at least another six months. We're constantly talking about our love of languages, but he'd never expect me to be able to share in his passion for Mandarin. I want to learn in secret while we're living apart, and then knock his socks off. How far do you think I can get? And will you help me find the best plan/prank setting to reveal my new skill when time will come? ?
Anyway, I'm absolutely loving it so far! Luke is a great teacher!
24:30
MICHAEL ROTCHFORD ON "NEW VOCABULARY UNLOCKED! 讨厌"

What is the purpose of 太 in 我很讨厌 太 吵的地方。Is it meant I really
hate TOO noisy or is just implied? Would 我很讨厌 吵的地方 still be
correct?
25:44
HOWARD SOH ON "(BONUS) LANGUAGE LEARNING TRIPOD: ATTENTIVENESS"

Silly question – does Anki actually 'test' your pronunciation? I
thought that saying the word out loud would get picked up by Anki
(and if it matches, it tells you you're right). Have been trying
to say the words out loud for a while but nothing happens, so I
guess not though.

Can anyone confirm? And if it doesn't, at least I got lots of
practice saying "ba" in first tone! ?
28:18
YASMIN GUENDOUZI ON "(BONUS) THE LANGUAGE LEARNING TRIPOD PART 3: TIME"

First, just wanted to say I'm really enjoying this course and I
think you two have done a brilliant job in describing the tones,
tongue positions, etc.
Second, I wanted to say that I really appreciated this video
because I am moving at a very slow pace, but I'm still moving
forward. I'm one of those "busy" people. I'm working on my
masters degree and currently have two jobs. But I always make
sure to fit in some Chinese learning, even if it's only for 30
minutes. It definitely helps having a goal and being motivated,
if you're doing it half-hearted then you're more likely to give
up.
Immersion is also very helpful. I try to watch an episode of a
Chinese drama (usually ones set in Ancient China, I'm a sucker
for period dramas) daily and I've been listening to Chinese music
when I go to the gym or run. It's really been beneficial in
recognizing the different tones. I also watched the Spring Gala
this morning, and though I understood like 7% of what they were
saying, I was aware of the tone changes in the language
throughout the show. (Also wouldn't have known about the Gala if
I hadn't been listening to your podcasts on my drive to
school/work, so cheers for that!)
Point of this long comment was to say that yes, even if you have
a ton of things going on, if you truly want to learn, then there
will be time in the day. Where there's a will, there's a way.
Also, it helps that you two are fantastic to learn from, so thank
you very much for all you have done and continue to do!
30:50
DEV CHEN ON "NEW VOCABULARY UNLOCKED! 门口"

大家好!我有个问题. "门口停了台车" 和 "台车停了门口" 有什么区别?谢谢你们!年快乐呀! 平平安安!!!!

你们说:"门口有几个我不认识的人。" …. 可不可以说: "门口有我不认识的几个人" ?
37:27
RICK ANGLELAND ON "BONUS: STROKE ORDER (RULE 7 OF 12)"

I think it is in the Fluent Forever Japanese deck that Gabe
provides, that when testing the components, each Anki note also
has a card that asks for the stroke order.
Although it's also argued that learning the strokes is not
important:
1) everyone types now, even Chinese people are forgetting how to
write
2) who cares if you do the strokes in the wrong order, if you're
comfortable and the final image is correct?
39:46
RICK ANGLELAND ON "BONUS: THE CHINESE LEARNING UNIQUE PROBLEM…AND HOW TO FIX IT"

David Moser says here that even with 2000+ hanzi he still
struggled to read a newspaper because of frequent uncommon
characters (and hasn't ever read a Chinese novel).
http://www.pinyin.info/readings/texts/moser.html
So can the average Chinese person on the street actually read a
newspaper?
BTW my theory about all those cram schools across Asia is b/c the
writing is so complicated so the kids have to put in so much
extra time to learn to read and write. Apparently kids in Finland
and Italy – two countries with fairly simple spelling rules which
are almost completely phonetic – learn to read much faster than
kids in France, England, etc.
42:42
TAREQ.H ON "THE "FAKE I" IN PINYIN"

I have started the course from Pronunciation Mastery. I already
can speak a bit of mandarin as I've lived in China for two years,
but after this video I have had a light bulb moment of
realization to and can see how well this course has been
unpacked. Thanks very much teachers.
43:41
TOM ON "PICK A PROP 目"

This isn't a prop suggestion but I wanted to say that one of the
most helpful things I've found with this method is that it really
easily lets me differentiate between similar-looking component
characters. When I was just trying to rote-learn Chinese
characters I'd often get "日" and "目" mixed up when they appeared
as components in other characters, but my props for them are
totally different so that literally never happens any more!
45:06
– Course
Updates
46:41

Movies!
This blog post explains the theory behind Movie Scenes and learning characters.
CHAD RESSLER ON "MAKE A MOVIE 试"

Location: Backyard of childhood home
Actor: Sean Connery
Props: Megaphone, I-beam, arrow

I'm hanging out in my childhood home watching a James Bond movie
starring Roger Moore when I hear Sean Connery yelling for me to
come out to the backyard. I go out and i see him next to an
I-beam he has put in my yard with an arrow leaning on it. He's
also holding a bow so I'm not sure what's up. I walk over and he
tells me to shoot the arrow into a target he has set up. I tell
him that I don't know how to shoot a bow and arrow. Suddenly,
through, the megaphone, he yells at me "Just TRY". I tell him i
can't because I've never done it. He continues to stand there
yelling at me to "Just TRY" through the megaphone. I pick up the
arrow and stab him through the heart so he shuts up, and I finish
watching my Bond movie.
50:11
ALINA DANA ON "MAKE A MOVIE 走"

Prop(s):
十 Crucifix
Arnold Schwarzenegger with a big pink rocket launcher
Actor:
Zero Kiryuu (character from "Vampite Knight" anime)

Script: Zero Kiryuu in the Living Room of my *ou location, he is
WALKING in circles with his huge CRUCIFIX weapon in his hand
thinking about how to save Yuki (guest actor from the same anime
story, they are always paired together). Arnold Schwarzenegger
comes with a big pink rocket launcher on his shoulder ,
determined to exterminate all the vampires in the world. So he
launches some rockets towards Zero Kiryuu. "But I can't die
before saving Yuki" says Zero Kiryuu so he blocks the rockets
with his huge CRUCIFIX weapon, then jumps in the air and hits
Arnold Schwarzenegger from above pinnig him on the ground with
the CRUCIFIX . Then he begins to WALK again in circles around the
room trying to find a solution to save Yuki.
Johnnie Walker (new prop for 走) enters the living room , looks at
Arnold Schwarzenegger pinned down by the huge crucifix and says:
Whatever happened here, keep walking!
51:54
ALINA DANA COROIAN ON "MAKE A MOVIE 以"

Prop(s):
BUTCHER HOOK (a deformed and very sharp FISHING HOOK 乚 )
丶(Drop)
人 Mary Poppins' Umbrella

Script: YI*actor has imprisoned Mary Poppins in the Living Room
of my Childhood Home and she wants by all means to find out the
secret of Mary Poppins' ability to fly.
YI*actor has already taken Mary Poppins' umbrella by means of
force but she could not use it for flying so she threw it down
(on their right side).
Now YI*actor thinks to try finding out the secret by means of
torture. So she hangs on the ceiling a huge BUTCHER HOOK (a
deformed and very sharp FISHING HOOK) thinking to hang out Mary
Poppins there until she reveals the secret.
Mary Poppins is exhausted, loses conscience and one drop of blood
from her wounds falls towards the fishing hook.
The moment the drop of blood touches the big hook Captain Hook
appears floating in the air, gently takes Mary Popins in his arms
then he lifts up through the ceiling – while the hook, the drop
of blood and the umbrella lift up too, under his feet.
Only by means of love we can fly, he says before disappearing.
53:35
KENT BROECKELMAN ON "MAKE A MOVIE 始"

Shaq (Sh-) is in my childhood living room and he looks out the
window to see Nu (Goddess of Water 女) standing to the left of the
gazebo (台). Nu says to Shaq, "Are you ready to START"? "What are
we BEGINning" asks Shaq. Nu says "The band we talked about, "Holy
Shî" of course!"
54:43
WILLIAM EDMEADES ON "MAKE A MOVIE 偷"

Keyword: To Steal
Actor: my cousin Tyson (t-)
Set: Outside the entrance of my -ou set
Props: Chuck Norris (亻), and Two-Face from Batman (俞)

Chuck and Two-Face were having a discussion when Tyson bumps into
them both. "Oops sorry" he says, and carries on walking. They
both check their pockets and realise that they're empty! But
before they could look around, Tyson bumped into them again. They
both look down to see that all their clothes are gone! (Save for
a pair of heart-covered boxer shorts; gotta keep these scenes PG
:p)
55:46
KENT BROECKELMAN ON "MAKE A MOVIE 又"

Idina Menzel (yi-)is walking through the back garden of the
Luohe hotel (-ou) when she sees Arwen with a banana in her ear
(又). She walks over to her and asks "Arwen, why do you have a
banana in your ear?" Arwen replies "Can you say that ONCE AGAIN?
I couldn't hear you, I have a banana in my ear!"

This only works so well because of the Sesame Street skit from my
youth with Bert & Ernie.
56:55
MICHAEL ROTCHFORD ON "MAKE A MOVIE 差"

Charlie S. is inspecting the newly remodeled bathroom at my
brothers house in Arlington for compliance . Upon entering the
room he finds a sheep leaning on an exposed I-beam chewing on the
wiring. He immediately fails the inspection due to such POOR
craftsmanship and lacking the most basic of safety standards. He
then writes my brother a ticket for a million dollars, calls the
health department and animal control because he could not tell
the difference between a house and a barn.
58:09

Props!
This blog post explains the theory behind props and Chinese character components.
ALINA DANA COROIAN ON "PICK A PROP 内"

INNER DEMON Ulquiorra Cifer (Bleach anime)

ALINA DANA COROIAN ON "PICK A PROP 可"

可 Orihime Inoue (Bleach anime character, always encouraging
herself and the others : I can do it! / You can do it !)

WILLIAM EDMEADES ON "PICK A PROP 俞"

俞 "To Agree" – Jim Carrey, from the movie 'Yes Man'

WILLIAM EDMEADES ON "PICK A PROP 糸"

"糸" Silk – Going with a giant silk worm. For a further degree of
separation, another memorable choice could be the Alaskan Bull
Worm from Spongebob

TYSON ON "PICK A PROP 文"

How about Boy George from the Culture Club? A very memorable
character

KENT BROECKELMAN ON "PICK A PROP 又"

Ernie from Sesame Street. Can think of him as Bert's right hand
man, and their great skit with the Banana in the Ear!

TYSON ON "PICK A PROP 父"

Daddy Warbucks

WILLIAM EDMEADES ON "PICK A PROP 禺"

禺 "Ancient Monkey" – going with the idea of monkey, Abu from
Aladdin sounds like a good choice, as well as Caesar from Planet
of the Apes, Boots from Dora the Explorer, and King Kong

ALINA DANA COROIAN ON "PICK A PROP 两"

Comedy actors Stan Laurel & Oliver Hardy

TYSON ON "PICK A PROP 月"

Maybe an old-school ergonomic joystick for video games

WILLIAM EDMEADES ON "PICK A PROP 㠯"

㠯 – A pair of Koi Wind Catchers attached to a pole (as
illustrated in the picture here.
Or, perhaps more obscurely, the flag of Nepal as it also has that
general shape