Podcast
74. How to say "No" in Mandarin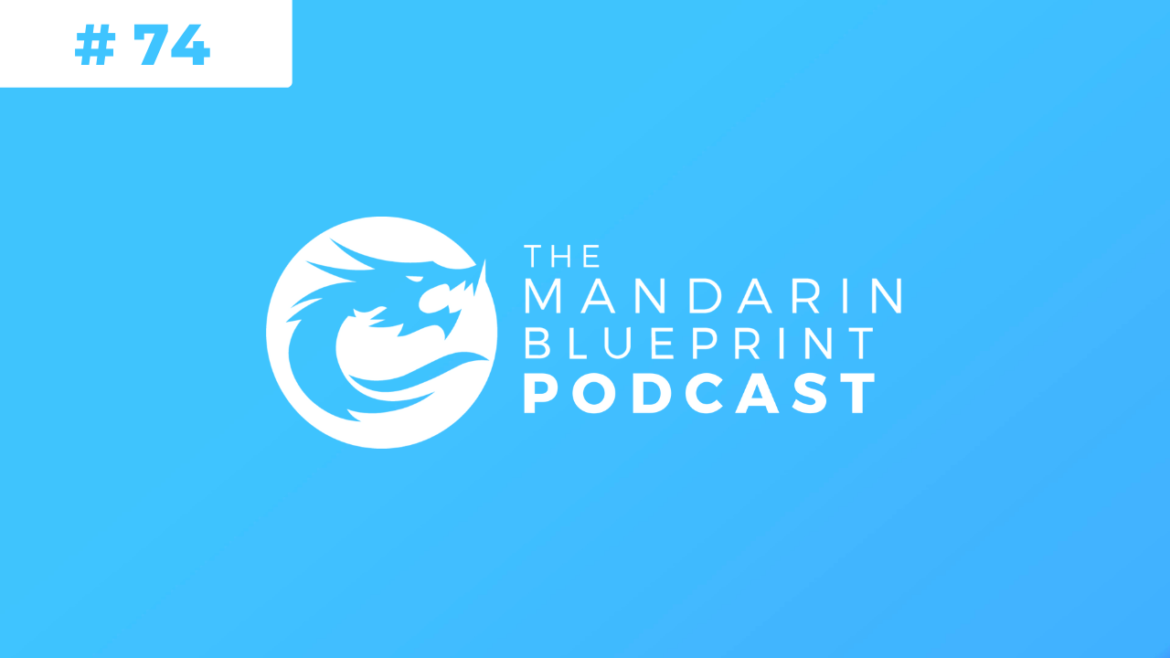 74. How to say "No" in Mandarin
欢迎光临! Welcome!
You can now subscribe to the podcast by the links below, or you can subscribe by copying the following URL into your favorite podcast APP.
欢迎光临! Welcome!
You can now subscribe to the podcast on iTunes, Stitcher, Spotify, or you can subscribe by copying the following URL into your favorite podcast APP:
https://www.mandarinblueprint.com/feed/podcast/
The Mandarin Blueprint Podcast focuses primarily on The Mandarin Blueprint Method online curriculum. Creators Luke Neale & Phil Crimmins answer questions and comments, discuss topics related to China and Mandarin learning, and have special guests.
74. How to Say "No" in Mandarin
0:00

Grammar Tag: #GW-How-DoesWhat-Deny-副词-否定
我说话,但是我的儿子不说话。
Wǒ shuōhuà, dànshì wǒde érzi bù shuōhuà.
I speak, but my son does not speak.
儿子总是记不住我说的话。
Érzi zǒngshì jìbuzhù wǒ shuō de huà.
Son always can't remember what I say.
儿子总是记得住我说的话。
Érzi zǒngshì jìdezhù wǒ shuō de huà.
Son always can remember what I say.
我找不到我的包。
Wǒ zhǎobudào wǒde bāo.
I can't find my bag.
我吃了,但是我的儿子没(有)吃。
Wǒ chīle, dànshì wǒde érzi méi(yǒu) chī.
I ate, but my son didn't eat/hasn't eaten.
我吃了,但我儿子没吃。
Wǒ chīle, dàn wǒ érzi méi chī.
I ate, but my son didn't eat/hasn't eaten.
我儿子没有手机,不过我有手机。
Wǒ érzi méiyǒu shǒujī, bùguò wǒ yǒu shǒujī.
My son doesn't have a phone, but I have a phone.
别走,等等我。
Bié zǒu, děngděng wǒ.
Don't go, wait for me.
你不要只关心自己。
Nǐ bùyào zhǐ guānxīn zìjǐ.
Don't only care about yourself.
10:04
– Course
Updates
12:47

Miscellaneous
TOM ON "NEW VOCABULARY UNLOCKED! 上面 & 下面"

Do you have any tips for how to remember when a character is
pronounced as fifth-tone in a compound word? So far I've picked
it up eventually with Anki but given that I'm just trying to
remember by rote I'm concerned I might forget.
14:17
RICK ANGLELAND ON" NEW VOCABULARY UNLOCKED! 话"

On yoyo Chinese she says 说话 is a default object verb i.e. 说
always needs an object, and if there's nothing specific then one
should say 说话. Agree?
15:05
RICK ANGLELAND ON"BONUS: CHINESE ISN'T THE HARDEST LANGUAGE IN THE WORLD IF YOU DO THIS"

OMG! I was watching a chinese drama episode tonight and was able
to read several whole sentences of several characters.
16:04
REBECCA WHEBLE ON"NEW VOCABULARY UNLOCKED! 打包"

So is the usage for more than just bringing leftovers home from
a restaurant meal? Is it also used when you order a meal to-go at
a fast food outlet?
16:58
RICK ANGLELAND ON"NEW VOCABULARY UNLOCKED! 明"

Are there "ins and outs" of 明年 beyond a bright future? I would
be interested, as any anecdotes help to make a word more vivid in
my memory, even if they're complicated or roundabout.
19:57
RICK ANGLELAND ON"BONUS: HOW TO NEVER FORGET THE CHINESE CHARACTERS YOU LEARN"

Hey guys, I wouldn't go so far as to say that Chinese words are
logical, if logic is about consistency and inevitable
conclusions, but I would say they are vivid, meaningful and
memorable. There are many possible solutions for how something
could be named, and even for some of the words we've learned so
far such as 明年 are hardly logical. No one would be able to guess
that's the Chinese word for next year.
24:40
CHRIS ON"NEW VOCABULARY UNLOCKED! 吃饱"

In the sentence "吃一个面包饱不了。" , character "了" is pronounced
"liao". When do we use that pronunciation?
27:00
RICK ANGLELAND ON"IT'S A WORD! 过"

BTW, the sample sentences are really useful in terms of x+1.
Many of them we can read with the characters we have studied,
some are gently introducing a common new word which won't be
quite so familiar when we actually study it.
29:20
TOM ON"ANKI DECK(S) INSIDE – LEVEL 12 COMPLETE"

Just a suggestion for people, like me, who don't have much of a
visual imagination. I was trying to figure out why I was
forgetting certain actors (like close family members) who are
really familiar to me and remembering others that weren't, and I
realised that the thing that was helping me remember the actors
wasn't their faces (which I can't really picture at all) but
their behaviour. I was remembering celebrities that I don't even
know that well because I assigned a distinctive personality to
them, and could remember how they were acting in a scene, even
though I couldn't really picture what they look like. Hopefully
this might help other people who have trouble picturing details
or faces!
30:47
MATEUSZ STRZELECKI ON"NEW VOCABULARY UNLOCKED! 差不多"

What is the difference between 差不多 and 左右?
32:15
RICK ANGLELAND ON"MAKE A MOVIE 卡"

Is is ok to streamline/cut corners on the props sometimes? I
just want my actor in the location holding up a credit card
facing up and then facing down, showing the top and then showing
the bottom.
33:33
BRIAN QUIGLEY ON"COMPOUND FINAL UEI (WEI) QUIZ"

What does it mean for something to be "unvoiced"?
34:24
YASMIN GUENDOUZI ON"(BONUS) THE LANGUAGE LEARNING TRIPOD PART 3: TIME"

Wow, I wasn't expecting my short essay to get on the Podcast!
Thanks for paying attention to my rambling ? You lot are
fantastic!
34:49
SARAH BARDIN ON"COMPOUND FINAL AI QUIZ"

Great! I had learned some of these phrases before from an app
but had no understanding of the individual words or the tone
changes, now I understand! I really like all the explanations and
the visual cues and images that accompany the words; they make it
easier for me to remember.
35:58
PETTERI NAKAMURA ON"THIS COULD BE YOU IN LESS TIME THAN YOU THINK"

Wow! This is very inspiring!
And I have to comment on how well thought out the whole branding
and on-boarding process is! Great work! ?
36:50

Movies!
This blog post explains the theory behind Movie Scenes and learning characters.
37:09
RICK ANGLELAND ON"MAKE A MOVIE 讨"

Thom Yorke is speaking into a microphone to coax a tape measure
out that has snaked under the bed in my treehouse.
37:53
MICHAEL ROTCHFORD ON"MAKE A MOVIE 划"

Actor: Hulk Set: Arlington House Scene: Kitchen
Props: 戈 Halberd and 刂 Buck knife

Angrier Than A HULK

The HULK is sitting in the kitchen. His foot is propped up on a
kitchen chair and he's rubbing a massive blue callus on his big
toe. Arranged on the table is a halberd and a buck knife because
a file just won't cut it. He takes a hold of the halberd and as
he brings it to his toe TO SCRAPE off the callus in walks my
wife. She looks at him, looks at the halberd, looks at his big
toe, looks at he clean kitchen and then back at him. In an
immediate understanding of what his plans were you can see a
raging wildfire start in her eyes and she turns red with rage and
SCREAMS so loudly at him that it knocks the green right off of
him and he jumps up and runs as fast as he can out of the kitchen
turning into a scared little chicken
39:24
BELINDA HERMAWAN ON"MAKE A MOVIE 上"

Harry Potter fans can use a wand to cast the 'wingardium
leviosa' spell to levitate a razor blade. Sean Connery's voice
sure does resonate in a bathroom!
40:29
IJA ON"MAKE A MOVIE 归"

Keyword: To Go Back To
Actor & Set : Gru outside the entrance of my -EI set
Props : Sword, Pig Snout

Gru was angry that the outside entrance of my -EI set was blocked
by a group of pigs. He screamed for them to go back to where they
came from. The pigs didn't budge.

He then took a sword and slashed the snout off one of the pigs
and waved it around as a warning. The other pigs were frightened
and scurried back to the minion's lair.
41:25
TYSON ON"MAKE A MOVIE 多"

I followed Chad Ressler's idea of using a bat as a prop for 夕.
Movie:
I find Darth Vader (du-) running around the front yard of my o-
set, screaming. He's petrified of bats and there are two flying
over his head. He's screaming, "So many! So many!"
"But it's only two," say I.
"Two IS too many! Too many! Too many!"
42:23
CHAD RESSLER ON"MAKE A MOVIE 份"

My girlfriend [now wife] and I are hanging out in her backyard
having dinner with Chuck Norris and Phil Crimmins who is visiting
from China. We order Chinese food and we get down to our last
PORTION of rice. Both Phil and Chuck attempt to take the last
bowl of rice. To settle who gets it, the last portion of rice is
set at the end of the table and Chuck and Phil decide to engage
in mortal combat. As they stand face to face, suddenly, Phil
pulls out Qui-Gonn JInn's lightsaber and cuts Norris in half and
sits down and eats the last portion of rice.
43:47
PETTERI NAKAMURA ON"MAKE A MOVIE 入"

I'm trying to enter the bathroom in my childhood home but Rhuarc
has found out that there is a sword sticking blade diagonally up
from the floor next to the toilet seat and, since as an aiel he
would rather be tortured to death than touch such a detestable
thing, he is guarding the door so no-one else can enter either. I
pull a ridiculously big banana out and try to hit him unconscious
with it but he easily blocks the strike and the slippery thing
flies from my hands and disappears behind him. There is a
squishing sound and as Ruarc surprised turns to look at the
source of the sound I manage to push past him and enter the
bathroom to witness the banana on top of the sword forming the
character for enter.
46:03
JEFFREY HERZOG ON"MAKE A MOVIE 月"

Benjamin netanyahu is building a flying samurai sword to the
moon to save his country. He puts my two piano students the Liang
twins on the flat part of the blade to act as pilots. As he uses
the pliers on the last part of the sword it begins erupting fire
like a rocket from the bottom and flies them to the moon.
47:21
KIKA BISOGNO ON"MAKE A MOVIE 上"

(Sh)ean Connery was on the BACKYARD preparing barbecue with my
estr(ANG)ed husband. A drone was circling ABOVE them quite
suspiciously. "Look UP there." exclaimed my Ex. Immediately, Sean
used his MAGIC WAND to turn a steak into a giant RAZOR BLADE. He
then threw it at the drone propellers, making the Russian spy
drone tumble down.
49:00

Actors!
This blog post explains the theory behind actors and Pinyin Initials.
JOHN GRIST ON"CASTING CALL QU 43/55"

Queen Elizabeth, or any other queen

MICHAEL ROTCHFORD ON"CASTING CALL XU- 50/55"

I gave up on Gods or world leaders just because they don't "pop"
in my brain. I settled on the Old Lady that lives in a Shoe. I
figured she's the Leader of that shoe anyway, I also figured that
since I have all my other actors just this one won't trip me up
too bad.
50:35

Props!
This blog post explains the theory behind props and Chinese character components.
WILLIAM EDMEADES ON"PICK A PROP 韦"

韦 – this prop has always reminded me of a Sergeant of some sort,
wearing a hat and pointing in the direction that their
subordinates should run in (complete with the whistle and
strained voice too)
Alternatively, it could be a person practicing Tai chi or Karate
(perhaps the Karate Kid?)

WILLIAM EDMEADES ON"PICK A PROP 无"

无 "Nothing" – 'Nothing' by definition is the absence of matter,
which is also called a vacuum. But since that is hard to
visualise, I'm going with a vacuum cleaner instead.

Another good prop idea could be the legendary Cui Jian (the
Father of Chinese Rock, famous for his song "一无所有")

PABLO PRIERI ON"PICK A PROP 重"

An anchor !

WILLIAM EDMEADES ON"PICK A PROP 夫"

夫 "Husband" – if someone is struggling for ideas for the
'Husband' keyword, maybe thinking of anything to do with
'Husbandry' may help; perhaps a famous farmer or the iconic
Sheppard's Staff?

PABLO PRIERI ON"PICK A PROP 头"

a Head tennis racket

CHAD RESSLER ON"PICK A PROP 分"

Combining the ideas of a knife handle and a green glowing force
field, I went with Qui-Gon Jinn's Lightsaber (which,
incidentally, Obi Wan used to "separate" Darth Maul!)

TYSON ON"PICK A PROP 此"

From the appearance – a porcupine.

JACK ON"PICK A PROP 去"

urinal, for when you really have to go.