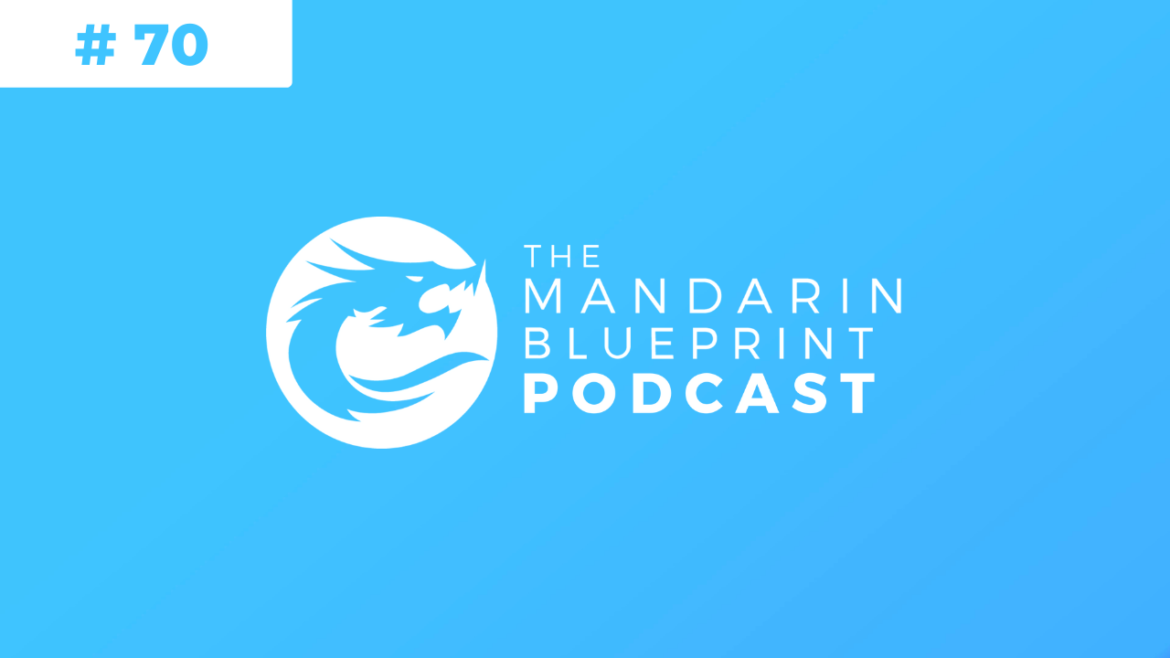 70. Learn Chinese Grammar
欢迎光临! Welcome!
You can now subscribe to the podcast by the links below, or you can subscribe by copying the following URL into your favorite podcast APP.
This Podcast is about how to learn Chinese Grammar and answers member questions, responses and much more.
欢迎光临! Welcome!
You can now subscribe to the podcast on iTunes, Stitcher, Spotify, or you can subscribe by copying the following URL into your favorite podcast APP:
https://www.mandarinblueprint.com/feed/podcast/
The Mandarin Blueprint Podcast focuses primarily on The Mandarin Blueprint Method online curriculum. Creators Luke Neale & Phil Crimmins answer questions and comments, discuss topics related to China and Mandarin learning, and have special guests.
70. How to Acquire Grammar
9:52

Miscellaneous
JAMES ( 小展 ) BY COMMUNITY

Hi there! ?

My name is James, or as my parent's in law call me – 'Xiǎo Zhān'. I'm from Sydney, Australia and I started learning Mandarin "by osmosis" ? about 4 years ago, when I started dating my 'to become in the future' wife :D. This is my second attempt at The Mandarin Blueprint Method. The first time I did not have the right attitude and I wasn't treating it as a real priority. What a shame! Could have made so much progress already! This time around, 3 days in and I have already gotten through half of the Pronunciation Mastery Course.

I am really surprised, how much I was missing out on by thinking I will be better off by just listening to my wife and friends speak to me in mandarin. It is really beneficial to have a native speaker with me pretty much 24/7, I won't deny – but you can't learn a language by just taking it in.

So far I have realized how vast are my gaps and inconsistencies in pronunciation. I'm really glad that with the new year coming, I have made a decision, that The Mandarin Blueprint will become my main source of learning the language. My wife has already noticed the difference, even with my caveman, childlike vocabulary. The reason is primarily, the way I use the right tones.

She's from Zhejiang, Zhoushan (3hrs from Shanghai) – and she has noticed that some of the MBM pronunciation lessons lean heavily towards northern tone. But that's not a con! It will be better for me to know how to speak like a Beijing-er AND like most people from south, south east by conversing with my wife on a daily. I can only perceive it as a benefit!

To sum up nicely: I have just turned 31 two days ago and this course has given me the confidence to embark on a journey over the next 6-12 months. My goal is simple: by 2021, I want to have a comfortable conversation with Yuèfù & Yuèmǔ :).

Thank you for giving me hope that I can learn the language! ?

James
14:25
ROY JOHNSON BY COMMUNITY

Perhaps this has been answered before but is there an eta on the course expansion to 3000 characters? Also, how many total words will be covered with the expansion?
18:25
KEVIN BRADY BY EMAIL

Hey guys, Much love back and thanks for the message. The problem is that your course is simply too good and I'm in the middle of a Serious career deadline right now. Very technical science based stuff. I just read Deep Work by Cal Newport where he talks about the importance of delaying depth destroying activities such as emails, social media and even ones hobbies and passions in order to be able to focus Deeply enough on a difficult goal. That's what I had to do in order to achieve my goal. I don't use social media otherwise I'd be happy to leave a review. Your course is so good that I'd leave your page open or your youtube vids and I'd keep going back to it throughout the day and lets face it your stuffs a lot more fun to do than my goal that I've been struggling to achieve, so is playing Sax! That's why I had to put everything else aside at least for a few months until I pass my exams. Then I'll be able to reward myself with the things I love to do like learning Chinese and playing music. I'll be back for sure…Happy New Year!
19:54
GREGORY SAVAGE ON"NASAL FINAL IAN (YAN): 烟 YĀN,抽烟 CHŌUYĀN, 讨厌 TǍOYÀN"

loving the course
20:26
– Course
Updates
22:28

Movies!
This blog post explains the theory behind Movie Scenes and learning characters.
TYSON ON"MAKE A MOVIE 司"

Following from the image earlier on for 四 of Samuel L. Jackson
being swallowed by the Mouth when he thought he was joining the
Fantastic Four in my backyard…
Here the Mouth shows up in the front yard and announces the new
hero. "Ladies and gentlemen,… the Operator!!" From the mouth
comes Samuel L. with a razor blade fused to one hand and a claw
to the other. "The Operator!"
24:09
TYSON ON"MAKE A MOVIE 他"

Trump is standing in the front of my -a set, scolding Chuck
Norris and the Alien because "the wall" isn't done. "Didn't I ask
you to build a wall?!? Which one of you was supposed to do it?"
They each point at the other while saying at the same time,
"Him!"
24:52
KYLE GRIFFIN ON"MAKE A MOVIE 去"

Props: Golden Spade/Shovel and the Triangle (Musical Instrument)
Set: Backyard of childhood home
Actor: Ben Cousins (all of my special 'u' actors are AFL players,
not world leaders)

Ben Cousins sees a giant musical triangle laying on the ground,
with words inside saying "TO GO into the mines". So, he picks up
his spade/shovel and digs. After a few minutes of digging, he
GOES inTO the mines.
28:13
XIAO TIAN ON"MAKE A MOVIE 错"

-o set is my college dorm
cu- fictional character is Conan the Barbarian
钅:metal
昔:succulent plant

Conan is teaching an horticulture class to whimpering freshmen in
the lawn behind my college dorm.

Conan: "Wrong! Wrong! Wrong! Succulents do not go in da metal
pots! Ven I blow da vistle one time you take the succulents out
of da metal pots and put the succulents in da clay pots. Got it?!
Keep crying, you babies. Your tears nourish my beautiful
succulents!"
29:53
TYSON ON"MAKE A MOVIE 力"

My friend Lisa in the backyard of my childhood home…
Being attacked by a claw, she raises up her samurai sword in
Thundercats style and shouts, "I have the powwwwerrrrrrrr!"
30:15
PABLO PRIERI ON"MAKE A MOVIE 最"

Same here. I just realized that with time, more and more
students of Chinese of this MB community will see a rooster on a
ATM (or a sun on top, or any other prop) when faced with this
character on real life. At some point we will be walking on the
street or discussing with random people only to find that they
are also seeing a rooster on top of an ATM or any bizarre movie
scene, and realize that we share the same learning method/path. I
will most surely cry at that moment if it ever happens to me ?
Well, not cry, but at least I will be touched haha.

Just in case it helps someone, here's my movie scene:

Zelda goes to my -ei location bathroom only to find a rooster on
top of an yellow shiny ATM saying "I'm the richest living thing
on earth mwa-ha-ha-ha, I possess the ATM with the MOST money".
Zelda replies "I don't know about that bro but you are surely the
MOST annoying one, let me just do my stuff alone" *The camera
focuses on a disappointed face of the rooster*
33:30
PABLO PRIERI ON"MAKE A MOVIE 曼"

Props: Sun (日), Mike Wazowski from Monster Inc flipped
horizontally (罒), and a Chinese pot drum (又 )

Mike Wazowski is in Manhattan to do a special photo shoot for the
Manhattanhenge. He's posing flipped horizontally on top of a
Chinese pot drum while the Sun sets on the horizon perfectly, on
this special day. American people passing by are cheering and
acclaiming our dear little friend, like only Americans can do.

PS: Manhattanhenge, also called the Manhattan Solstice, is an
event during which the setting sun or the rising sun is aligned
with the east–west streets of the main street grid of Manhattan,
New York City. Look for it in Google if you don't know it, it's
beautiful
36:14
TYSON ON"MAKE A MOVIE 边"

Standing in front of my friend Sandy's (-an) house, I see that
there are two red carpets coming from each SIDE of the house.
Walking on one is He-man (力) and walking on the other is my
friend Barb (Bi-). He-man attacks here, but she overpowers him.
She takes his sword and plunges it into his SIDE.

37:46
IJA ON" MAKE A MOVIE 迎"

Keyword : To Welcome
Actor : Idina Menzel
Set : My high school (where I learned ENGlish)
Props : Red carpet, Box, Wax Seal

My high school was staging an amateur production of Wicked the
musical. Good news! The school managed to get Idina Menzel on
board!

I arrived at the school and saw her standing inside a giant box
on a red carpet, just inside the entrance. I was perplexed.
Shouldn't she be backstage doing warm-ups or something?

"Ahh, my agent asked which role I wanted to play, and I said –
doesn't matter, I just want to dominate the box office!"

"So here I am.", she continued, smiling whilst stamping my ticket
with a wax seal.

"Just follow the red carpet to the stage. Welcome to the show!"
39:02
XIAO TIAN ON"MAKE A MOVIE 亥"

Actor: Harrison Ford
-ài Chinatown behind my Waikiki apartment
亠 top hat
丩 putter
人 Umbrella

Top down words:
haole – (hao4 li5) white person living in Hawaii

I don't remember much about the party the night before, but as I
come out of my bedroom of my tiny studio apartment, I find a
dozen strangers passed out in the living room. There's a soft
knock at the door. I look through the peephole "我的天哪,是韩·索罗!" I
open the door and there is Harrison Ford wearing a top hat and
carrying a dozen little Styrofoam boxes and a funny looking
umbrella. He says "I've got a bad feeling about this." and helps
himself inside and goes straight to the kitchen. He reeks of rum
and coconut.

In the kitchen, he starts handing me eggs and says, "I went
downstairs to Chinatown to buy a dozen eggs for breakfast but the
shopkeeper gives me a Styrofoam box of quail eggs. They're so
small so I bought a dozen boxes. I don't know, should be enough
for everybody. Oh, and this haole guy Luke… I know, 'Luke,'
right?… is on the corner selling these umbrellas with a putter
for a handle. I just had to buy one. Scrambled or sunny, kid?"
41:28

Props!
This blog post explains the theory behind props and Chinese character components.
WILLIAM EDMEADES ON"PICK A PROP 向"

向 – When you "turn towards" something, it can often be in a time
of crisis or need, so a deity or other figure, or maybe a good
luck charm could be a good prop choice too ?

WILLIAM EDMEADES ON"PICK A PROP 由"

由 "To Derive" – Going with Issac Newton because he invented
Calculus (the style of maths where you can 'derive' equations
from) ?

XIAO TIAN ON"PICK A PROP 重"

I used dumbbells for 间 (interval training came to mind) so I am
using barbell for 重. Barbells are heavier than dumbbells.