Podcast
58. How to Stop Struggling With Mandarin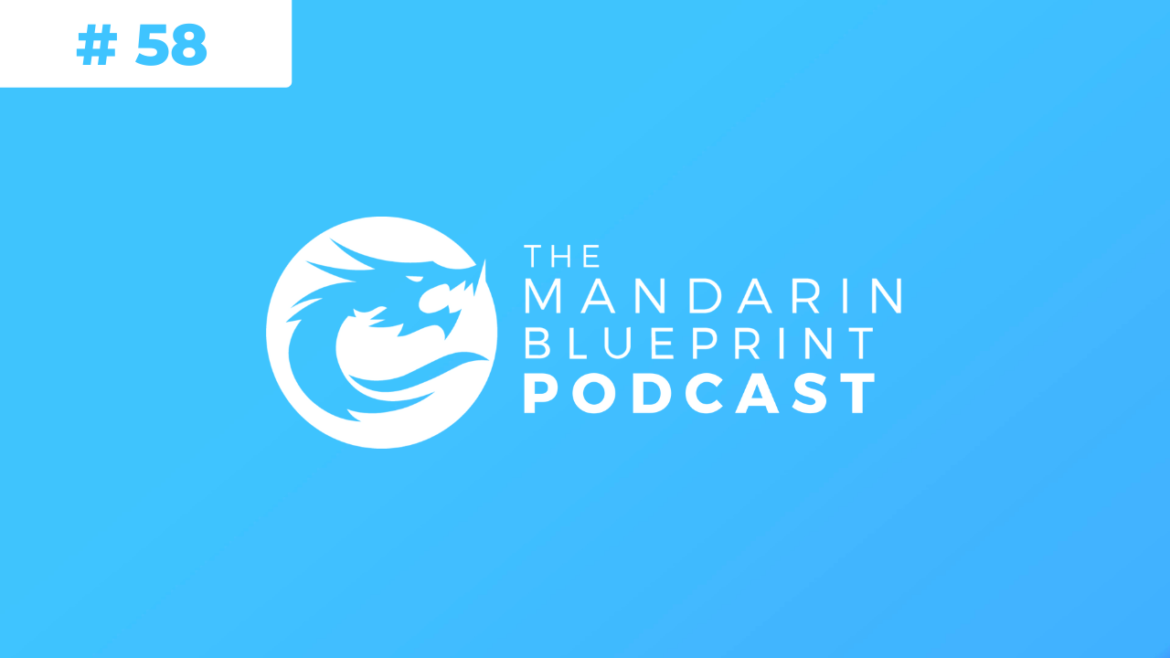 58. How to Stop Struggling With Mandarin
欢迎光临! Welcome!
You can now subscribe to the podcast by the links below, or you can subscribe by copying the following URL into your favorite podcast APP.
欢迎光临! Welcome!
You can now subscribe to the podcast on iTunes, Stitcher, Spotify, or you can subscribe by copying the following URL into your favorite podcast APP:
https://www.mandarinblueprint.com/feed/podcast/
The Mandarin Blueprint Podcast focuses primarily on The Mandarin Blueprint Method online curriculum. Creators Luke Neale & Phil Crimmins answer questions and comments, discuss topics related to China and Mandarin learning, and have special guests.
58. How to stop struggling with Mandarin
00:00
–
Updates
10:35

Props!
This blog post explains the theory behind props and Chinese character components.
MATEUSZ STRZELECKI ON "PICK A PROP 大"

BIG BEN

JONATHAN PRITCHARD ON "PICK A PROP 气"

As soon as I saw what the character was, and that there'd be a
prop for it, I knew I'd be picking Aang because I loved the Last
Airbender series.

RIVER NIXON ON "PICK A PROP 交"

Kelly Kapoor from the T.V. show The Office.

ALINA DANA COROIAN ON "PICK A PROP 母"

Primordial Mother Gaia (Greek old deity)

DANIEL DALFORNO ON " PICK A PROP 儿"

A fishing rod with a hook!

MAKAI ALLBERT ON "PICK A PROP 两"

Pair of socks

MAKAI ALLBERT ON "PICK A PROP 王"

Carlos V.. A Mexican candy I grew up eating.

MAKAI ALLBERT ON "PICK A PROP 主"

YODA

DEV CHEN ON "PICK A PROP 牙"

saber toothed tiger? ?

DANIEL DALFORNO ON "PICK A PROP ㇉"

maybe a wheelchair?

SANJA KRAJNOVIC ON "PICK A PROP 口"

Rolling stones mouth, but as a balloon.
18:15

Actors!
This blog post explains the theory behind actors and Pinyin Initials.
DEV CHEN ON "CASTING CALL GU- 33/55"

Gamora (Guardians of the Galaxy) (she's the Green daughter of
Thanos).
18:52

Movies!
This blog post explains the theory behind Movie Scenes and learning characters.
DANIEL DALFORNO ON "MAKE A MOVIE 叫"

I worked at Ikea's warehouse so.. I chose the giant mouth and an
upside-down chair! I was at Ikea when Jennifer Aniston "called"
me and told me to go help her in the bathroom. Then, I saw this
big mouth sticking out from the wall and there was Jennifer,
trying to hit the mouth with an upside-down chair
21:49
ELARY HALL ON "MAKE A MOVIE 玉"

God gives the king the jade touch by means of a drop.
23:38
REBECCA WHEBLE ON"MAKE A MOVIE 吃"

Charlie Sheen is outside the entrance of my childhood home. He
is feeding the Cheshire Cat (mouth prop) tinned cat food when
(my) beggar comes up, gets on his knees and eats the cat food
too. Gross!
24:43
DANIEL DALFORNO ON "MAKE A MOVIE 说"

I will always remember Phil's story of Shrek speaking evil in
one of the introductory videos. That was one of the first
characters I've learned even though I was doing the pronunciation
course
25:35
JULIE ON " MAKE A MOVIE"

Scene and comments!

Scene: Gaston is standing outside the customs line to get into
Japan, and it is pouring outside. He sees the beast waiting on
the other side. He takes his razor blade and puts it on top of
the crucifix to form a makeshift umbrella to keep himself dry as
he is about to pursue the beast and Belle.

ALSO… Years ago I started learning chinese with Learning
Chinese Characters (Tuttle, Alison Matthew and Laurence Matthews)
and there is a similar methodology, for character/component
meaning, pronunciation, and tone, although I think that your
methods are a little more diverse and "sticky" because of the
variety. I got lazy with the movie method but it's definitely the
more effective tool in the long run vs rote memorization as I
have done both.

ALSO. Two great books that are in support of these memory
techniques and go into some more detail or a different point of
view about them, "Made to Stick" by Chip and Dan Heath and "Red
Thread Thinking" by Debra Kaye.
29:03
DANIEL DALFORNO ON " MAKE A MOVIE 吃"

Chaplin was walking with a basket full of food towards the door
of my childhood home, then suddenly he saw a big giant mouth with
a sad expression and next to him was Oliver twist with an empty
plate. He felt sad so he gave both of them part of their food.
The giant moth smiled and Oliver smiled too,
30:35
REBECCA WHEBLE ON "MAKE A MOVIE 况"

Didn't John have the popsicle as his ice prop in the fei
character? Now he has ice skates? Can you change your prop like
that? I thought your prop should stay the same.
33:20

Miscellaneous
33:35
FRED SNYDER ON"SET THE SCENE -ONG 4/13"

Running out of places with kitchens for second tone. Can I
change a location for the remaining second tones?
35:53
ANTONIO LIMA ON"SEAN CONNERY'S RAZOR BLADE BOWLING!"

Hi, guy's fantastic stuff, however, I am unable to visualise
anything but static in my mind's eye, so not how to proceed with
these lessons.

Response by Ivan Tsirulev:

What you are describing is called visual aphantasia. And this is certainly not a gender specific thing, as I am male and happen to be an aphantasiac.

There are different degrees of aphantasia. Some people cannot visualize anything at all. In my case, with some effort, I am able to imagine only dim static pictures and only for a tiny fraction of a moment. Then everything goes black and it takes my brain several seconds to "recharge" before I can conjure another image.

It feels exactly like as if I've been shown a picture on a screen for 10 ms. This time is enough to notice general features like the place, the actors, but the details like complex props, facial expressions and so on are often missing. And by no means am I able to visualize a movie.

It's actually only recently that I've learned that most people can imagine things in great details. And not that this bothers me in any way — I've been like that my whole life and for me it's just… normal. Aphantasia does not affect my social life, work performance or anything else. Funnily enough, I even do have dreams at night, although not too often.

So, having said that, what about the Mandarin Blueprint Method? Like you I compensate what I cannot see with something else. You said you tended to create more elaborate stories and I just link props not only to physical objects but also to tunes and tactile sensations. So for me a prop is still an object, but it is also something else in addition. Some stories are just much easier to remember with alternatives.

For example, ? feels like I've just hit my finger with a hammer. 马 reminds me a touch of a horse's nose. 只 is the song "Only you" by The Platters. And so on.

This approach makes the stories (I cannot call them movies) more immersive. For instance, the story for 识 is:

My childhood friend nicknamed Sherlock is trying to sing "Only you" into a mic but he does not KNOW the lyrics and it sounds awful. And that's it, that simple.

One might think there's not enough action to remember the story. And I suspect if I could simply visualize it with my mind's eye it wouldn't be memorable indeed. But I distinctly "hear" his choppy voice full of humiliation, the background tune, the microphone noise. And I also see the scene with my mind, even if only for an instant. I doubt I'll ever forget it.

So the method still works for me. Maybe not exactly how it was intended to work, but it works. I believe this is still the most effective way to learn 汉字 that I know, and I tried plenty.
43:36
OLIVER OLNEY ON"MAKE A MOVIE 飞"

Why is the 'ice' prop utilised? Wouldn't it be more appropriate
to pick a different prop since the strokes don't match?
45:10
OLIVER OLNEY ON " MAKE A MOVIE 旧"

My Chinese friends in the South pronounce jiu not as as 'ji-ou'
but 'jyu' . Shouldn't we use a different set? The ending
pronunciation is different from 口
46:11
INGA DUBRAWSKA BY EMAIL

Hi Phil,
Thank you very much for the email.I am considering to buy your course and give it a try. I have been learning Mandarin for a year now and feel that I don't know it at all. I spent many hours writing and learning characters and left with nothing. Still I remember only some of them. Right now I'm in Taiwan and take classes here, and it is even worse because most of the characters are different and more difficult, you know what I mean? So in the begging I was very excited about learning new language, I speak already three languages, so I thought it would be pretty easy. And right now I'm so frustrated and feeling I am going nowhere. I am looking at your videos and all you say make sense to me but still hesitate if I manage to do it after all these tries and falls.So give me some advice please ?
Kind regards,
Inga