Episode
27. Shakespeare Advises Tina Turner On Pencils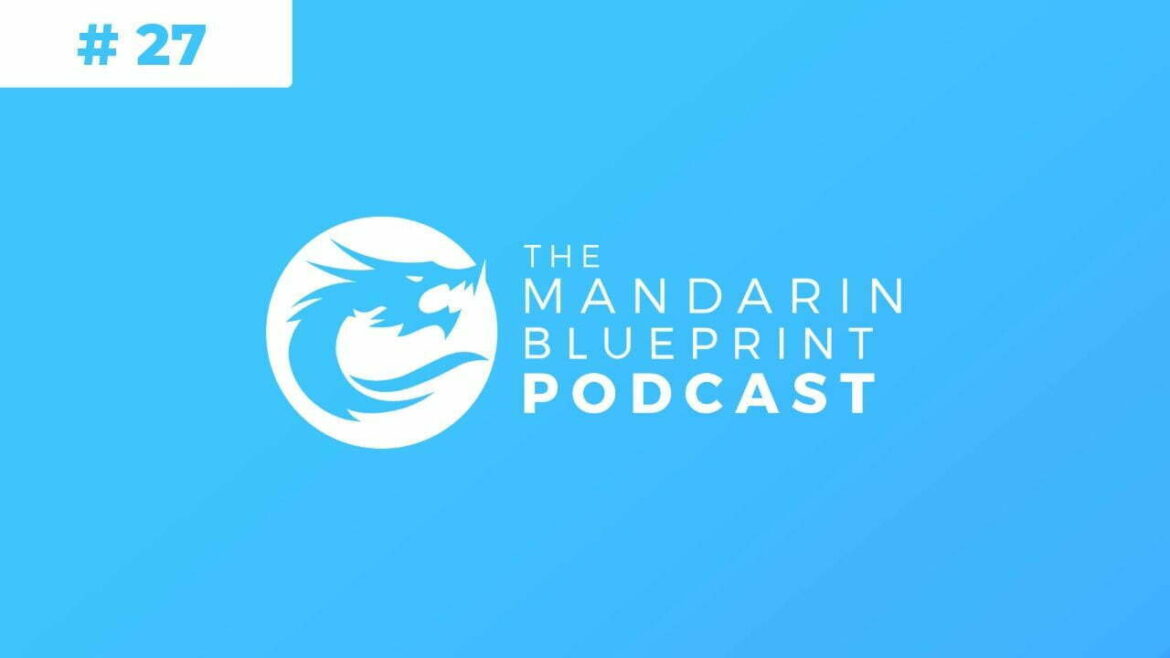 27. Shakespeare Advises Tina Turner On Pencils
Podcast Duration: 01:10:39
欢迎光临! Welcome!
You can now subscribe to the podcast by the links below, or you can subscribe by copying the following URL into your favorite podcast APP.
The Mandarin Blueprint Podcast focuses primarily on The Blueprint online curriculum. Creators Luke Neale & Phil Crimmins answer questions and comments, discuss topics related to China and Mandarin learning, and have special guests.
Want to learn how to speak fluent Chinese fast? Join our free Webinar right here.
我看见你能
欢迎光临! Welcome!
You can now subscribe to the podcast on iTunes, Stitcher, Spotify, or you can subscribe by copying the following URL into your favorite podcast APP:
https://www.mandarinblueprint.com/feed/podcast/
The Mandarin Blueprint Podcast focuses primarily on The Mandarin Blueprint Method online curriculum. Creators Luke Neale & Phil Crimmins answer questions and comments, discuss topics related to China and Mandarin learning, and have special guests.
27. SHAKESPEARE ADVISES TINA TURNER ON PENCILS
00:00
–
Updates
05:38

Props!
This blog post explains the theory behind props and Chinese character components.
WILLIAM EDMEADES ON PICK A PROP 相

Yin yang

WILLIAM EDMEADES ON PICK A PROP 禾

A giant piece of Weetabix

JENNIFER KOSCHE ON PICK A PROP 兄

I will use Thors hammer Mjölnir as a prop for 兄. In the Marvel movies, he is the older Brother to Loki so I think this will work pretty well. What do you think?

IJA AMRAHI ON PICK A PROP 走

A 3 strap boot like this one.

IJA AMRAHI ON PICK A PROP 呆

I picked Walter (Jeff Dunham's puppet). Because one of his favorite phrases is (Dumb-*ss) and he has a potty mouth. The character itself looks like there's something in the middle of a person too (the ventriloquist's hand).

IJA AMRAHI ON PICK A PROP 云

Goku's flying nimbus.

IJA AMRAHI ON PICK A PROP 主

Master Shifu or Master Oogway from Kungfu Panda. I picked the latter.

IJA AMRAHI ON PICK A PROP 土

Cross on a grave ?

IJA AMRAHI ON PICK A PROP 占

Knight chess piece is another one that I like.

IJA AMRAHI ON PICK A PROP 内

I went with Sadness from Inside Out.

WILL HENRY ON PICK A PROP 云

After trying to create a few scenes using that floating cloud that would pull your car back up onto the track in Mario cart, I decided to just start filling my scenes with smoke/fog. This atmosphere builds a lot of tension in my stories and often times provides motivation for my characters to do something out of the ordinary with the props.

NATHALY DEVIA ON PICK A PROP 兄

I have not an older brother but my mum does! ?

JULIAN LAFFEY ON PICK A PROP 孝

Lisa Simpson!

TOM ON PICK A PROP 口

The Cheshire Cat from Alice in Wonderland

WILLIAM EDMEADES ON PICK A PROP 土

The cube soil from Minecraft

RYAN SMITH ON PICK A PROP 报

A Hogwarts letter, with it's "H" wax seal, heavy parchment envelope, and distinctive crest works great as a prop that stands out for this!

RYAN SMITH ON PICK A PROP 元

A light tree from drag racing (the vertical bank of lights that counts down the launch for drag racing)

RYAN SMITH ON PICK A PROP 完

I went with a drag racing light tree for 元, I guess it's only appropriate that this is a checkered finish line flag?
18:37

Actors!
This blog post explains the theory behind actors and Pinyin Initials.
IJA AMRAHI ON CASTING CALL ZHU- 39/55

Peppa Pig

小猪佩奇

IJA AMRAHI ON CASTING CALL TU- 41/55

Tony the Tiger (Kellogg's)
Tin Tin
Timmy Turner(Fairly Odd Parents)
Tom (Tom & Jerry)
Thomas the Tank Engine

CHAD RESSLER ON CASTING CALL SU- 47/55

Shao-Feng: Lin Gengxin's character in the movie Swordmaster

IJA AMRAHI ON CASTING CALL WU- 7/55

Wall-E

JJAY ANDERSON ON CASTING CALL ZU- 42/55

Zaphod Beeblebrox from Hitchhiker's Guide to the Galaxy (the
original from BBC production, not the terrible 2005 movie)
20:33

Movies!
This blog post explains the theory behind Movie Scenes and learning characters.
TOM ON MAKE A MOVIE 从

I chose my secondary school as my set for "-ong", and the
entry/reception as the second-tone location. Christopher Walken
introduces himself to the receptionist so that he can get a
visitor's badge. The receptionist tells him that he has to answer
a few questions before she can let him in the school. The first
question she asks him is "Where are you from?". Christopher
Walken stands there, completely baffled, and (in a typical
Christopher Walken voice) says "Uh, lady, where do you think I'm
from??". The receptionist looks up from her desk to see that he's
wearing a suit made from an American flag and behind him there
are cowboys and indians battling it out around two giant tipis,
shooting arrows and firing guns at each other.
22:07
IJA AMRAHI ON MAKE A MOVIE 时

I used sundial to represent time.

Scene involved an ancient Chinese stone sundial in my kitchen and
Sean Connery was using the sun and measuring tape to measure
time.
23:28
IJA AMRAHI ON MAKE A MOVIE 米

Mariah Carey (her personal nickname is Mimi) is in my bedroom
wanting to re-record the music video for "All I Want For
Christmas is You".

She already had the reindeer antlers on top of the Christmas tree
but since my home is in Southeast Asia, there's no snow. We had
to toss rice around to mimic snow ‍♀️
24:20
IJA AMRAHI ON MAKE A MOVIE 呆

I used the song 'Dumb ways to die (dāi… geddit?)' as the
soundtrack for this movie.
25:13
JODI PARR ON MAKE A MOVIE 半

I'm in JapAN. My nephew Ben is standing in the bathroom holding
a large syringe and the devil is trying to grab the syringe. I
throw the razor blade at the devil and it cuts his horns off. He
feels like HALF a devil now that his horns are missing. Ben is
mad at the devil and sticks him with the syringe that is filled
with a liquid that shrinks the devil to HALF his size.
26:26
IJA AMRAHI ON MAKE A MOVIE 提

Words are out in the street that Shakespeare is currently taking
questions in my kitchen from people from the 21st century. He,
who hasn't had any interviews in almost 400 years was very excited
to interest to share his insights in the English language and
literature. A big crowd started to form.

Tina Turner tried to grab his attention by waving the giant foam
finger.

She then asked, cheekily.. "Sorry to BRING THIS UP but if I have
to CARRY just one pencil around, should it be 2B or not 2B?"
28:30
RYAN SMITH ON MAKE A MOVIE 这

"This" is a pretty abstract concept, so to conceptualize it, I'm
envisioning the bathroom of my e- set with a large number of
roads going through it. The Queen of England keeps picking a road
to walk down, but my Uncle Jay keeps repositioning her to walk
down the road he's one, i.e. "this" road is what he's trying to
tell her. To cement the meaning, she picks a random wrong road
multiple times, and he keeps trying to get her to walk down
"this" road, the one that he's on.
31:06
WILLIAM EDMEADES ON MAKE A MOVIE 种

My props are a giant Weetabix biscuit (it's a breakfast cereal)
and a dartboard.

Going off what Ryan said, I'm having my zh- actor at my
university (because we have a ping p'ong' table) in the library.
And he's typing furiously trying to get his programming code to
work. After some failed attempts he gets so frustrated he picks
up the giant biscuit and hurls it at the dartboard across the
room.
32:48
WILL HENRY ON MAKE A MOVIE 司

My S- character (my supervisor) is lying on the front lawn of my
childhood home. A lobster claw is clamped down on his lip and I
have to operate to remove it using only a razor blade.

I know I was supposed to use a rolling stone's mouth but the
visual of claw being painfully attached to his actual swollen
mouth was so vivid. I'll see if the scene sticks and reshoot it
if I forget the mouth radical.
34:24
JULIAN LAFFEY ON MAKE A MOVIE 者

A bride – who says "I do"
35:04
NATHALY DEVIA ON MAKE A MOVIE 八

Something that reminds me of the number 8 is the 8 Ball Pool.
35:22
NATHALY DEVIA ON MAKE A MOVIE 儿

Captain Hook is great because has to be with Peter Pan and Peter Pan never grew up, he is still a kid!
35:50
JULIA MELNIK ON MAKE A MOVIE 识

I like Nick's choice of actors ))
36:27
WILLIAM EDMEADES ON MAKE A MOVIE 记

In a sorta meta idea, for my scene for "记" I'm having my female
actor trying to remember her MBM scene for "Remember"
37:15
CHAD RESSLER ON MAKE A MOVIE 并

Location: Current Home (where i got "eng"aged)
Actor: Fan Bingbing
Props: Demon Horns and Bottle Opener

Fan Bingbing has fallen on hard times and now has her own D.I.Y
show on HGTV where she takes everyday items, COMBINES them, and
tries to pawn them off as ancient Chinese decorations. She is
shooting her latest episode in the backyard of my current home
where she has COMBINED a set of demon horns with an old Pabst
Blue Ribbon bottle opener and is now trying to pawn it off as an
ancient Chinese demon artifact worth $10,000. Fortunately, I have
Rick Harrison from Pawn Stars with me. He takes a look at it and
shows me how she has simply COMBINED the two items by welding
them and explains that they didn't have that kind of technology
in ancient China. He then offers her $5.00 for it.
39:05
MICHAEL HORNE ON MICHAEL HORNE

Bill Shatner enters the main room of the L[ai]brary where I
currently work. He's smoking a clay pipe [一] and chasing his pet
[white] Arctic Fox. The fox runs across the library and jumps up
onto the shelf where the Philosophy books are, which are
classified under 100 in the Dewey Decimal System.
40:20
RYAN SMITH ON MAKE A MOVIE 字

A fun way for me to visualize the meaning of this in a 3D way,
is to imagine my Z actor (Ozzy Osbourne) & my "子" prop (kid
from Home Alone) using their bodies to make the shapes of the
letters of the alphabet.

40:50

Pronunciation
41:06
JOSHUA PETTI ON SIMPLE FINAL A QUIZ

I am confused I know you guys say PA sounds like the A in Cat.
Though when I say FAther the PA sounds the same. PA I think does
not sound like Cat Bat Rat. Did I misunderstand? Thank you for
taking the time to look over this. I will watch the videos again
haha. Seems I might have been saying the A wrong this whole time
44:01
KATHLEEN GANS ON SPECIAL FINAL ER QUIZ

Is there a pdf or audio pdf for ER? I couldn't find it.
44:30
JOSHUA PETTI ON UNIT 1 WRAP-UP

I have been studying Chinese for a little over 2 years all self taught, I can read quite good, but when I try to branch it over into Oral speaking, my co workers do not know what I am saying. I look forward to this course and thank you for making it free, it allows people like me to see how you guys teach before buying. Depending on how this course goes, I will probably purchase the other course, even though I am sure I know all of the characters, just to patch up any holes in the sinking ship I made for myself haha.
44:55
GARTH GRESKIW ON NASAL FINAL EN: 嗯 ÈN,摁 ÈN,笨 BÈN

Luke is the cross-cultural bridge builder extraordinaire – it gives me way better 'theories' about 'the other' than I could ever make up myself
47:33
JOHN HAY FROM EMAIL

Hi guys,

I have just listened to podcast 22. I couldn't agree with you more on your decision to integrate the Pronunciation Mastery into the Mandarin Blueprint course. Quite right! Don't sell yourselves too cheap.

Many years ago my boss and I, decided to attend a quit smoking seminar. "Guaranteed success!" I am sure that everyone there that evening did (at least for a while) stop smoking. The very fact that they had made the effort to turn up and, more importantly, that they were prepared to pay the not so small fee, was almost a guarantee of success. My boss paid for me to go so I went along but was obviously not as committed and (surprise surprise) carried on smoking after a few days. The lesson learnt: if you really want to do something you have to be committed.

Similarly, if you really want to learn Mandarin and are prepared to pay for it (and put in the effort), you will. If I had found a "Teach Yourself Chinese For Free" course on the net, I might have looked at it out of interest but would not be still learning today. Its a bit like going out for a meal. If someone invites you, you'll eat and say thank you. But having paid for it, himself, the fat guy at the all-you-can-eat buffet will make damned sure he'll get his money's worth.

I recently looked at some other Chinese learning sites and was surprised at the prices some of them charge. In comparison you offer much much more for less. Hopefully one day when you have really established yourself on the market you can raise or restructure your prices. You're too modest! But don't hike your fees up until you are sure that ALL spelling mistakes, translation errors, misplaced texts etc. have been reviewed (including those on the Anki cards.)

What at least one site does have, which you don't, is a writing course. Okay, you can't do everything at once but it would maybe worth considering including a short course for the future. One in which the finer points of which an absolute beginner is unaware might miss. You explained well enough the general principles of writing in "Chinese Characters 101" but for me something was missing: something more visual or tangible. Sure, while working through the Anki cards, I'm asked to write a character and I do my best but I have only recently realised what disastrously illegible scribbles I had produced.

I have recently concentrated a bit more on writing and have produced some sheets which I find to be a great help. I don't think that it's in anyone's interest to go back to primary school to repeatedly practise characters but (without wanting to interfere in your teaching methods) maybe sheets like those I have sent you, downloadable alongside each level of the course, might be useful for your pupils. Just an idea …

So, I'll stop waffling now and get back to work…

You too, keep up the good work.

John Hay
51:30
KATE FROM EMAIL

你好!
I am enjoying working on the pronunciation units and will be subscribing as soon as I finish those. I wanted to let you know about a technical problem with Anki Pronunciation deck 4. When I download from the website I get an error message that the file is corrupt. After trying various things that didn't work, I found the download link in your email. That worked. So just an FYI, that downloading the Anki deck straight from the website might be a problem for some people. I am using an IPad with the Anki Mobile app, so perhaps this issue only affects those who are using only the mobile version.I look forward to subscribing soon. I have to say that the analogies with music really resonate with me. I play flute and I believe that has made it easier to learn pronunciation as I feel like I am just learning a new embouchure. The subtle variations in tone are easier to hear with my musical training. I actually became interested in learning Mandarin when I was taking severalChinese scientists on a geology field trip in the U.S. The trip involved driving long distances across the American Southwest to get to various sites. I spent three weeks immersed in hearing them speak while I drove. They helped me learn some pronunciations and a few geology terms. I also spent months using Google Translate to translate Chinese geology journal articles. The characters became very familiar and I started learning how they are often are written so that it makes you think of the word differently (for example wrap + drop = ladle, or woman + child = good). That was seven years ago and I have tried to learn things off and on (going through Pleco and making flash cards etc.) but haven't progressed at all. I now have a motivation to take your course as I will be In Shanghai in seven weeks from now. I want to learn as much as possible before I leave. I found out about your course through an answer you posted to the Quora website. You guys have really put a tremendous effort into learning how to teach Chinese. You have come up with a blueprint that feels very scientific which is great!
Sincerely,
Kathleen

P.S. I think my cats have mastered all four tones plus some. I never noticed before that they use falling and rising tones, the 3 tone and 1st tone. They should be learning Cantonese.
53:38

Miscellaneous
54:02
ABIGAIL ON IT'S A WORD! 米

I thought 88 in Chinese was bā shí bā?
55:04
WILLIAM EDMEADES ON IT'S A WORD! 记

Does "我记下你的电话了" mean "I'll write down your number" or "I wrote down your number."?
56:05
LYNELLE GLOVER ON 诚实 HONESTY

I'm not quite sure what this sentence means.
三兄弟都知道,钱再多也比不上爸爸的公司,因为钱很快就用完了,但是只要有公司在,就会有钱。

I translate it as:

All the three brothers know that no amount of money can compare
with their Dad's company, because the money will be quickly used
up. But provided that there will be a company, there will be
money.

As you can see, my translation doesn't make sense. Could anyone
give a better translation? I think my problem is not quite
understanding the meaning of 。。再多也。。Dictionaries nor Translator
apps are any help.

Many thanks
01:01:17
JAY A ON NEW VOCABULARY UNLOCKED! 正在

Any tips on when to use 在 vs 正在? Is the connotation different?
e.g., 我在看书。vs. 我正在看书。
01:02:01
LIAM WILKINSON ON NEW VOCABULARY UNLOCKED! 几(个)

Is there any way to differentiate between the two usages of 几个 in speech? For example if someone said the following "你来中国几个月了". How do we know whether they're asking how many months we've been in China or just stating that we've been in China for a few months.
Do we just have to work it out through context?
1:03:30
WILLIAM EDMEADES ON NEW VOCABULARY UNLOCKED! 几百

Oh okay, so is the reason '几' is swapped for '十几' and '几百' is because 几 is like a placeholder of sorts for any number between roughly 1-9?
1:04:00
IJA AMRAHI FROM EMAIL

Hi there,
Just wondering if anyone else is having the same issue as me. Sometimes I do skip a few characters that I already knew by heart (like 心 – pun intended :)) and I had to click on the white 'Mark As Complete' button.I think the button itself is quite counter-intuitive because giant green buttons means "you should click here". So sometimes I click on 'Complete' green buttons after watching videos by instinct to mark completion but it went back to 'Mark As Complete'.Maybe a better UI would be a green 'Mark as Complete button' and another 'Completed' white/blue/grey button as a result. But then it may confuse the heck out of existing users.
Just a thought.

—Ija
1:04:57
JORDAN FROM EMAIL

Hey Luke.
My biggest barrier right now is probably real-speed listening. I'm in China right now (Chengdu) and any interaction with a local tends to be a dead-end. My brain, almost by default, just shuts down. I can pick out a few words but little meaning unless it's super basic.
Nevertheless, I'm still powering through the flashcards. Thanks again for reaching out!
Cheers,
Jordan
1:07:08
CHAD FROM EMAIL

Hey guys,

Hope all is going well. Loving all the new stuff, and I signed up for the affiliate program too. I was wondering about getting all the sentences in a PDF format. I did find an Anki add on that allowed me to export the flashcards themselves, but it was a complete mess. I actually printed out the sentences for levels 13-15 and it was like 355 pages, but I couldn't print them in like a list form…it printed out all the flashcards LOL. I'm WAY behind on my sentences because I'm old fashioned and have found I don't like reading them on my phone….I like that hard copy where I can write and make notes and then just add the cards to Anki a few at a time for quick reviews.

Chad
1:08:39
DANIEL LÉO SIMPSON ON "BONUS: FROM FAILURE TO HSK 6 EXAM IN ONE YEAR!"

So inspiring, thank you and congratulations!