Podcast
119. Gamify your learning & Who has the best Chinese?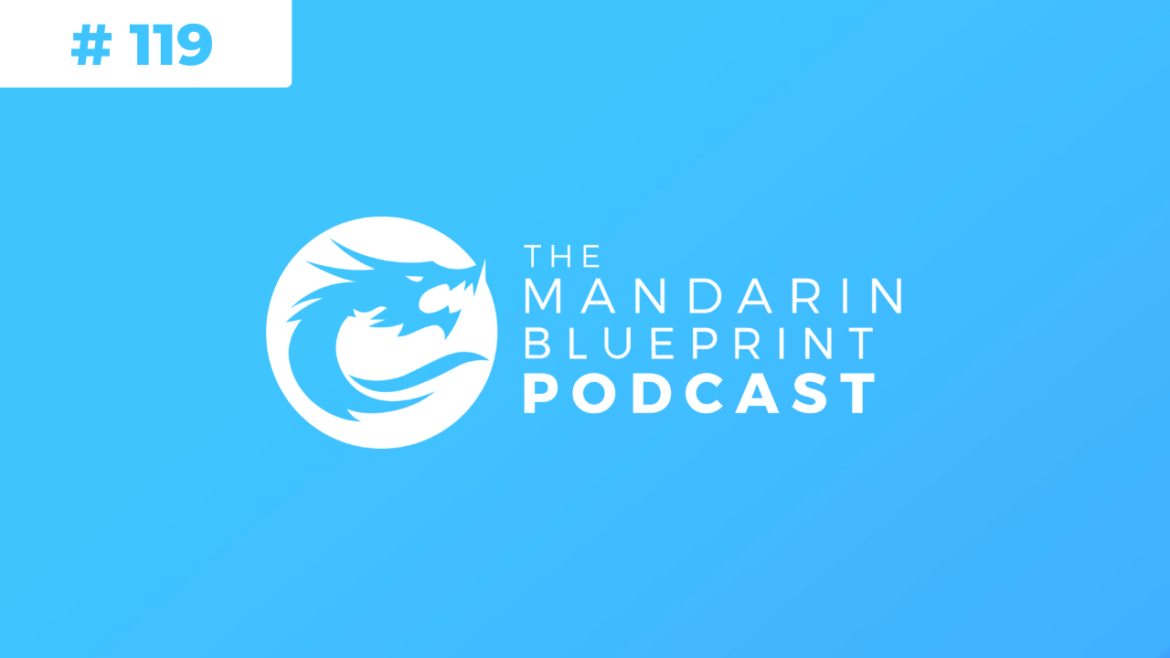 119. Gamify your learning & Who has the best Chinese?
欢迎光临! Welcome!
You can now subscribe to the podcast by the links below, or you can subscribe by copying the following URL into your favorite podcast APP.
欢迎光临! Welcome!
You can now subscribe to the podcast on iTunes, Stitcher, Spotify, or you can subscribe by copying the following URL into your favorite podcast APP:
https://www.mandarinblueprint.com/feed/podcast/
The Mandarin Blueprint Podcast focuses primarily on The Mandarin Blueprint Method online curriculum. Creators Luke Neale & Phil Crimmins answer questions and comments, discuss topics related to China and Mandarin learning, and have special guests.
119. Gamify your learning & Who has the best Chinese?
0:00

Affiliate Link & Reviews
Become a Mandarin Blueprint Affiliate
Leave us a Google Business Review 🙂
6:45

Comments & Emails
Micaela Ellison on 行不行 in Context

My impression is 行不行 is asking if something is possible, while 可不可以 is asking for permission. Is that the right distinction between the two phrases, or does it just depend on context?
8:09
Garett Rogers It's a Word! 过

What is the difference between guo and le?
9:59
Jason Pon on Vocab Unlocked from 近: 最近

Is there any insight into the use of 最近 to convey most past and future? If I'm understanding correct… this means both recently in the past and upcoming in the near future and I see it kinda as closeness in time from the current period, in either direction.

Recently, lately, soon, upcoming.

Examples:

最近怎么样?
zuìjìn zěnmeyàng?
How've you been recently?

最近要上演许多新电影
zuìjìn yào shàng xǔduō xīn diànyǐng
Many new films will be released soon
10:41
Becca G on Level 15 Complete

Whew! Finally finished level 15! I will say all the level 13-15 sentence cards in Anki definitely slowed me down a lot, but in a good way! Being a bit of a completionist I'm doing all of the sentences, not just the required ones. Even though it is more to go through, I feel it really helps seeing these words in a few different example sentences. I may be spending more time on them than is really necessary, as I sound them all out and practice my tones before listening to the recordings to see if I got it all right. On top of that, I want to really understand the sentence before I move on. I often find myself muttering a lot of these sentences aloud without realizing it as I go about my day! My husband will ask what the heck I'm jabbering: "Uh… I just asked you to come check out this wooden spoon?" Or "You look pretty today!" Haha, I love this program so much! I always look forward to lesson time, even if I am only able to do an hour a day, it's always worth my time. Thank you both for putting so much time and effort into building MB. I have learned so much in only a month and have had a blast doing so. Thank you thank you for all that you do!
17:37
Micaela Ellison on 记得 in Context

Can you explain how 上周给你说的话 translates to "what we said last week"? Literally, it seems like the sentence would mean "the words that last week gave you to say."
21:14
Curtiss Castonguay on 桌子 in Context

I am very excited to be able to read sentences too (as mentioned by Kym Thomas above).

You mention that one should be able to fill in the blank and translate the sentence (which I am doing well).

The thing that is slowing me down is trying to pronounce these sentences. This is the first time one sees all these characters together. While I realize it can't necessarily hurt (or can it?), am doing too much/slowing myself down? Should I still be in a "listen and learn" stage? Perhaps just vocalize those sentences that are a bit easier?

Thanks.
24:26
Patrick Ryan on New Vocabulary Unlocked! 人口 – 入口

OK so I'm getting the aspects now of set, prop, actors — for characters — but I'm confused about the new words. For example, in the case of 人口 and 入口 should we be building a scene? There are fields in Anki for "lived experience" and "mnemonic." Should I be filling those in?
31:37
Oscar Haglund on Level 19 Complete

I find it mostly impossible to shadow any of the sentences that are longer than a few characters without completely destroying any semblance of having correct tones.
38:22

Movies!
This blog post explains the theory behind Movie Scenes and learning characters.
Chris N on Make a Movie 酷

I think I'm going to make a prop out of 告, because it's a component in 16 characters (although I don't know how common they are). It's "tell" and it looks a bit like an old-timey telephone.

So then for this one my ku- actor is talking to his ex on an old-timey telephone. She's being BRUTAL to him, and he's taking swigs from his bottle because she's so cruel.
39:41
tyson on Make a Movie 康

Since 隶 is a component in several characters, I made it a prop: Samwise Gamgee [隶 can be servant; attached to; etc.].
43:31
Ric Santos on Make a Movie 浪

While dosing off in the backyard, Luke was dreaming that a nice angel 良 was transporting him to Englàng over the splashing waves 浪 of the sea 氵 , only to wake up with his son playfully spraying his face with a plastic water 氵 gun. His son then waved 浪 his water 氵gun in victory and ran out to look for another victim.
44:52
Georg Lohrer on Make a Movie 奶

Nicholas Cage (the Ghost-Rider) has a well kept secret. He regularly has problems to sleep well, but he has found a way out. When he arrives home in the bathroom of my ai-set after a long night, he loves nothing more than changing into some cosy women clothes, pull on his boxing/sleeping-gloves and have a warm MILK. Then he can sleep very well.
45:48
Joel Fortin on Make a Movie 交

My Chinese friend Jie (ji-) is standing outside the entrance of my -ao set. Walking toward the house is Mr. Incredible (父) wearing a hat (亠). As he gets closer, Jie notices that it's green. She chuckles and says to him "do you know that wearing a green hat means that your wife is having INTERCOURSE with another man?" Mr. Incredible's face suddenly drops, mouth open, eyes wideopen, and looks completely stunned! So he quickly takes the hat off his head and throws it as far away as possible! With his strength, it disappears into oblivion.
47:58
Pablo Prieri on Make a Movie 糖

My t-actor at my -ang location kitchen is attempting to mix Rice with Tang orange juice powder using a mini mixer => he obtains brown SUGAR. He uses his finger to taste it, he can feel the sweetness & freshness of it
48:39
Ric Santos on Make a Movie 省

1. The little 少 money that is left, Sh-actor keeps in a safe 目 box in the bedroom of the -eng set. That is how he saves.

2. To save time and be an efficient ruler, the Sh-actor decentralizes his government and created provinces, where a lesser or little 少 area of a big state (-eng set) can be better-supervised 目.
50:39
Soren Korsbaek on Make a Movie 爆

I went for a volcano for the 暴 prop, making this movie-scene very easy.

My B-actor throws the olympics torch into the volcano "暴" which then EXPLODES.