Podcast
62. 'Today is the Day I Die!'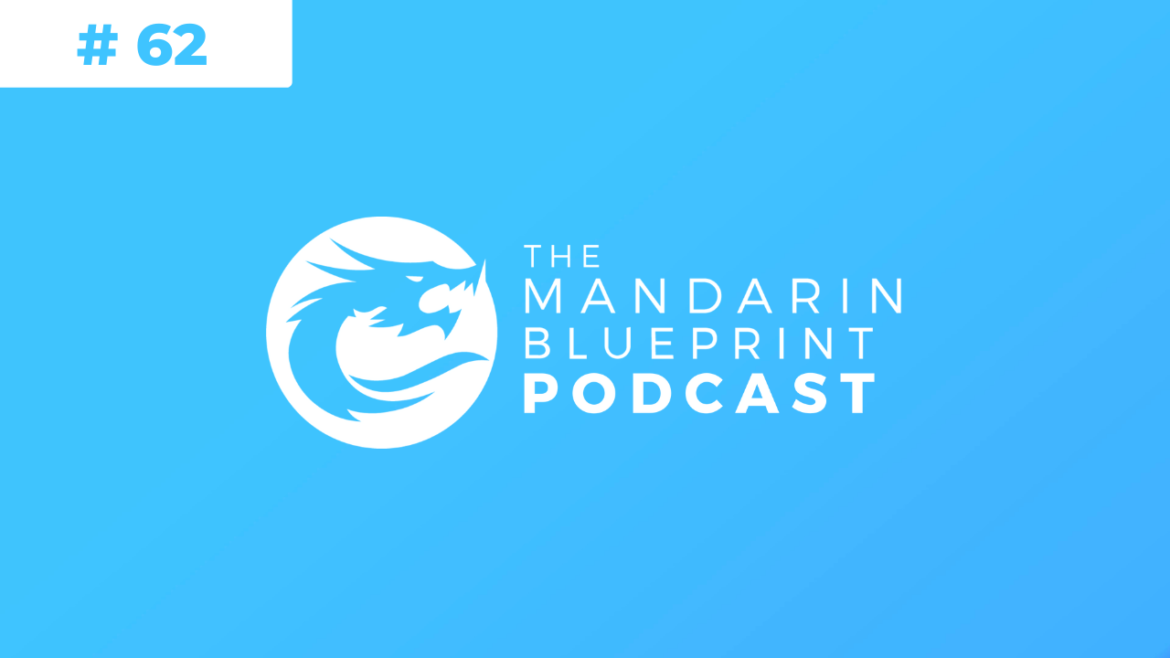 62. 'Today is the Day I Die!'
欢迎光临! Welcome!
You can now subscribe to the podcast by the links below, or you can subscribe by copying the following URL into your favorite podcast APP.
欢迎光临! Welcome!
You can now subscribe to the podcast on iTunes, Stitcher, Spotify, or you can subscribe by copying the following URL into your favorite podcast APP:
https://www.mandarinblueprint.com/feed/podcast/
The Mandarin Blueprint Podcast focuses primarily on The Mandarin Blueprint Method online curriculum. Creators Luke Neale & Phil Crimmins answer questions and comments, discuss topics related to China and Mandarin learning, and have special guests.
62. 'Today is the Day I Die!'
0:59

Miscellaneous
MICHAEL MURPHY BY EMAIL

Luke/Phil,

I've stated in comments on the website that you guys have done and are doing a magnificent job. I so appreciate your awesome work.

I worked for/with Jerry Lucas, the former famed NBA All-Star and author of 'The Memory Book' with Harry Lorayne, back in the late 1970s. I traveled the world with Jerry and on my own, teaching his method to a lot of people. What you guys have done is comparable to what Steve Jobs did from the time that the first Apple computer was introduced until what it has become today. I don't think it's any exaggeration to make that comparison.

While traveling the world and making presentations, I had a lot of time with Jerry one-on-one. I also lived at his ranch in northern California. We did, on average, about $17,000 for every two-day (roughly 10 hours cumulative). Jerry would peel off three grand in my pocket every time we'd exceed $15,000 gross for the event. I was barely 20 years old at the time looking to finish my college education. It was a lot of money for me and helped me pay for my college later. We did good, but never took it to the level you guys have.

Here are two thoughts I want to share.

We debated whether or not creating your own stories were actually substantially more effective rather than having them made for you (like you guys did in teaching 十). It is a fact that creating your own is more powerful and effective. However, having them 'made for you' is still very far above conventional learning methods (as you proved with this one character).

What if there were actually a cartoon or virtual reality scene actually cast with real actors, scenes, props, action, etc.? I realize that this would cost a lot of money to do in addition to a tremendous amount of work. You would simply teach the basics as you did in Level 1 and then have students to watch a short movie depicting the scene with all of the props. Jerry and I actually talked about something like this back in the late 1970s. Of course, we didn't possess the tech available today.

My second thought (for you guys especially) is, if this whole process could be reversed from learning English to Chinese to learning Chinese to English, you guys would be national heroes in China. The market is vast and parents pay tons of money to educate their kids in English.

I actually live in China today and own an English training center in Henan Province. I know the market here in China would be amazing for such a program. I also know the amount of money, time and effort in doing such here. It would be an enormous undertaking. You guys are young. I'm 61 years old. My school produces students that are Ivy League-level by the time they finish high school. I employ mnemonics in our pedagogy to a very limited degree.

Just a couple of thoughts.

Keep doing the amazing work that you're doing. It is powerful and effective.
9:10
– MB Community Question
STEPHANIE STONE

Good morning from Beijing! Where do you record your scripts? I like to have everything in one place, so I wonder if I ought to record my script in Anki "movie review" cards. What has been helpful for you all?
13:53
LILLY WOODHOUSE BY EMAIL

Hello Phil!

I am so excited about TMBM.

I used to go to classes, use textbooks, have exams… but as I needed to move I wasn't able to continue with my classes and even tried to learn by myself but I didn't succeed.

One of my goals is to be able to read books in Chinese because I love books and to talk with my friends back in China.

And as I am working on my own blog, I imagine it in Spanish, English and the wow factor would be Chinese!

And maybe, once I succeed I will be able to apply to a different job opportunity.

I hope you have a great week ahead! ?
19:15
GUILLAUME BY EMAIL

Hello Luke and Phil,

I would need your advice on the audio part. I know that your work is based on the reading/written skills , but still.

I started your course one week ago from scratch with no background in reading.

I started the Pimsleur lessons one month ago and i only did 10 lessons until now.

I have only done 2 Pronunciation mastery units but i already know that my weakness will be the listening comprehension and oral expression.

Your method is so effective that i wonder if i shouldn't postpone the study of the characters.

The reason is that it is going to fast to learn new characters and my listening skills will be soon lagging behind.

I wouldn't want that my brain rely only on the sight and not the sound anymore.

Because in that case, what would happened when i will hear an unknown sound ?

If my brain is only used to focus on the sight (for decoding character), i won't be able to relate to the other surrounding sounds of what i heared and be lost then.

As Luke experimented the Pimsleur method, what would be his advise ?

Should i carry on with learning both the characters and practicing with Pimsleur method at the same time ?

If i understood you well, you are saying that one day there would be the merge of the 2 methods in ones head (sound + reading).

When should i go and check with a teacher for audio corrections ? When i will have finished pimsleur lessons ?

I listened to Phil telling that one could be stuck if the focus is only on the audio part. Can you tell more about it ?

Is it still the case with the way i intend to proceed ?

Thanks in advance (you can make a podcast answer if you think that there is an interest for others).

Regards,

Guillaume
31:25
CRAIG CAVANAGH BY EMAIL

Hi guys,

Thanks for your e-mail. I hope everything is going well at Mandarin Blueprint, it seems you've been super busy with all of the new content but it's looking great!

I've really liked the website and found it much more accessible and easier to follow than the original course. It's great that I can keep track of my progress and quickly get back to where I was. The community comments and links to the podcast are great for extra information and help on some difficult to visualise props and scenes.

I was making pretty good progress when I got back into it and quickly caught up. However the last few months I have been travelling again and found it difficult to assign time to new content. This is pretty much what happened last time and is usually due to not having regular, steady access to the internet and not having my computer with me most of the time. It's also pretty tough to keep up a routine when things are a bit erratic so I've also probably missed some chances I could have used to study. I've still kept up with my reviews everyday as I have Anki on my phone so at least I should just be stagnating and not regressing.

I was hoping the app would solve some of this as I would then have easy access on my phone when I'm out and about but it also requires an internet connection. It would be awesome to have some sort of offline version for your stuff where I can download a level and then work through it but I'm no programmer so I'm sure that's a lot easier said than done.

I was recently in Taiwan for a month so I was getting a lot of other input and really improved my listening there. I noticed a huge difference to when I was first in China and could barely grasp the language. It was a bit confusing with the whole traditional vs simplified Chinese but I managed it. Accents are still tough but you get used to it and I found some things similar to in Sichuan (like 'zh' and sh' becoming 'z' and 's').

I tried speaking and didn't really run into too many issues of misunderstanding. The only difficulty was when I tried a full blown conversation and really struggled with grammar but I need more practice for basic fluency on that point.

It also helped me when I went to Japan and could understand some Kanji. There were a surprising amount of times where I was able to use my limited knowledge to get by. It's always great when an unexpected situation shows you how far you've come and why you are doing something.

Anyway, the content is great and just keeps getting better and better so thanks a lot for all of your hard work.

Regards,

Craig

PS. With regards to the app, I set up my account and the 'Product' page for the foundation course doesn't seem to work. It just leads to a blank screen and then error message. The intermediate product page was doing the same originally but seems ok now. Every other page works fine but the one that doesn't is the one I need. Pretty typical, I suppose.

I've checked on the Kajabi site and didn't see much to help. Have you had any similar problems reported by other people? Thanks!
38:23
CRAIG CAVANAGH BY EMAIL

Hey Phil,

Thanks for that. I thought it might be the size since that's the only one that wasn't working. Hopefully it will work out eventually or it can just be an incentive to get to the Intermediate Course instead!

I also forgot to mention that I'm having some difficulty trying to remember the conversation connectors. I do the Anki Deck every day like the others but often have to press the red button for a lot of the sentences. Anki even tried hiding some of them because I'd forgotten them so much and they are ruining my stats.

I think it's because most of them are completely fresh and so have nothing that I can link to to help remember them. I'm also learning them in isolation as I'm not speaking to anyone to try and use them so I'm sure that's not helping.

Do you have any tips or should I just rely on Anki and hope they'll eventually stick in there?

I remember you saying it's not an important deck to begin with. Would it be better to concentrate on that deck later in the course or maybe when I'm in a position to speak more?

Thanks a lot,

Craig
42:36
ROSAN BISHWAKARMA BY EMAILDear Luke and Phil,

Hope you are well. Thank you very much for the answer on the podcast a few weeks ago. Btw, I am a guy, I know the name might sound feminine haha.

My questions are:
What is the timeline for the upcoming expansions?
Is there any research on how many hours of reading it would take for it to feel more "natural"?
Do you guys have experience with languages exchanges and what are your thoughts?
I am very satisfied with the course so far (am at around 800 characters) and 100% I want to stick with it until the last character. This brings me to my first question:
What is the timeline for the upcoming expansions?
I understand that you have outlined everything until 1500 characters (HSK 5 I suppose) and that the next 1000+ characters are a huge project since that would effectively double the course. It seems like this ultimately is your goal, but given your other priorities, how high is course expansion on the list? I really enjoy the course and just want to keep going with it and not use any less efficient method. so as for the last big expansion are we talking about 10 months or 20 months. No need to make big promises, I just want to know in general what your plans are because my goal would be to learn around 2500-3000 in the next 6-8 months.
Reading is incredibly tiring! I would not even say that I am particularly slow at all, especially when I am very familiar with the characters. However, it is very mentally exhausting, to the point where I see it more as a chore rather than something I enjoy. If I had to take a guess, I probably have not seriously read Mandarin for more than 20 hours in total, so it makes sense for it to not be very easy yet.
Is there any research on how many hours of reading it would take for it to feel more "natural"?
I have been trying to find language exchange partners and it is simply a disaster. I am living with a Taiwanese host family and I speak with her almost every night. We talk about anything and everything that just randomly comes up – death penalty, food standards, relationship etc. – and although I have to use Pleco sometimes, the conversations are fun and I find myself organically using new words. But when I am with my language partner, I don't know how to approach it. It usually is very awkward, I feel uncomfortable – my Chinese is much worse – and there I nothing we can really talk about. I don't really understand how anyone finds them useful.
Do you guys have experience with languages exchanges and what are your thoughts?
As always keep it up, you guys are really making this Chinese thing an 80% less frustrating journey.

Cheers,

Rosan
54:52
DEV CHEN ON "LEVEL 11 COMPLETE"

Awesome motivation from you guys! 谢谢!
56:33
PABLO PRIERI ON " (BONUS) HOW TO DEVELOP GREAT STUDY HABITS PART 4: BELIEF"

Great video, like the others said, I like a lot these videos
about language acquisition, commitment to a habit and useful
techniques
58:39
JEFFREY HERZOG ON "PHASE 3 SAMPLE LESSON – READING CHINESE CHARACTERS…LIKE A BOSS."

One thing I really enjoy about mandarin blueprint is that all
the teachers seem so assured and confident. This makes me feel
comfortable and confident that I can reach their level too.
59:04
DEV CHEN ON "IT'S A WORD! 找"

Question: 找 (zhǎo) – "to look for, search, find"
找 (zháo)"want to see; call on" …. is this correct ie. there is
a difference in tone as indicated by this lesson? Thanks.
1:01:30
BASIL ACKERMANN ON" MAKE A MOVIE 半"

I think choosing 丷, | and 二 makes more sense if you care to
learn the stroke order of 半, e.g. you never actually write 十 when
writing 半.
1:02:34
IJA AMRAHI ON "MAKE A MOVIE 借"

Just wanna give a head's up to those who are :
1) aiming for HSK 5/6, and
2) prefers scenes with as little props as possible.

昔 is a common component in a few HSK characters and in my
opinion, worth having a prop on its own.

错, 借, 惜, 措, 籍, 猎,醋,蜡,昔日 (and similiar-looking 散, 撒).

Just add new prop card to your ANKI review list and you're good
to go.

I personally picked a prison wall.
1:04:03
JOHN GRIST ON " IT'S A WORD! 马"

I didn't see the measure word 匹 pǐ used?

Sentence:

他们喜欢马吗?

Pinyin:

tāmen xǐhuan mǎ ma

English:

Do they like horses?

Sentence:

马很饿。

Pinyin:

má hěn è

English:

The horse is hungry.

Sentence:

这马太弱了。

Pinyin:

zhè mǎ tài ruò le

English:

This horse is too weak.

Top-Down Words:

弱- ruò- weak

Sentence:

这个有钱人很不喜欢马。

Pinyin:

zhège yŏuqián rén hěn bù xǐhuan mǎ

English:

This rich person doesn't like horses.
1:06:19
MICHAEL MURPHY ON "CASTING CALL 2/55"

You guys did a magnificent job as I've said before. I know that
it is better to create and associate with one's own places,
actors, props, sets, etc., however, I wonder if it would still be
very effective if you simply chose these and gave the scene (as
you did with the lesson for 十)。 It would seem to save you a lot
of time and remove a lot of possible complexities for your users.
Just a thought. Nonetheless, you've done an amazing job!
1:07:06
CHRIS ON "IT'S A WORD! 种"

Can "我儿子的" and "我的儿子" be used in the same way or do we use
the one over the over because of grammar? Is one form preffered
from native speakers over the other?

Sentence

我有我儿子的这种电话。

English:

I have my son's type of phone.
1:09:33
– Course
Updates
1:14:43

Movies!
This blog post explains the theory behind Movie Scenes and learning characters.
ABIGAIL ON "MAKE A MOVIE 皮"

Props: Dobby from Harry Potter (㇇), Samurai sword (丿) and quill
(支)

Movie: My pi- female actor (Priti) is writing a description of
Dobby (using a quill). She starts to feel his SKIN and is amazed
at how rough & wrinkly it is. Dobby finds this annoying and
lashes out with a samurai sword exclaiming "You're getting under
my SKIN!" Priti gasps and starts apologising profusely.
1:16:53
JOHN GRIST ON " MAKE A MOVIE 四"

Steven Segal in the bathroom fighting cookie monster and Long
John Silver's ( the pirate with a wooden leg) legs
Steven wins y killing them with a garden FORk with four prongs.
1:17:48
JONATHAN PRITCHARD ON "MAKE A MOVIE 日"

My mentor Randi is a magician who had a gag. He'd write a note,
"Today is the day I die" and sign the date every day. He thought
it would be a hilarious gag, and he did that for years before
stopping. So it's easy for me to imagine him walking into the the
bathroom where the Rolling Stones mouth is getting ready. Randi
has a razor blade and says "This is the day!" and then slices the
mouth in half horizontally. Gruesome but personally difficult to
forget.
1:18:55
ABIGAIL ON "MAKE A MOVIE 曼"

Did you just create a new prop for 罒, or did I miss this a while
ago?

My movie scene:
Props: Telletubies sun (日), Mike Wazowski from Monsters Inc (目),
Billie Piper as Doctor Who's companion (又 )

It's sunny, so Billie Piper (wearing a sunhat & sunglasses)
is going to MANHATTAN for a holiday (and she's looking forward to
seeing something on Broadway). Mike wants to go too, so he lies
sideways in her suitcase, hoping she won't notice ?
1:21:45
WILLIAM EDMEADES ON " MAKE A MOVIE 配"

Actor: Aunty Pam (p-)
Location: bathroom of my friend Faye's house (-ei)
Props: giant bourbon glass (酉), Indiana Jones (己 – because he
hates snakes)

My Aunt Pam recently MATCHED with someone on Tinder. Her Tinder
date told her to meet him in the bathroom of Faye's house. Upon
entering the bathroom she discovers that none other than Indiana
Jones was standing there! He then offers Pam the giant shot glass
in his hand. After that the 2 spend the rest of the night
together as a MATCH made in heaven.
1:23:58
HEATHER KIMPTON ON "MAKE A MOVIE 年"

My friend Nia is in the kitchen of my old apartment in Xi'an.
It's very dirty but she's being polite as usual. Next to her is
two-tier afternoon tea stand (instead of cowboy boots) because
we're celebrating our one year friendiversary. Suddenly both the
two tiers start to wobble. If it falls apart we won't have
anything to mark this one year milestone. I grab my giant
razorblade and slam it into the stem of the cake platter but this
obviously does nothing to help. Nia sees Galdalf's broken staff
in the corner and rams it upright inbetween the wobbling platter
and razor blade. Everything immediately stops wobbling. Nia picks
up the weird mish-mash of objects and smiles. Now we can
celebrate our year of friendship!
1:25:50
JAY A ON" MAKE A MOVIE 简"

In the living room of my -an set I have created an elaborate,
complex, rube-goldberg-ian "clock". It is a room-filling bamboo
scaffolding structure with levers, and swing-arms, and balls
rolling down incline planes, etc, etc. As I stand appreciating my
own genius creation, my ji- actress enters. Seeing it all, she
rolls her eyes, removes it all with a sweep of her hand, and
places a metronome in the center of the room. "Simple", she
indicates with ta-da gesture.
1:27:40

Sets!
This blog post explains the theory behind Sets and Pinyin Finals.
B FOSTER ON "SET THE SCENE -EN 3/13"

I was having trouble with EN as well, but I am a huge Star Trek
fan. I have chosen the Starship Enterprise too. Yeah! Engaging
warp drive now.
1:28:21

Props!
This blog post explains the theory behind props and Chinese character components.
MAKAI ALLBERT ON "PICK A PROP 女"

Heels

RIVER NIXON ON "PICK A PROP 页"

I used a big pink pager in my last movie so that is what my prop
will be.

KENNETH MORGAN ON " PICK A PROP 力"

A Van de Graaff generator.

WILLIAM EDMEADES ON "PICK A PROP ?"

Going with nappies (or 'diapers' as they are known in the US)

MAKAI ALLBERT ON "PICK A PROP 西"

Monkey King! from journey to the west

ALINA DANA COROIAN ON " PICK A PROP 大"

King Kong

WILLIAM EDMEADES ON "PICK A PROP 齐"

It almost looks like someone on stilts. Probably not a good prop
by itself but I hope it inspires someone else ?

CONNOR GRIFFITH ON "PICK A PROP 龸"

Rainbow helicopter hat

CONNOR GRIFFITH ON "PICK A PROP 冬"

Santa's sleigh

CONNOR GRIFFITH ON "PICK A PROP 令"

One of those Spiked receipt holders you sometimes see at
restaurants.

CONNOR GRIFFITH ON "PICK A PROP 足"

High heels on my actor

WILLIAM EDMEADES ON "PICK A PROP 酉"

For some reason this prop has always reminded me of a bourbon
glass with something being poured into it so I'm going to go with
a bourbon glass ?

REBECCA WHEBLE ON "PICK A PROP 寸"

Calipers – combines the meaning and the appearance.