Podcast
75. How Much Do You Love Me on Valentine's Day?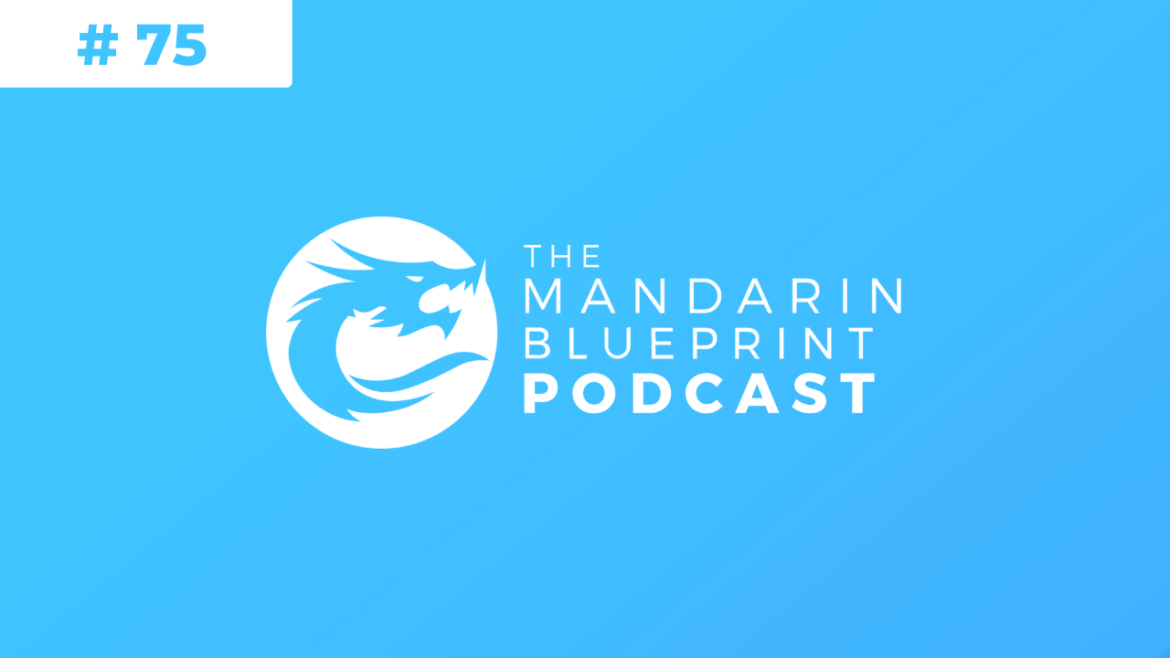 75. How Much Do You Love Me on Valentine's Day?
欢迎光临! Welcome!
You can now subscribe to the podcast by the links below, or you can subscribe by copying the following URL into your favorite podcast APP.
欢迎光临! Welcome!
You can now subscribe to the podcast on iTunes, Stitcher, Spotify, or you can subscribe by copying the following URL into your favorite podcast APP:
https://www.mandarinblueprint.com/feed/podcast/
The Mandarin Blueprint Podcast focuses primarily on The Mandarin Blueprint Method online curriculum. Creators Luke Neale & Phil Crimmins answer questions and comments, discuss topics related to China and Mandarin learning, and have special guests.
75. How Much Do You Love Me on Valentine's Day
00:00

Intro – Thailand Sends Love to China
向中国人民致以深切慰问
真诚希望亲人们早日战胜疫情,度过难关
中泰一家亲,我们爱中国!
中国加油!
"We'd like to express our deepest sympathies towards the people of China. We truly hope our brothers and sisters will soon defeat this epidemic and get through this difficult time. China & Thailand are family, we love China. You can do it!"
8:40

Luke's Mandarin Love Story
So, Valentine's day is coming up and it got me thinking about how much Mandarin has impacted my life.

When I came to China in 2013, I headed straight for Chengdu, Sichuan province. I met my wife on my very first day here, and we've pretty much been together ever since.

Her first impression of me was my voice. She said I sounded like Chris Martin from Coldplay. She loved how I pronounced my (very basic) Mandarin to complain about having to pay for mayonnaise, while ketchup was free. Despite being the manager of the restaurant, she was still impressed.

We connected over my love of her language, and as the years passed and my Mandarin skills developed, we were able to communicate with growing depth. 

I asked her to marry me in a park in Beijing, overlooking the summer palace. We got married in her hometown one month later, and her entire family celebrated with us by force-feeding me baijiu and mountains of food. 

I was able to connect instantly with her hilarious sisters and brothers-in-law, kind and caring aunts and uncles, and her selfless mother. None of them had ever met anyone who wasn't Chinese before, but because I had a firm grasp of their mother tongue, they made me feel like I had always been a part of the family. 

Her grandfather is almost 100% deaf, but thanks to my ability to read and write Chinese, I was able to hold many silent conversations with him, in which I learned all about his fascinating tales of life in Shanghai during the cultural revolution.

I was able to give a moving speech in Mandarin, in which I promised her father (the kindest man I have ever met) that I would make lots of strong grandchildren for him, and take care of his daughter.

I was able to whisper kind words to comfort that man in his last moments as he passed away, three months later.

Next month, I'll be fulfilling my promise to him as we bring our first child into the world. We're going to call him George (乔治).

There are many reasons to learn Mandarin, and I'm certainly not saying that the only reason, or even the main reason, is to build connections with future loved ones. All I can say is that getting to know my wife and her family has been the highlight of my life, and I wouldn't have been able to do it without investing the time necessary for proficiency in Mandarin.

Much love 

Luke
13:01

Grammar Tag #GW-[How-DoesWhat]-To-What-Degree-副词-程度
Sentence 1:
我的口很干。 – Level 13
Wǒde kǒu hěn gān.
My mouth is dry.
我爱你 wǒ ài nǐ – "I love you"
我很爱你 – "I love you very much."
---
Sentence 2:
这桌菜非常香。- Level 13
Zhè zhuō cài fēicháng xiāng.
This table of food smells really great.
---
Sentence 3:
这个医院看起来还干净。- Level 14
Zhèi ge yīyuàn kànqilái hái gānjìng.
This hospital appears decently clean.
---
Sentence 4:
他们真坏。- Level 14
Tāmen zhēn huài.
They're truly awful.
---
Sentence 5:
她今天看起来太漂亮了。- Level 15
Tā jīntiān kànqilái tài piàoliang le.
She looks too beautiful today.
---
Sentence 6:
我的妈妈是最美的。- Level 16
Wǒde māma shì zuì měide.
My mom is the most beautiful.
高 gāo – High — 最高 Highest
好 hǎo – Good — 最好 Best
美 měi – Beautiful — 最美 Most beautiful
---
Sentence 7:
我白天肚子有点疼。- Level 18
Wǒ báitiān dùzi yǒudiǎn téng.
My stomach was hurting a bit during the day.
---
Sentence 8:
你一点也不关心我。- Level 18
Nǐ yī diǎn yě bù guānxīn wǒ.
You don't care about me in the slightest.
一点 – one bit
+ 也 or 都 – also or all
+ 不 – not
+ Adjective
27:36

Miscellaneous
28:08
JENNIFER SWANSON BY COMMUNITY

Hello! Just started today with the free trial and know I'm going to just keep going already after finishing Unit 1 of the Pronunciation course. My hubby has been taking Mandarin courses and learning online for 6 months as he has suddenly found himself working in a new job where only a handful of people speak English and the rest speak Mandarin or Taiwanese. We plan to go to Taipei and immerse ourselves for a few weeks with the help of a tutor, but I want to not be a complete newbie when we go.
My dream is to learn quite a bit over the next 7 months so as to be able to somewhat function while on the trip. I am not sure how much is possible between work and other commitments, but I am motivated to at least feel safe being able to read some words and also because I have a lot of food allergies, so need to communicate those somehow too. Looking forward to this learning adventure! Jenn
32:38
RAMONA BY EMAIL

Hi dear friends of the Chinese culture and language,

I answered this email 2 days ago as I may recall. And only because I (sit down before you read this) don't have a Facebook account! ?

Doesn't matter, I still have some stuff to add and also one question.

I'd start something like this :

"The MBP: learning Mandarin at you own pace, with a solid method, through the careful and professional guidance of 2 talented 老外 from China" ? "

Feel free to use my sincere words on your homepage if you like.

OK, I'm still shooting movies for my characters and I'm on Level 10 now.

The HMM takes me to places only I know, allows me to meet people I haven't seen in a while and makes me relive my life in a different way!

Question : now that I'm only doing the HMM (mainly because my goal for the moment is to finally be able TO READ) do you think I should focus only on this or look for other type of stuff like listening to podcasts etc?

It's quite funny, I'm living in China for 3 years and I may say I'm an "analphabet" haha

This had to stop!

So here we are, I'm using your amazing and fun method to finally start being able to read.

Hope you enjoy my answer.

Thank you for your efforts and passion.

And PS

I love your motivational videos after finishing at least 3 lelevs.

They keep me moving ahead.

The quarantine time here in China is a good time to learn more these days.

Cheers,

Ramona
36:06
RAMONA BY EMAIL

Hi dear Luke and Phil, (L goes before P, that's why the order haha)

It's quite funny, these days I even thought about giving you a short feedback but I've been caught up in your videos and a bit in the…. new virus challenge (as you may NOT remember, I'm living in Shanghai haha)!

And I'm still here, didn't leave the country… ?

OK, back to your GREAT course!

I'm done with the pronunciation and currently on level 9 shooting daily new movies for my characters!!

I was not sure at the beginning if this will work but I'm having a lot of fun!

The HMM gives me daily the chance to "go" to old apartments I've lived in, "visit" old friends' houses and "meeet" old or new people from my life in quite unusual places sometimes.

Your course gives me now (more than ever maybe) due to the home quarantine we're all facing at the moment a great discipline (I'm usually not like that haha ).

I'm always excited about the new videos and that's a great compliment guys! Yes, be motivated to go on! It's worth it.

I don't read often what people say, but I saw these days how one guy was complaining about the bad sound on the Anki cards… Not an issue at all in my case.

I think he may need a new computer ?

Anyways, I don't mean to upset anyone with this, is just a reminder for you not to get descouraged by some comments!

But I'm sure you know that by now!

Ok, I hope you made it so far with my email and you don't need any eye transplant.. And hope to hearing from you, too !

Not only a formal text, but also a more personal one if you want. How is your life in quarantine for example… Haha

I'm sure it's only a great chance to work more on your beautiful course!

Take care and all the best!

e—hug,

Ramona
40:13
TRISTAN KNOTTS BY EMAIL

Hey guys,

First of all, I want to say I love these motivational emails you send at the end of each level. Each one is quite encouraging and usually offers a nice little lesson or tip. I'm looking forward to reading many more of these. I also would like to say I've really been enjoying your method of learning Mandarin. I previously struggled, especially because so many words have the same pronunciation words would get all jumbled up in my head. It clicked for me today when I was learning 旦 and 但, I was like oh it's totally fine that they have the same pronunciation, it actually works really well in creating two continuous movie scenes. I'm excited to see where this takes me going forward.

I don't know if you two are currently living in China but I'm in Beijing for the next few months and will be traveling around the country after that. Would be happy to chat or meet up if you're ever close by. Stay safe from the spooky Coronavirus!

Grateful customer,

Tristan Knotts
42:51
BELINDA HERMAWAN BY EMAIL

Hi Luke and Phil

The Mandarin Blueprint Method is absolute genius. I'm ethnically Chinese-Indonesian but the language was lost many generations ago, so being Australian, English has been my one and only language. I've stop-started learning other languages before, although never Chinese. French, Japanese, Korean, German – been there, tried that, didn't stick.

To start learning Mandarin at 33 years old sounds crazy to most people, but the Mandarin Blueprint Method works in a way that apps and textbooks don't. I can self-pace my learning and take advantage of my photographic memory and overactive imagination. Suddenly having such a Western tongue is not a disadvantage – you guys cater for the English-speaking 'habits' so effectively. And through Anki, the constant practice is making the characters stick. It's only been a matter of weeks!

I'm only onto Level 13, but once I've gotten further in, I'd love to share my experience with this Method, perhaps being on the podcast or even pitching an article to a literary magazine or journal about how unlocking Mandarin has brought me closer to my heritage and opened up more creative possibilities. I'm a writer and plan to incorporate some of my language learnings in my second novel (my first novel is still out on submission to US publishers – fingers crossed). Some of my short stories have drawn on Chinese culture without me having an understanding of the language, so I'm excited to learn properly.

Keep up the great work and I can't wait to tell others about your amazing product.

Kind regards

Belinda

Perth, Western Australia
46:10
RICK ANGLELAND ON"PICK A PROP 米"

Does this refer to cooked or raw rice (I am aware they're
distinguished in Asian languages). Anyway, I think of those
measuring boxes they use in the markets, full of raw rice.
47:13
RICK ANGLELAND ON"TIME TO GET REAL ABOUT SENTENCES"

I'm looking forward to experiencing this. I like to understand
grammar, and it's said that adult language learners have the
advantage over children because they can explicitly learn the
grammar. And I've looked at programs like Glossika and felt
sceptical. But I trust you guys because you're speaking from
experience. Here goes…
49:56
RICK ANGLELAND ON" MAKE A MOVIE 和"

"And" is very abstract and hard to make a movie about,
especially about "and" rather that just including it as a word in
the script. Heisig has this as "harmony" which gives a bit more
scope for images. DO you strongly advise "and"?
51:24
RICK ANGLELAND ON"BONUS! CONVERSATION CONNECTORS :-D"

Tim Ferris did a stunt in which he learned as much Tagalog as
possible in one week then was interviewed on Philipino TV. He
explains that he relied a lot on what you call "conversation
connectors" to sound fluent while also filling in time!
53:36
TOM ON"IT'S A WORD! 种"

This answer was helpful, thanks!
Would it be grammatical to say "…我的儿子的电话…" in this kind of
context, or do you always drop the first "的" when the thing being
possessed (in this case, my son) is possessing something else (in
this case, a phone)?
55:46
IJA ON"VOCAB UNLOCKED FROM 品"

Hey guys.

Just need a bit of help to wrap my head around the term '常备药品',
which is translated by multiple dictionaries as 'standing
medicine'. The character breakdowns gave me an idea of
'frequently prepared' medicine. For example, over-the-counter
drugs that families tend to keep for fever, headaches, tummy
aches etc. Standby medicine maybe?

And am wondering what else can be paired with '常备' .

Thanks.

常备军 chángbèi jūn – Standing army
常备储蓄 chángbèi chǔxù – stock of savings
常备产品 chángbèi chǎnpǐn – regular products
常备队员 chángbèi duìyuán – regular player
58:39
DAWN SHANNON WILLIAMS ON"MANDARIN INITIALS: CATEGORIZED"

I was able to download the PDF. This information is a life
saver. Wow, I wish your were around 7 years ago. I have spent so
much time and money.

Thanks
59:42
TYSON ON"MAKE A MOVIE 其"

Just in case this is helpful to others…
I wasn't sure if I'd remember to have two small strokes inside
the 廿 and so I tweaked the props a little, ending up with these
three: 廿, 二, and 䒑 (instead of 甘, 一, and 䒑).
1:00:44
PETTERI NAKAMURA ON"PICK A PROP 丶"

There is a potential problem with this prop. In the system the
following 白character is introduced as using it and then the next
one is 今, but in the former this stroke is written from top right
to bottom left and in the latter from top left to bottom right.

Some other examples are 底, 对, 定, 家, 放, 博, 字, etc.
Come to think of it, the only characters I can come up with,
which use the top right to bottom left stroke, are 白 and 自…
1:03:35
JOHN GRIST ON"NEW VOCABULARY UNLOCKED! 每(个)"

don't see the measure word in
人每天都要吃饭

为了身体好,我们每天都要走一走
1:05:07
RICHARD KRAUSE ON"NEW VOCABULARY UNLOCKED! 认真"

What is the meaning or purpose of 地 in the first three
sentences?
1:06:48
ALINA DANA COROIAN ON"NEW VOCABULARY UNLOCKED! 身体"

This is a rare case I could use my props to memorize this
compound word:

The MASK JIM CARREY (prop for 身) loses BODY because JOKER (prop
for 亻) writes it down in the DEATHNOTE NOTEBOOK (prop for 本).

I was wondering if other people have found some more clues or
interesting ideas for memorizing compound words. Some of them can
be really troublesome for me to forge them into my mind. So I
would appreciate some more ideas…
1:10:52
PETTERI NAKAMURA ON"IT'S A WORD! 吓"

Are 男的 and 女的 normal words or rare ones just used because
characters for other words aren't introduced yet? Is there a
video about the different words to describe the genders?
1:13:13
ATTILIO BELENCHIA ON"LEVEL 14 COMPLETE"

Hi all.
The past year has been a most enjoyable ride with Mandarin
Blueprint.
While I am nowhere near where I would like to be with my Mandarin
(at least spoken Mandarin) I must say that I am gaining more
confidence trying what I have learned so far when I am at my
workplace where I am fortunate too have native Chinese and
Taiwanese colleagues who help me with my mistakes and also
encourage me to keep practicing my Mandarin.

On a side note if you ever want to have some fun watch a Youtuber
named Xiaoma (Little Pony). He is a young American(at least I
think he is American) ?

He is fluent in Mandarin and also some Cantonese. He randomly
walks up to native Chinese speakers on the streets of China and
NYC and start off by asking questions in English then shifts to
Mandarin. I enjoy his videos and envy his fluency in Mandarin!

Cheers!
1:15:17
YASMIN GUENDOUZI ON"(BONUS) HOW TO DEVELOP GREAT STUDY HABITS PART 4: BELIEF"

"It's a decision, not a desire". These words are so true. We can
sit around all day wishing for something, but unless you make the
decision to go for it, it won't happen. Great motivational video,
you're one of those positive people you were talking about ?
1:16:17

Movies!
This blog post explains the theory behind Movie Scenes and learning characters.
TYSON ON"MAKE A MOVIE 吵"

Hearing a lot of noise, my Ch- actor busts into the room to find
the Mouth (口) trying to use sound waves to move a badminton
shuttlecock (少) across the room. It's so noisy that the Mouth
can't hear Ch shouting for him to stop. So much noise…
1:17:33
KENT BROECKELMAN ON" MAKE A MOVIE 有"

Yidina (sic) is in the Living Room (3rd tone) of my -ou set. She
is auditioning new actors for a remake of Dirty Dancing. A
werewolf is first up and they are set to do the famous lift. "You
HAVE to practice this a lot. You will HAVE to HAVE this perfected
if you want to be in the movie!"
1:20:16
KENT BROECKELMAN ON"MAKE A MOVIE 随"

I'm talking to SUperman in the kitchen of my -ei set. He just
got a new iPhone and wants to try out the wide angle feature.
"Maybe I'll take a picture of the entire Berlin Wall!" he says.
"That's a great idea, will you just fly over there and do that?"
I ask. "No, I'm going CASUAL as Clark Kent, so I'll just take a
flying carpet so I don't get recognized"
1:21:52
KENT BROECKELMAN ON"MAKE A MOVIE 友"

Yidina (sic) is in the Living Room of my -ou set. She is still
auditioning for the male lead for the remake of Dirty Dancing.
Because the werewolf didn't work out, she has decided to ask Baby
() to bring in a FRIEND to try out. Baby decided she would bring
her close FRIEND Ernie (又). Yidina says "I'm glad you are such
close FRIENDS, that way you can practice the lift more often".
1:23:15
TRISTAN KNOTTS ON"MAKE A MOVIE 唱"

CHarlie is in the bathroom of ANG set and in his towel singing
"Pocket Full of Sunshine" as the Mouth and Suns sing along in the
mirror.
1:24:03
KENT BROECKELMAN ON"MAKE A MOVIE 发"

Flavor Flav is out front (1st tone) of my -a set. Bernie (友)
sees him and thinks he is breaking in. She pulls out her samurai
sword (丿), sending drop of blood (丶) through the air and screams
"I'm going TO SEND you to your maker you thief!"
1:25:06
TYSON ON" MAKE A MOVIE 见"

This scene relies more on it's comedic feeling. I'm in the
backyard of my -an set with my Ji- actor. She thinks that she saw
the cardboard box behind me move, and she's also thinks that she
caught a glimpse of two legs moving it!
"Did you see that?" "See what?"
It happens again. "You didn't see that?!??" "See what?"
"How could you not see that?!?"
Etc.
1:25:55
KENT BROECKELMAN ON"MAKE A MOVIE 风"

I'm walking into the front door (1st tone) of work (-eng) one
day and see Flavor Flav (f-) at the valet stand (几) and he's
putting a pair of scissors (乂) into the stand. "What are you
doing that for?" I ask. Flav answers, "Oh, that is just because
of the WIND, just using these as a paperweight. By the way, did I
ever tell you about the time…". "Sorry Flav" I interject "I
don't really have time, and you tend to be awfully long WINDed".

1:27:04
KENT BROECKELMAN ON"MAKE A MOVIE 那"

Amy (-a) is sponsoring the traveling exhibit of the Berlin Wall
(阝) in her backyard (4th tone). Noah (N-) has come over to help
assemble it. Amy points to some barbed wire ( 月) and says "Pick
THAT ( 那)up and then put THAT ( 那)over THERE (那儿)".
1:28:16
KENT BROECKELMAN ON"MAKE A MOVIE 哪"

I'm in the Living Room (3rd tone) of Amy's (-a) looking out on
Noah (n-) and Amy assembling the traveling Berlin Wall (阝). Just
as they are adding barbed wire (月) to the wall, a howler (口)
shows up and asks "WHERE (哪) did that come from? WHICH ( 哪儿) one
of you fools is responsible?"
1:29:06
TYSON ON"MAKE A MOVIE 真"

Scene for 真
Discussion with my friend Jerry (Zh-) outside of my -en set ~
I asked him what the measure of truth is. He's pulls out his
measuring tape (直) and two chopsticks (八) and says, "We can find
out."
"Jerry, we can't get the measure of truth that way."
1:29:48
BELINDA HERMAWAN ON"MAKE A MOVIE 和"

My -e set is a department store I used to work at. So for this
one I have comedian Hasan Minaj, the manager, trying to find the
Rolling Stones Mouth employee who's gone missing from the shop
floor. Hasan finds the Mouth lounging around in the break room
(kitchen), chewing on a stalk of wheat, which the Mouth
immediately spits out on being caught. Hasan is flabbergasted and
can only yell with 'AND what do you think you're doing?'
1:31:58
BELINDA HERMAWAN ON"MAKE A MOVIE 包"

I have Ben Affleck arriving at a birthday party at my -ao set
(friend's house). He's outside the entrance, struggling to hold
the gift of a snakeskin purse in a snakeskin box with his broken
arm (which is in a cast, all wrapped up) while he uses his free
hand to ring the doorbell.
1:33:03
BELINDA HERMAWAN ON"MAKE A MOVIE 杯"

Ben Affleck is at the entrance of my old high school (-ei set),
drinking a cup of eggnog. Scrooge comes out to point at the
nearby Christmas tree, which has a big red circular 'no'/'banned'
sign to the right of it. Scrooge says 'bah humbug' and knocks the
drink out of Ben's hand, which makes Ben yell 'hey, that's my
CUP!!'.
1:34:46
BELINDA HERMAWAN ON"MAKE A MOVIE 公"

I went with the musical triangle prop rather than the elbow
(thanks for the suggestion in the comments a few vids back), so I
have Graham Norton downtown, wanting to busk with his triangle
even thought he's not very good. He's stops outside of a
government building (my -ong set), but he's not sure if it's the
best place, so he gets out his his Magic 8 ball and asks if he
should start playing here. After being shaken, the Magic 8 ball
says 'No way! You're in PUBLIC!'
1:36:16
BELINDA HERMAWAN ON"MAKE A MOVIE 台"

My -ai set is actually a mall. In the food court (kitchen),
there's an empty stage. At the front of the stage, there's a big
Rolling Stones mouth sign. People in the food court start getting
excited, thinking the Rolling Stones are going to play a
surprise, pop up concert. But instead, a PLATFORM rises from the
stage and it's just Tom Hanks playing the triangle.
1:37:10
IJA ON"MAKE A MOVIE 赖"

Keyword : To Rely On
Actor : Leonardo Dicaprio @ My neighbourhood IKEA
Props : A bouquet of roses, Courier guy on a motorbike

Leo just came back from fighting bears and had forgotten his
mom's birthday. He was fidgeting in the parking lot of my
neighbourhood's IKEA, holding a bouquet of roses.

Just like everyone else, he relied a lot on online services to
get things done. He used an app to call for a rider.

The courier guy arrived and quickly went off to dispatch Leo's
roses. Technology is so reliable these days!
1:38:20
IJA ON"MAKE A MOVIE 离"

Keyword : To Be Away From
Actor : Lady Gaga inside the kitchen of my childhood home
Props : Brain in a jar, glass cover, a slice of pizza

Lady Gaga was happily walking into my childhood kitchen with a
slice of pizza when she saw a brain in a jar on the kitchen
counter.

She immediately felt grossed out by the sight of the raw raw raw
raw raw organ.

To protect her pizza from unwanted splashes, she covered it with
a glass cover and walked away from it to go to the sink to puke.
1:39:32
JULIAN LAFFEY ON"MAKE A MOVIE 舞"

This one is so complex. To make it simpler, I combine the whole
top part (everything but the eye mask and zombie components) into
a 'zipper' component.
1:40:14
BELINDA HERMAWAN ON"MAKE A MOVIE 决"

The kitchen/breakroom area of my -e set is completely iced over;
icicles like ice cave. Clifford the big red dog is absolutely
freezing. My -ju actor can't find any blankets but there is a
two-part horse costume – the fleecy type like that of a mascot.
He says Clifford has to DECIDE whether to wear it to warm up or
whether it's just too silly. Clifford decides to wear it, so the
actor puts the horse head on Clifford.
1:41:46
BELINDA HERMAWAN ON"MAKE A MOVIE 动"

Daniel Radcliffe is directing an action movie in the backyard of
my -ong work building. Daniel yells 'action', and the scene
starts with a big, angry cloud coming from the left to chase a
Power Ranger.
1:42:35
BELINDA HERMAWAN ON"MAKE A MOVIE 河"

Hasan Minhaj goes to the kitchen/breakroom of the -e store where
he works for a drink of water – he's absolutely parched. Barack
Obama is at the water cooler and lifts out the entire bottle so
he can hand it to the thirsty Hasan. On taking a big gulp, Hasan
spits it out and says 'this is absolutely foul!', to which Obama
says 'oops I forgot this water is from the RIVER – we have to
filter it first'.
1:43:52
TYSON ON"MAKE A MOVIE 诉"

Because 诉 means "to accuse, to complain, to tell", I designed a
scene that combines these three.
There's a court proceeding in my old backyard (-Ø).
Superman (su-) is being charged with damaging a lot of property.
He's being restrained by a small, half-kilo. weight (斤) made of
kryptonite and a threatening water-dropper filled with kryptonite
(丶).
Because there are so many people gathered, I have to use a
megaphone (讠) to TELL all the COMPLAINts that he's ACCUSEd of.
1:45:07
JACK ON"MAKE A MOVIE 简"

Ji character jumping up and down on the bed shaking the bamboos
above her head and singing SIMPLY irresistible to the beat of the
metronome
1:45:43
JACK ON"MAKE A MOVIE 司"

soundtrack (sung by rolling stones mouth) : "smooth OPERATOR"