Episode
194. The Great Environment 伟大的环境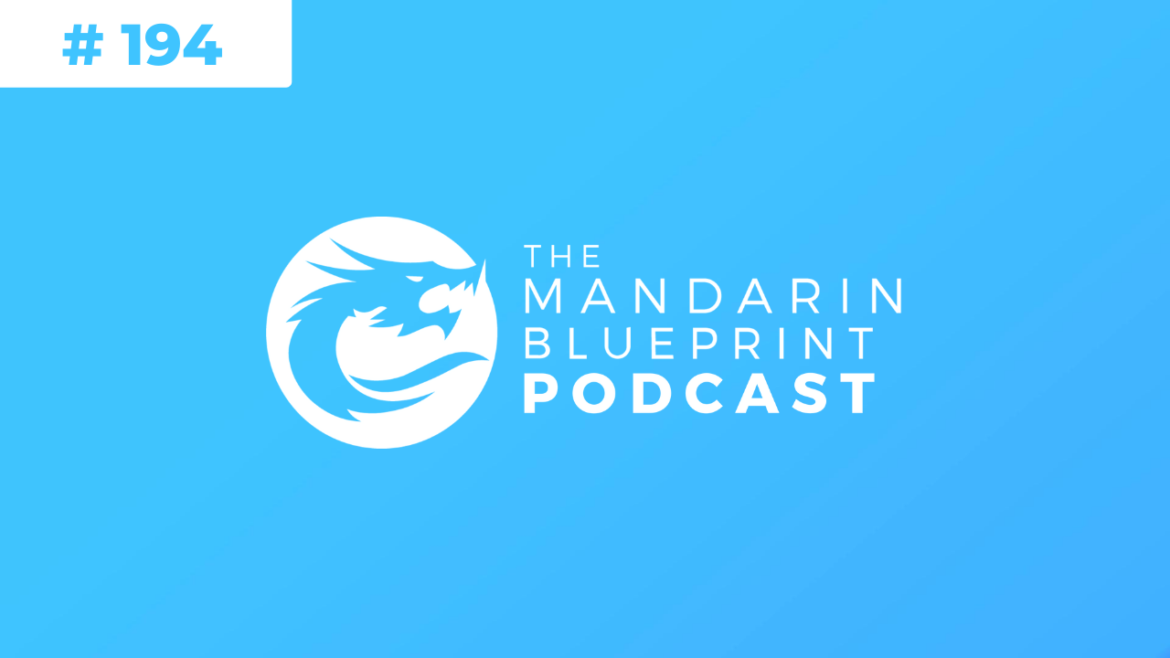 194. The Great Environment 伟大的环境
Podcast Duration: 01:00:40
欢迎光临! Welcome!
You can now subscribe to the podcast by the links below, or you can subscribe by copying the following URL into your favorite podcast APP.
The Mandarin Blueprint Podcast focuses primarily on The Blueprint online curriculum. Creators Luke Neale & Phil Crimmins answer questions and comments, discuss topics related to China and Mandarin learning, and have special guests.
Want to learn how to speak fluent Chinese fast? Join our free Webinar right here.
194. The Great Environment 伟大的环境
0:00

Affiliate Link & Reviews
Become a Mandarin Blueprint Affiliate
Leave us a Google Business Review 🙂
Sign up for the Mandarin Blueprint Challenge Here: https://go.mandarinblueprint.com/the-mb-challenge
14:08

Opening Chinese Text

大家好,

我是 Phil。最近一个月我在旅行,这次旅行让我深刻地认识到了习惯的价值。

在旅行期间,我不得不摆脱自己的日常习惯,并尝试适应新的环境。这让我意识到,习惯对我们的生活有多么重要。它们可以帮助我们建立良好的生活方式,并且使我们更有效率。

例如,当我回到家里时,我发现我已经习惯了早起。这使我能够更好地利用我的时间,并且让我感觉在工作上更有生产力和创造力。

我还发现,当我没有习惯的支持时,我很容易放纵自己。比如我更容易吃垃圾食品,而不是健康的食物,并且我也更容易精神涣散,很难专注于一件事。

所以,这次旅行让我意识到,习惯是如此的重要,它们可以帮助我们建立良好的生活方式,并让我们更有效率。我希望大家也能通过培养良好的习惯来改善自己的生活。

祝好,

Phil
16:00

Comments & Emails
Florine van Meer by Community

It's looking like nothing can stop you (the email sent after completing phase)…

And that's exactly how I feel! I am super excited about this course. I studied Chinese for a year in Xiamen, almost 10 years ago. Maintaining what I had learnt back home was tough, and I tried so many things.. I had HSK4-5 level when I came back.

I've always struggled to find a structured way to continue my Chinese studies. Textbooks give that structure but are slow, and many courses offered around here (Netherlands/Belgium) focus only on passing HSK tests. Going through the pronunciation mastery course felt like a waste of time in the beginning, but it greatly improved my understanding of pinyin. And it is so much easier to learn from non-native speakers that gave gone through the process themselves.

It is surprising how well the scenes from the Hanzi movie method stick. And my understanding for every single character I have learned so far is so much greater than it was back when I was living in China.

Luke&Phil, thank you very much for the well structured course and encouragement. I can't wait what comes next and when I am above my previous level with a much more solid base. Today is day #41 for me, with the minimum per day reviewing all my Traverse flashcards, and doing something small everyday starts to pay off.
27:38
Chad Ressler by Email

Hey Phil and Luke,

I think about 4 years ago today, I was watching Luke sitting on the bench talking about learning Chinese and deciding what I wanted to do. Then, on January 18, 2019 (yes, I'm a little early!), I signed up for the Mandarin Blueprint. I thought I would send you guys an update email, since I am your slowest student! And yes, I am sitting here this morning with a Chinese Youtube video in the background practicing listening.

When I started I had absolute zero Chinese ability. Now, I can actually rank my Chinese strengths, which are as follows: 1. Reading, 2. Listening, 3.Speaking, 4. Writing. I can't actually write any Chinese, but I can type it! I do have Skritter and some writing practice books, I'll get there. I love reading Chinese and I am getting pretty good at it. With my tutor, I've noticed he will talk to me in Chinese and I can understand what he's saying for the most part, but I still struggle with speaking and expressing myself. This is not the fault of the Mandarin Blueprint, of course, but of how I've chosen to learn Chinese. I've always been intimidated by speaking Chinese and held myself back from it. Reading was my focus, and so I've vastly improved in that area. Don't worry, my tutor forces me to speak and I am, slowly, getting better with it! My tones are improving as well, something about working with my tutor has really improved my ability when reading to just know the tones of the characters better without thinking about it anymore. I also don't always translate into English in my head when I'm reading.

There is never a day anymore where I am not doing something related to learning Chinese. It is my life now, so I know that eventually I will be reading and speaking fluently. I work with a tutor from Dalian 2-3 times a week and we are going through all the HSK courses. I definitely need to start the Intermediate course, but I've always been intimidated by the prospect of 900 more characters. However, recently I've noticed that the major thing holding me back now is simply a lack of characters/vocabulary.

If I could go back 4 years and change anything about my Chinese language journey, the only thing I would have done differently was sign up for the Mandarin Blueprint a lot sooner!

Chad
34:30
Cameron Ogle on Level 4 Complete

I recall earlier on in the course you guys reminding us to stay patient and repeatedly saying that "you will get it" and "it's just a matter of time". Seems like my time has come haha. I've been consistently hitting the couse over the last couple of weeks, after lurking for ages, and the method is definitely clicking. I can visualise the movie as soon as I see the character. My sets, rooms and actors are all making sense. It seems ridiculous to me that I can still remember my movie and characters that I made when I first started and then abandoned the couse over a year ago. Just crazy. The best part though is the excitement and renewed vigour to push through more and more of the couse. Thanks again guys for creating this beautiful monster.

Cheers.
Cameron.
38:38
Merideth Ezell on Set the Scene 1/13 – Dig Into Your Childhood

My parents remodeled my childhood home several years ago, and as a result I have several rich memories of very different versions of the same home.

For example, my family's 1st 10 years in that house we had a pool in the backyard. But about 10 years ago my parents filled the pool in, and now it is a lovely garden with a screened in back porch and lots of plants. I have a lot of memories from both versions of this backyard, and both versions can make a great set for a scene.

Could these two versions of my childhood backyard be a problem, or is it not a concern as long as I know that – whether I'm in a pool or on a porch – it's still the backyard of my childhood home?
42:05
Merideth Ezell on Pick a Prop for 十

Could this cause confusion as we flesh out our cast down the road? My favorite incarnation of the Doctor from Doctor Who is the 10th Doctor, played by David Tennant. I was thinking of using this Doctor as a prop for 十, but I'm concerned that this may interfere with my cast down the road since he is a fictional character.
44:18
Ioanna Pappou on Vocab Unlocked from 卖: 买卖 – 外卖

What's the difference between 外卖 and 打包?
45:31
Ioanna Pappou on Vocab Unlocked from 车: 上车 – 下车 – 公交车 – 火车 – 汽车 – 开车 – 打车 – 自行车 – 电动车

Is 电动车 used for e-bikes or motorcycles too?
46:23
Lucas VILLANI on Level 2 – From Confusion to Comprehension

It's fine if I use the sentences I will get from the intermediate course right?

I am curious though : is listening to Chinese songs already a good step towards good listening comprehension? I do know that the tones are not always respected and stuff.
I guess that content at my level like the sentences is a lot more reliable though…
51:18
Kelly Graham on Choose Your Challenge

The Insanity Challenge

Sign up for the Mandarin Blueprint Challenge Here: https://go.mandarinblueprint.com/the-mb-challenge
55:03
Evere on 几岁 in Context

Luke, Pleco and an online Chinese dictionary both say 狗狗 is 3rd-1st tone, just like 好好. I'm a bit confused. Would you be so kind to explain a bit more, why do you say it "should be 3rd-5th", where should we be checking these things up? Thanks!
57:25
Glenys Gallagher on Make a Movie 休

I find it really important to write the characters (and movie scenes) down as I have aphantasia (no visual imagery). It probably takes me twice as long but hey ho I am really enjoying the course anyway!