Episode
17. Skin in the Chinese Game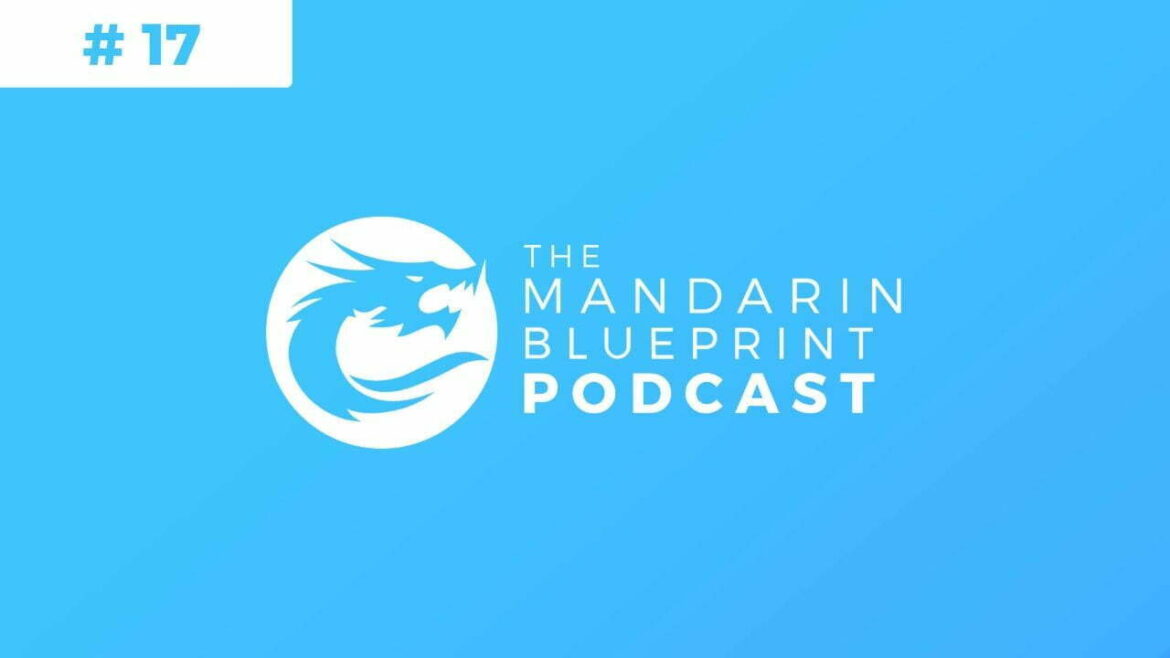 17. Skin in the Chinese Game
Podcast Duration: 00:40:00
欢迎光临! Welcome!
You can now subscribe to the podcast by the links below, or you can subscribe by copying the following URL into your favorite podcast APP.
The Mandarin Blueprint Podcast focuses primarily on The Blueprint online curriculum. Creators Luke Neale & Phil Crimmins answer questions and comments, discuss topics related to China and Mandarin learning, and have special guests.
Want to learn how to speak fluent Chinese fast? Join our free Webinar right here.
欢迎光临! Welcome!
You can now subscribe to the podcast on iTunes, Stitcher, Spotify, or you can subscribe by copying the following URL into your favorite podcast APP:
https://www.mandarinblueprint.com/feed/podcast/
The Mandarin Blueprint Podcast focuses primarily on The Mandarin Blueprint Method online curriculum. Creators Luke Neale & Phil Crimmins answer questions and comments, discuss topics related to China and Mandarin learning, and have special guests.
17. Skin in the Chinese Game
6:56

Props!
This blog post explains the theory behind props and Chinese character components.
CHAD RESSLER ON CHARACTER #136: 么 ME PICK A PROP

I thought of Popeye flexing.

WILLIAM EDMEADES ON PICK A PROP FOR 二 – EVER SEEN "THE SHINING" BY STANLEY KUBRIK?

I choose 二 to represent gutter lanes in 10-pin bowling. As a bonus, 'èr' sounds similar to 'Argh!' as if you accidentally rolled a gutterball!

RYAN SMITH ON CHARACTER #181: 云 YÚN PICK A PROP

Related, distinctive option: Lakitu, the Koopa in the floating cloud from Super Mario.

RYAN SMITH ON CHARACTER #196: 两 LIǍNG PICK A PROP

Two-Face from Batman the Animated Series
9:22

Actors!
This blog post explains the theory behind actors and Pinyin Initials.
WILLIAM EDMEADES ON CHARACTER #5: 干 GĀN CASTING CALL 2/55

Would it be a good idea to use my grandad for the 'g' initial?

GRAHAM HOPPER ON CHARACTER #41: 早 ZǍO CASTING CALL 24/55

Mark Zuckerberg
11:43
WILLIAM EDMEADES ON (BONUS) DIALECTICAL PROBLEMS

I THOUGHT I heard Anny saying "Duōraǒ qián"! Back when we learned about "Duōshaǒ qián"

Thanks for clearing that up! I was thinking "That's an interesting 'Sh' pronunciation" haha
14:03
GARETH DAWSON ON "PROBLEM" INITIALS OVERVIEW

Thanks. Yes, I am a nitpicker. Do many people pronounce Xing like the English Sing? It took 10 minutes to figure out that pronunciation with my Chinese colleague. Does the a and e sometimes have the exact same sound en as in "ten"? a in ian van and e in ei, ie ve.
16:35
GARETH DAWSON ON CHARACTER #5: 干 GĀN MAKE A MOVIE

I use Garfield outside a bank, throwing a pipe onto a cross, but I also add the detail of the pipe is shorter than the horizontal line of the cross and the environment then changing into a dry desert as a punishment. To make sure the top line is not longer than the bottom line.
18:25
CHAD RESSLER ON CHARACTER #133: 还 HÁI MAKE A MOVIE

Location: My Old Trailer (Kitchen)
Actor: Hu Jintao
Props: Dalton and Road

Hu Jintao has retired from politics and came to the US to privately tutor me in Mandarin at my old trailer. However, people have found out that he is there and want him to tutor them so they can speak Chinese. There are so many people that I had to set up barriers and have Dalton standing at the road preventing people from getting inside. I tell Hu that they will go away soon, but he tells me that those who want to learn Chinese will wait forever. We study all day and into the night, and I keep looking out the window but all the people are STILL there. When we finish studying, Hu points out the window to all the people and says "See, they are STILL there" wanting to learn, and he goes over to the windowsill to grab his phone. He then posts a timelapse video that he's been recording to his Facebook page with the caption "People STILL waiting to see me for tutoring".
23:52
RYAN SMITH ON CHARACTER #182: 运 YÙN MAKE A MOVIE

A scene where the props just kind of write themselves:

Cloud – Lakitu from Mario. In Mario Kart, he's the guy in the cloud who uses a hook to pull you back onto the road when you drive off the edge.

So Yoda, my yu- actor, is running down a road that's going through my par*en*t-in-law's bathroom. He falls off the edge of the road and slides into the tub (to involve the location a bit). Lakitu appears in his cloud and pulls Yoda up into the air…and then spins Yoda around underneath him like a mobile over a baby's crib.
26:34
RYAN SMITH ON CHARACTER #187: 可 KĚ MAKE A MOVIE

Some of my animate props are starting to take on very consistent personality traits in my scenes. For example, the rolling stone mouth I use for 口 has become a complete jerk in all the scenes it's in. I'm finding that this consistent, obvious personality really helps me to remember it in my scenes.
27:42
RYAN SMITH ON CHARACTER #192: 椅 YǏ MAKE A MOVIE

To help emphasize the halo for 奇, my scenes so far have involved the halo sitting off to the side somewhere in the scene, and then at some point, my actor grabs the halo and puts it on and it grants them some sort of superhuman ability. In the case of 椅, putting on the halo grants my daughter (Eliana) the superhuman ability to mold a Christmas tree into a chair.
29:46
CHAD RESSLER ON CHARACTER #140: 丢 DIŪ MAKE A MOVIE

Set: Joe and Ryan's house (Outside Entrance)
Actor: Diane (My Landlord)
Props: Samurai Sword and Traffic Light

We are all hanging out in front of my in-law's house and the city has begun the installation of a new traffic light. My landlord Diane is hanging the new traffic light for the city on their street. Unfortunately, she can't get it to work and doesn't understand why. She gets increasingly angry, and then we notice that the traffic light doesn't have any bulbs in it, but she can't find any. We are all laughing at her and asking "How could you LOSE bulbs for a traffic light"? Incensed, she pulls out a small samurai sword and cuts down the traffic light and it crashes to the ground!
31:16
CHAD RESSLER ON CHARACTER #141: 法 FǍ MAKE A MOVIE

Location: First Apartment (Living Room)
Actor: Phil Crimmins
Props: Hose and Traffic Light

I'm sitting in the living room of my first apartment and I get a knock at the door. I answer it and the gentleman says, "Hi, I'm Phil Crimmins, if i can come in for a second, I can show you this new METHOD for learning Chinese". I let the guy in and he sets his briefcase down in the living room. He pulls out a hose and a traffic light and proceeds to tell me how these represent props in his new Chinese METHOD and he acts out a scene where he puts them together to make some character. He's spraying this traffic light with water in the middle of my living room going on and on. He tells me with his METHOD that anyone can learn Chinese for only 3 payments of $19.95. I tell him that Chinese is too hard to learn even with his new METHOD and he leaves.
33:05
CHAD RESSLER FROM EMAIL

Hey guys,Thought I would share this with you. So, I taught myself how to use chopsticks this week. Never before have I been able to use them so I gave it a go and it took about 5 YouTube videos and 36 hours, but I got the hang of it. I decided I wanted to appreciate Chinese food and culture more so I learned to cook a few basic dishes. I conquered sticky rice, and then tonight I actually made Shrimp Mei Fun and my fiancee did say it tasted as good as our take-out place hahaha. Next up is buying a Wok and I want to learn how to make Pepper Steak!Suppose I should go do Anki…
34:35
RYAN SMITH FROM EMAIL

Hey Guys,Is there any possibility of releasing the new eBooks in a different format? I don't have great eyes, and so prefer to read on my Kindle with a bit larger text, which is something I can't do with a PDF. Not sure what program you used to generate the text, but many programs have a feature that will allow you to publish the book into an epub format, which is a generic format that can be easily loaded onto any eReader.Thanks!Ryan Smithp.s. if this is something you're interested in and willing to do, but need some technical help to accomplish it, let me know.
35:55
IPSITA NEPAK FROM EMAIL

Hi Phil & Luke,
Thank you for motivating these 30 days. I haven't finished the pronunciation course yet, but I'm very happy to move ahead slowly. Your video and teaching method is so simple yet clear, I can focus on each video may it be about tone, pronunciation or new word.
Thank you for guiding the beginners perfectly, gradually I'm liking to learn Mandarin. I know it's too early to say this but at least I'm not scared anymore to learn.
I'm glad to find mandarin blueprint !!
Keep doing this great work.
38:12
– eB
ook links: