Podcast
68. How to Maintain a Positive Mindset When Learning Chinese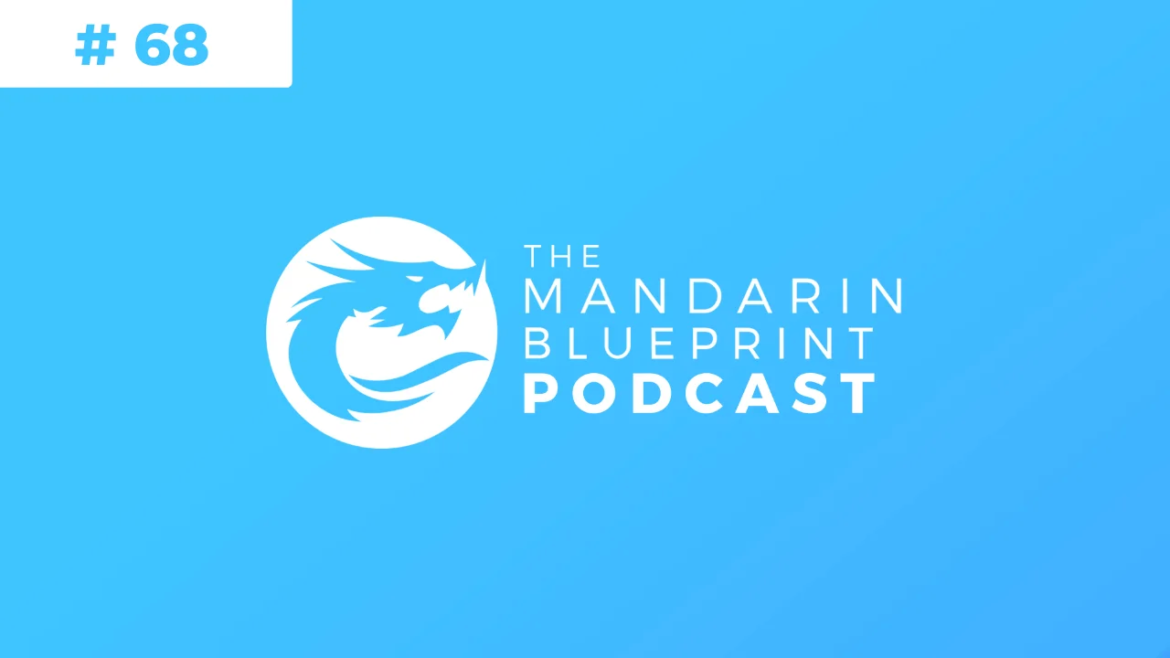 68. How to Maintain a Positive Mindset When Learning Chinese
欢迎光临! Welcome!
You can now subscribe to the podcast by the links below, or you can subscribe by copying the following URL into your favorite podcast APP.
欢迎光临! Welcome!
You can now subscribe to the podcast on iTunes, Stitcher, Spotify, or you can subscribe by copying the following URL into your favorite podcast APP:
https://www.mandarinblueprint.com/feed/podcast/
The Mandarin Blueprint Podcast focuses primarily on The Mandarin Blueprint Method online curriculum. Creators Luke Neale & Phil Crimmins answer questions and comments, discuss topics related to China and Mandarin learning, and have special guests.
68. How to Maintain a Positive Mindset When Learning Chinese
25:03

Miscellaneous
JEFFREY HERZOG FROM EMAIL

I can remember the characters and tones. Anki is amazing too. TBH i was skeptical from all your Ads and videos talking about How great the method is, as a musician and entrepreneur i deal alot with advertisements and sales. I thought it was all talk- but yall have come through on every promise about success and progress. I'm sorry to have doubted because my chinese is improving so much and I can see milestones being met. Thank you to all of you.
26:23
JAY A ON" NEW VOCABULARY UNLOCKED! 关心"

Thanks, Phil, for taking the time to provide such a clear and
thorough answer. That was a perfect explanation. Thinking
"Private Club with restricted membership" makes it very sensible.
Interestingly, I had no problem formulating a very similar
concept for 关系 from the first time I saw it. For whatever reason
though, "heart" had my thinking stuck where "relationship"
didn't. The mind works in weird and wonderful ways…

One of the things I really appreciate about the course you have
laid out is not getting bogged down in the literal translations.
I think that tack will help us all not get caught in too many
traps like this by trying to think in English and speak in
Chinese. And, like you, I find myself attracted to the
straightforward nature of a lot of the Chinese formulations.

With this method and your insights, I believe I may one day be
able to understand and use humor in a second language. That would
be wonderful! ?
32:12
– Course
Updates
32:12

Movies!
This blog post explains the theory behind Movie Scenes and learning characters.
32:28
ADAM CARDILINI ON"MAKE A MOVIE 总"

I was a bit stuck on a connection with 'Always' until I remember
the first band I ever went and saw, and I've seen about 10 times,
have a great song called 'Always'.

The Butterfly Effect – Always
34:09
MICHAEL ROTCHFORD ON"MAKE A MOVIE 会"

Fade in to the Hulk in my ei bathroom. He is preparing his body,
heart, mind and WILL for his greatest feat ever! The Hulk will
attempt to cap a mushroom cloud with an umbrella. Is it possible?
Will he be able to do it? Can it even be done? Meet up at your
nearest theater to see the most EPIC HULK film ever! Don't miss
it! Fade to black.

35:44
DEBORAH DRISCOLL ON"MAKE A MOVIE 自"

Ziggy Marley is in the bathroom of my childhood home, happily
looking in the mirror and squirting eye drops in his eyes while
singing his song "Got to be true to MYSELF" as he sings
"m-eye…."he sees a giant eyeball pop up behind him in the
reflection behind him. It blinks at him quizzically but he just
squirts an eye drop at it, and it disappears, leaving Ziggy
looking at himself proudly!
36:54
MARK YELLOCK ON"MAKE A MOVIE 干"

Please give any feedback possible. I love this method and want to
foreseen any possible problems I may come across in the future.
scene for -an: my grANdmother's house.
props: razorblade, cross
actor for g- : Guy Cosentino, Family friend, former mayor of our
city. His family owned a florist shop in town.
Script:
Guy Cosentino is standing on the front porch of my grandmother's
house with flowers to deliver. He begins to warm up his voice to
sing a song with the delivery, but the wind begins to blow
ferociously and DRIES out his throat and he begins to cough
ridiculously. I decide to remind him that he should cut the stems
of the flowers before placing in water. He thanks me for the
reminder as he gingerly retrieves a large razorblade from his
inner jacket pocket. The metallic twang of the blades' movement
is stopped suddenly as the razorblade gets caught halfway on the
necklace just above the enormous jewel encrusted cross. The
flowers immediately begin to DRY and wither.
39:57
KIKA BISOGNO ON"MAKE A MOVIE 马"

My sister is in her LIVING ROOM watching the news about a
strange event that had just happened: Merlin the wizard was
performing magic tricks in the middle of the street, causing a
terrible traffic jam. An angry mounted police officer approached
and without saying a word, pushed the wizard to the floor. Merlin
was enraged and with a flick of his magic wand, he turned the
officer's baton into a rubber SQUARE RULER and his HORSE into a
TOILET bowl. The bystanders roared with laughter but then the
policeman pulled a RAZOR from his pocket and threw it at Merlin
with such force that it split his wand into pieces. Just another
day in Australia…
43:00
KIKA BISOGNO ON"MAKE A MOVIE 吗"

My sister wants to put a love spell on a boy she really likes.
She asks Merlin, the wizard, to help her and he agrees. He says
to her "Pay close attention and do exactly as I say. Tonight, at
midnight, go on ON THE ROOF and take with you two dried
Australian spiders, a drop of saliva from your own MOUTH and a
hair from the tail of a black HORSE. Put everything in a
fireproof pot and burn it". "Wait, wait, wait!" says my sister in
disbelief. "Is that really going to work?" Merlin responds in an
aggravated voice "Do you want his love, YES or NO?". My sister
nods. "Then, do it!"
46:10
KIKA BISOGNO ON"MAKE A MOVIE 骂"

The love spell my sister performed turned out to be a complete
disaster. She followed the instructions to a T, but instead of
falling for her, the guy despises her.
She looks for Merlin and finds him in the BACKYARD preparing
another magic potion. "You good for nothing wizard, you've ruined
my life" she SCOLDs him. "The love spell did the opposite. Now he
hates me!" she said, close to tears.
"That's impossible! Did you burn the 2 Australian spiders, 2
drops of saliva, one from your MOUTH and another from his MOUTH,
and the hair from the HORSE's tail, as I instructed?" he asked.
"What? You never said I needed his saliva!" she screamed. "I
didn't? Oops! sorry…"
48:28
XIAO TIAN ON"MAKE A MOVIE 某"

Location: Living room of my -ou set
Actor: Mel Gibson
Props: candy bar 甘, plants 木

When I was a boy, my grandfather would hide candy bars in his
garden for my sister and me to find. We really believed he could
magically grow candy bars.

I shared this story with Mel Gibson in the living room of my -ou
home. He felt my story had a certain something (某事?) to it that
would make a touching short film that he'd like to direct.
Sets!
This blog post explains the theory behind Sets and Pinyin Finals.
HARRY MANNO ON"SET THE SCENE -EI 9/13"

Canada eh!
Props!
This blog post explains the theory behind props and Chinese character components.
BEN METCALF ON"PICK A PROP 丰"

Panda from the Land of Abundance!

BEN METCALF ON"PICK A PROP 生"

Ive used Jesus for Ju and Eggs for Dozen.
I will use a seed for this ?

WILLIAM EDMEADES ON"PICK A PROP 束"

束 – lasso (meaning "to bind")

ALINA DANA COROIAN ON"PICK A PROP 云"

Cloud from Final Fantasy

CHARLOTTE O'BRIEN ON"PICK A PROP 力"

SHAKE-WEIGHT (fitness tool)! ? Easily memorable and represents
"power"!