Episode
56. The Intermediate Struggle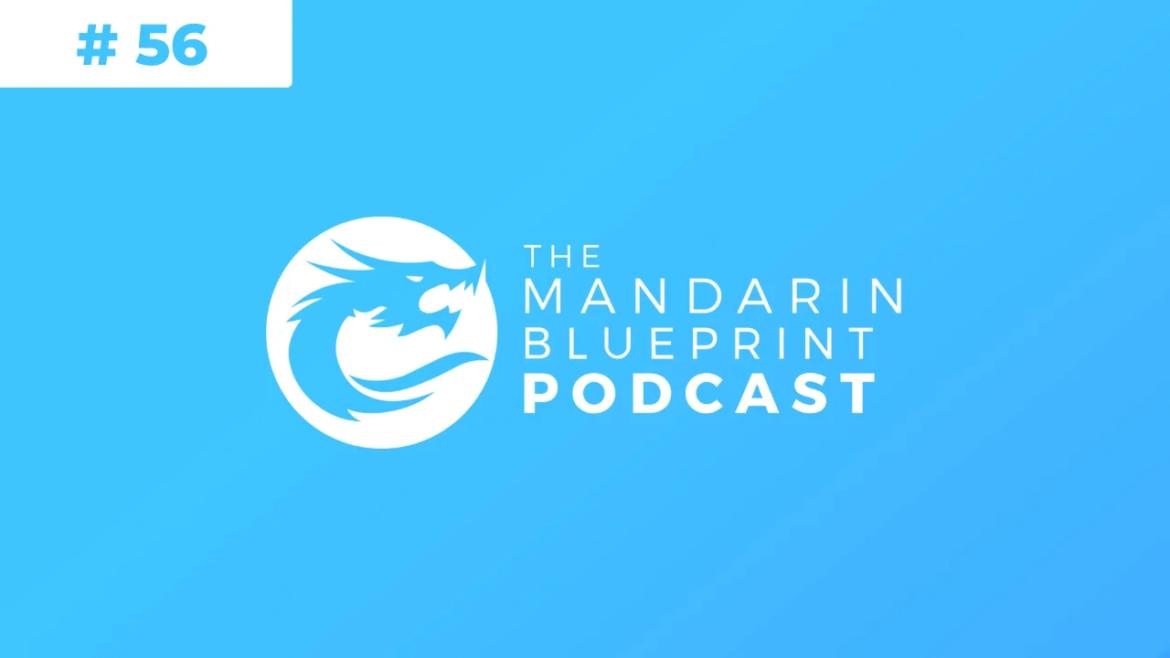 56. The Intermediate Struggle
Podcast Duration: 00:59:47
欢迎光临! Welcome!
You can now subscribe to the podcast by the links below, or you can subscribe by copying the following URL into your favorite podcast APP.
The Mandarin Blueprint Podcast focuses primarily on The Blueprint online curriculum. Creators Luke Neale & Phil Crimmins answer questions and comments, discuss topics related to China and Mandarin learning, and have special guests.
Want to learn how to speak fluent Chinese fast? Join our free Webinar right here.
56. The Intermediate Struggle
欢迎光临! Welcome!
You can now subscribe to the podcast on iTunes, Stitcher, Spotify, or you can subscribe by copying the following URL into your favorite podcast APP:
https://www.mandarinblueprint.com/feed/podcast/
The Mandarin Blueprint Podcast focuses primarily on The Mandarin Blueprint Method online curriculum. Creators Luke Neale & Phil Crimmins answer questions and comments, discuss topics related to China and Mandarin learning, and have special guests.
00:00
–
Updates
1:50
–
ePub readers for PC/Windows
https://www.ofoct.com/viewer/epub-reader-online.html
4:23
– MB Community Question
GREGORY PATURAU

Hello guys,
I'm Greg. I'm from Mauritius Island but living in Macau for 5 years already but only started learning mandarin like 10 months ago with Mandarin Blueprint. I never really tried before as there is this cliché that it's very difficult to learn chinese and Learning new language has never been my thing. But I must say Thanks to MB, I'm learning very fast and with lots of fun. Many of my Chinese colleagues think I have a private teacher but I don't and some don't beleive and it makes me a little proud. xD
Anyway I'm still a newbie but slowly but surely I'm getting better. Once again, great job guys! MB deserves much more attention!
7:42
– MB Community Question
FRED SNYDER

(Mentioned in Podcast: HOW SHOULD INTERMEDIATE LEVEL STUDENTS LEARN MANDARIN ONLINE?)

Hi Guys,

I am truly impressed with the passion Phil and Luke have for teaching Chinese. Not only have they researched and assembled a well structured course, but they show care and attention to individual concerns and questions.

I have been studying Chinese for quite a while through online and language exchange partners. Along the way I've picked up some bad pronunciation habits. The pronunciation course was fantastic with the lessons, ebooks and Anny!

My problem is this. With respect to the character course and memory palace method, I am already very sure of the pronunciation, tones and meanings of many words.

1. How do I integrate what I already know with new words in my "memory palace," and

2 I find it hard to justify (maybe not the right word) the investment in time in creating sets, scenes, props, and actors. This is not a criticism of the course in any way, but my own internal struggle. Any thoughts, suggestions?

May I offer some resources that I have found to help with my individual learning before I discovered this course.

1. YoyoChinee (yoyochinese.com) is worth a look. The courses are graded to different levels of difficulty and are quite interesting and authentic with a distinct Beijing flavor. These courses are not free, but Yoyo has many free youtube videos about different Mandarin topics.

2. Imandarinpod.com – the audio and Hanzi text are free, but for a yearly (not expensive) subscription you get pdf versions of the text and lesson.

3. mandarincorner.org 90% free with great videos, word lists, grammar etc. Good if you want to hear street level Chinese dialog.

4. Last, but not least, Viki Chinese movies with English and Mandarin subtitles. some have "learning mode" which allows pausing the video to see the definitions of words.

Is there a place on this course that external resource suggestions can be posted?

Fred
17:35
– MB Community Question
CAMILLE RONDEAU

Hello!
I'm reading other people's introductions and everybody seems to have a good, serious reason to want to learn Mandarin, and I'm afraid I don't have any! Well, maybe you'll get a laugh out of how I ended up here…
I've always liked languages, and the whole process of learning to read, write and speak. I know a few European languages, but I never learned anything from outside the Western sphere. I realised I was really craving the challenge when I started talking other languages in my dreams! So I started thinking that I could start something new, on top of my busy science student schedule, just to put my mind to something else!
Why Mandarin? Here's the crazy part! So I met a really cute guy, who studied Chinese in university and taught English in Beijing for a while. He lives far away at the moment, and we won't be together before at least another six months. We're constantly talking about our love of languages, but he'd never expect me to be able to share in his passion for Mandarin. I want to learn in secret while we're living apart, and then knock his socks off. How far do you think I can get? And will you help me find the best plan/prank setting to reveal my new skill when time will come? ?
Anyway, I'm absolutely loving it so far! Luke is a great teacher!
21:07

Props!
This blog post explains the theory behind props and Chinese character components.
JONATHAN PRITCHARD ON "PICK A PROP 马"

Oh, man. What a good horse. Trojan horse it is!

RIVER NIXON ON " PICK A PROP 彳"

I chose Ron Burgundy (Anchorman) for 亻and decided to go with
Simon Pegg (I forget the name of the character he played) in Hot
Fuzz for 彳.

RIVER NIXON ON " PICK A PROP 钅"

The Golden Ticket is a great suggestion, I'm going to use it!
Thanks!!

CHRIS ON"PICK A PROP 半"

yin and yang for me (half black, half white)

JONATHAN PRITCHARD ON" PICK A PROP 乙"

I'm using a swan because it's already the second place-holder in
my narrative timeline in my memory palace for playing cards. It's
deeply connected to 2, so that's a fortunate coincidence!

REBECCA WHEBLE ON"PICK A PROP ?"

I couldn't bring myself to use a person as a loser. My
archaeologist son said it looks like an adze (or more
colloquially a grubber) so now at high noon Woody throws an adze
at the cross.

CHRIS ON"PICK A PROP ?"

It is also the move that the knight (horse) does in chess,
that's how I remember it

ABIGAIL ON"PICK A PROP 天"

The character 'Sky' from Mamma Mia!
27:48

Actors!
This blog post explains the theory behind actors and Pinyin Initials.
DEV CHEN ON"CASTING CALL YU 27/55"

Yuan Kim — is a South Korean former competitive figure skater.
She is the 2010 Olympic champion and 2014 silver medalist in
ladies' singles; the 2009 & 2013 World champion
28:18

Movies!
This blog post explains the theory behind Movie Scenes and learning characters.
ALINA DANA COROIAN ON" MAKE A MOVIE 香"

Reviewing this script a silly song verse came to my mind and
it's so addicting I added it to my script:
It's the children song "The farmer in the dell" but I use it as
"The farmer on the sun / The farmer on the sun / Hi-ho, the
derry-o / The farmer on the sun"

*THE FARMER is my propo for 禾 .
30:11
ELARY HALL ON"MAKE A MOVIE 每"

The Soundtrack to this is definitely Every Breath You Take by
Sting, or is it the Police? I have my loser singing it to my mom
while dancing around her. Super creepy, and subsequently,
memorable.
31:18
REBECCA WHEBLE ON"MAKE A MOVIE 叫"

My sister is in the bathroom floating a toy sailboat in the
bath. Out of nowhere the Cheshire Cat appears on the left rim of
the bath. In panic she screams out my name.
32:54
CHAD RESSLER ON"MAKE A MOVIE 饭"

Location: Grandma's House (Backyard)
Actor: Phil Crimmins
Props: Menu and Giant Coin

I'm hanging out at my Grandma's house in the backyard when Phil
Crimmins drops by. He's visiting from China and has stopped by to
tell me of an investment opportunity. He tells me he can't lose
with this endeavor and in front of me sets a menu and a giant
coin that looks like a .50c piece. The menu has all different
kind of rice dishes and on the front it says "Phil's Rice
Mobile". He tells me that it is his new rice truck and he has
several good locations where he can park it and make a lot of
money selling rice at only 50cents per bowl. I tell him I'm
strapped for cash as i had to pay for my Mandarin Blueprint
subscription.
35:12

Pronunciation
CAMILLE RONDEAU ON"PROBLEM INITIAL X & SIMPLE FINAL I (YI): 习 XÍ"

I find these three videos about problem initials a bit
confusing, he doesn't explain them as well as the other sounds!
We learn about /ji/ and /ge/ and phrase structure, and that's
nice, but there's little about the actual pronunciation
difference between /ji/, /qi/ and /xi/, as one would have
expected from the video titles. Good thing there's the PDF, but I
would have liked to spend more time on it with Luke!
38:01

Miscellaneous
IJA AMRAHI ON"VOCAB UNLOCKED FROM 鲜"

Awwwww… No love for 海鲜? ?
39:54
ANTONIO LIMA ON "PICK A PROP FOR '一' – RAZOR BLADES, CIGARS & LEAD PIPES"

So it seems I am in the 2% of the population that has Aphantasia
so currently unable to see anything in my mind's eye, so the
question is, can I still use this method if unable to visualise
anything?
41:57
KATHLEEN GANS ON"ANKI DECK(S) INSIDE – LEVEL 25 COMPLETE"

I wanted to finish picking my actors, but have only found the
first 52 of 55. After level 24 there are no more casting calls.
Are we not using pu, nu, and lü?
43:52
KENNETH MORGAN ON" IT'S A WORD! 台"

Kenneth Morgan has left a new comment on "The Mandarin Blueprint
Method – 80% Foundation":

Is 坐着 basically the same as 在坐 ?
45:31
DAVID CHANG ON"SIMPLE FINAL Ü (YU): INTRODUCTION WITH 鱼 YÚ"

Is there a good way to watch these on my phone without an
internet connection? I'd love to be able to watch the videos
while riding the subway but reception is only intermittent in the
tunnels.
46:40
TYLER HIKIDA ON"TUTORIAL: MB'S SPECIAL EPUB FILES FOR PRACTICING PINYIN FINALS"

None of the audio works in these programs work. So frustrating.
Please help!!!

Adobe Digital Editions – The column where the audio play button
should be is blank. Everything else on the page seems right.

Calibre – shows that there is audio files on the page but can't
play them.

Freda – The play button is grayed out so it won't let me play any
of the audio files

Ice Cream ePub Reader – you can click the play button but nothing
plays. My speakers DO work.

I've spent a few nights trying things and going through google
troubleshooting. I'm not computer illiterate by any means. I'm
going to become a soccer player pretty soon and send by computer
flying.FML
47:08
ABIGAIL ON"NEW VOCABULARY UNLOCKED! 因为"

In the anki card for 因为我晚上8点才下班,他们等不了我回家去吃饭, both pronunciations
sound like 'liǎo' for 了, but we haven't learnt this meaning of 了
yet.
49:29
ERIN GINSBURG ON"MAKE A MOVIE 非"

"Three Stooges" prop? I only remember 三 sān, no prop assigned. I
might have missed it in later lessons, though. In any case, would
you consider this to be Three Stooges broken into 2, or two
separate props?
50:33
KENNETH MORGAN ON"NEW VOCABULARY UNLOCKED! 什么"

If I'm not mistaken we haven't learnt gan4 meaning to do, only
gan1 meaning dry.
51:48
ABIGAIL ON"NEW VOCABULARY UNLOCKED! 白天"

How can we tell that 我白天肚子有点疼 is past tense? Could it mean "I
have a little stomach pain during the day"?
53:41
CAMILLE RONDEAU ON"ANNY 老师 REVIEW: SIMPLE FINAL E"

Is it just me or sound quality is not as good on Anny's videos
so far? The initials sound weird!
54:07
MICHAEL ROTCHFORD ON"(BONUS) THE LANGUAGE LEARNING TRIPOD PART 3: TIME"

I am really excited about my decision to learn Mandarin! My wife
thinks I'm nuts and she is really tired of the Chinese radio and
the TV shows that I listen to non stop. A funny thing has started
happening though. Out of the blue I started noticing the
different tones being spoken on the radio and when I understood a
single word for the first time I was elated. I haven't got to the
point where I'm bored because something new "clicks" for me every
day. I'm using the slow and steady approach because I want to
really learn. It is so so different than when I had to take a
year of a language in college that I barely made it thru, and
never learned a doggone thing.
54:01
SANJA KRAJNOVIC ON"YOU DID IT!!!"

I love you guys! I love how you cover everything and how I can
actually learn properly. You go into details, you give us fun
facts, your ways of explaining are brilliant, you are amazing,
your personalities are the best…I enjoy coming here every day
and learning. I love teachers that care and that are passionate
about what they teach. It makes me motivated and inspired. Thank
you so much! You are extraordinary!
P.S. Thank you for the ending of lesson 9, part 7…I laughed so
hard… One more reason that I love you two…you are genuine and
being yourselves