Episode
63. Characters: Gotta Catch 'em All!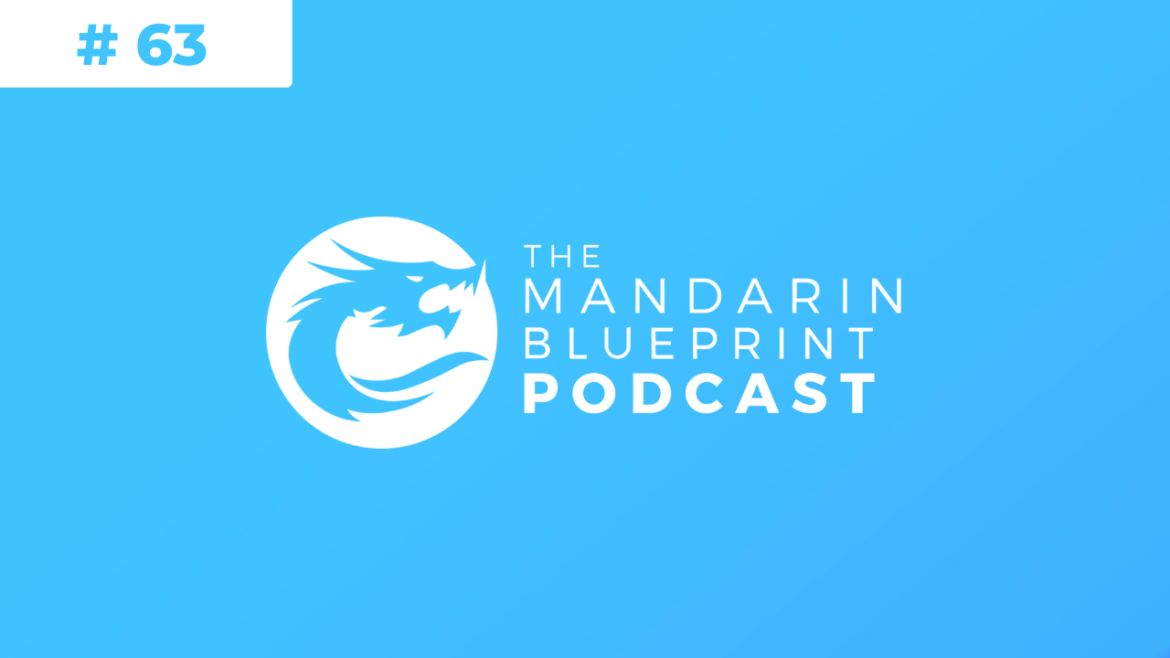 63. Characters: Gotta Catch 'em All!
Podcast Duration: 00:51:12
欢迎光临! Welcome!
You can now subscribe to the podcast by the links below, or you can subscribe by copying the following URL into your favorite podcast APP.
The Mandarin Blueprint Podcast focuses primarily on The Blueprint online curriculum. Creators Luke Neale & Phil Crimmins answer questions and comments, discuss topics related to China and Mandarin learning, and have special guests.
Want to learn how to speak fluent Chinese fast? Join our free Webinar right here.
欢迎光临! Welcome!
You can now subscribe to the podcast on iTunes, Stitcher, Spotify, or you can subscribe by copying the following URL into your favorite podcast APP:
https://www.mandarinblueprint.com/feed/podcast/
The Mandarin Blueprint Podcast focuses primarily on The Mandarin Blueprint Method online curriculum. Creators Luke Neale & Phil Crimmins answer questions and comments, discuss topics related to China and Mandarin learning, and have special guests.
Mandarin listening resources mentioned in this episode:
Slow Chinese
63. Characters: Gotta catch 'em all!
0:29
KATE GANS BY EMAIL

Thanks!

By the way, it is been really helpful when you put the links to YouTube right after the question that is addressed. I think I listened to that episode, but at the time I had not reached that point in the course, so I didn't know which sentence was being referred to (I listened to the audio-only podcast for that one). I always read the comments at the end of a lesson, and if someone has a question, I often have the same one, so it is nice to be able to link to an answer. Thanks for also taking time to create all the podcasts and YouTube clips. They've been quite helpful.

I'm still really enjoying the course and hope to finish level 18 soon. An interesting thing I have noticed is that I am getting better at reading the sentences silently and understanding them. At first, I had to say them out loud and very slowly to be able to understand them. I still read out loud to practice pronunciation, but some days I don't feel like talking so it is great to be able to read silently. Also interesting is that I can understand the sentences without having to translate them to English word-by-word. Since this is the first language I've focused on truly learning, I now realize what people mean by thinking in another language. It sounds like an obvious point, but when I took two semesters of French, I just did enough to get through the class. So I never had this type of experience.

I also find learning Mandarin more enjoyable than learning French because of the characters. In a way, it reminds me of when I was a kid and collecting things like Star Wars action figures or My Little Pony toys. Each time I learn a new character it is like I have increased my collection. An advert for this would read something like "You too can collect all 3000 characters plus the 2000 character expansion pack!" And I'll never run out of characters to collect!

Cheers,

Kate
9:52
DANIEL SAITOWITZ BY EMAIL

Hi Luke

Thanks for this. I've just been working through the free trial this week.

You mentioned the course will eventually cover 1,400 characters.

But you need about 3,000 to get to advanced level.

I'm around 1,200 characters at the moment, but found it gets much harder to progress as the characters get more obscure and less frequently used.

What's your advice on carrying on and getting to that 3,000 character level?

Thanks

Dan

Replying to Luke's video
14:32
CHAD RESSLER BY EMAIL

Hey guys,

Just wanted to let you know that I'm still plugging along. I've been getting the emails about having gone a week without activity. I feel I made a mistake earlier on by not doing enough sentences because I wanted to get more characters. So, I made the decision to halt characters until I had completely caught up every sentence from Level 13 to my present level lol.

I noticed when I got to levels 21-25 that I couldn't read the dialogues as well as I think I should be able to. I believe it is because I didn't focus on my sentences enough. I just feel like I should be able to read better than I actually can right now, and that's my fault, not the fault of the course.

Everyday tho, I do Anki…I've memorized a few Chinese songs I have that I use for tongue/mouth muscle memory practice, and I've been putting character subtitles on some Kung Fu movies to switch things up a bit. I usually will watch one of my movies in Chinese, and then watch one in English with character subtitles.

Hope all is well with you guys and I'm just about caught up so you'll have more of my awesome movie scenes again soon for the podcast that im sure you've been missing .

Chad
17:07
DEREK HAUNG ON "THIS IS WHAT YOUR STUDY SESSION SHOULD LOOK LIKE (REQUIRED)"

This is a great course btw, I am Chinese Canadian, i know a bit
of Cantonese, and for the past 3 years i've gone through multiple
online, apps, mini courses, and so far i've found this method
working the best. Just need to take time learning the memory
method (which is beneficial to everything, not just language).
18:14
JAY FROM "THE MB COMMUNITY"

I feel a desire to have the audio for all the required sentences somewhere that I could listen to it ad hoc. E.g., play it while I'm in the car — just driving around town listening to native speakers say meaningful sentences that I can understand. Nothing rigid, or structured; no quizzes, grades, or completion stats. Just sound files I'd put on a loop. "Background music" that would have those sounds (comprehensible input) in my ears a lot.

I did some googling but could not find any add-on for anki that would allow export of audio, certainly not for exporting only *some* audio. I can find the individual mp3 files in the file system on my pc, but they're not labeled in any way that I could easily pull out just the ones for required sentences from lessons I've completed.

Phil, Luke,
Is this something you might consider for the future? Or is it even a good idea?

Your system *absolutely works as-is* with the anki reviews! I am just looking to bump up my own input. (And, full disclosure, I am sometimes too quick on the "good" button when I read the sentences. I read them and understand them, but I have to remind/force myself to slow down and listen to the recordings so I can get the auditory input as well. This was an idea to compensate for that shortcoming.)

I think you said you have something like this for the longer paragraphs, opinion pieces, and stories that come later on. Maybe I'm jumping the gun trying to get it at the sentence level. In which case, I'm happy to wait. You haven't steered me wrong yet.

Ija's Response:

It's probably doable. My biggest wish for MB is for the individual sentences to have audio beside the text inside the course itself. But that requires a bit of code knowledge since the platform doesn't have any easy way of directly attaching audio file inside the content.

Btw if you're a beginner and want something long (more than 15 minutes), interesting and fairly comprehensible, I personally listen to Chinglish podcast – where one native speaker speaks in Chinese and the other host speaks in English. It's fairly less brain-intensive compared to 100% Chinese and you'll get to pick up new words here and there. There are a few out there – ChillChat, Mandarin Monkey, ChinesePod etc. Especially great if English is not your first language – you get to learn both ?
24:15
PABLO PRIERI ON "LEVEL 13 COMPLETE"

Hi guys,

I've recently started using the Mandarin Blueprint method and am closing in on 300 characters. As a result, I'm thinking about doing my HSK level 3 examination.

I feel like my reading, writing and speaking are quite good, my main issue is with listening. Can anyone recommend the best (structured) online listening course I can use to improve this aspect of my Mandarin?

Any suggests or comments would be much appreciated.

Thanks a lot,
George
26:34
PABLO PRIERI ON "LEVEL 13 COMPLETE"

I do think you and Luke complete each other very well, please
don't stop helping us climb this Chinese mountain, you are really
helping us going up in a fun + holistic way.

A more complete feedback from my experience so far here below:

Spanish being my mother tongue, I did had to spend a considerable
amount of energy to reach a native level in French (I had a
96/100 in the C2 level exam), but took me less than a year (due
to its proximity with Spanish). My approach was very similar to
the MB method : I started getting a solid base of Pronunciation
and then move on to learn words/verbs (Bottom up) and finally
reached the level where I could do reading and speaking also (so,
adding the Top-down part).
Learning French to native-like level is no way compared to
learning Chinese because of obvious reasons (different alphabet,
grammar structure, sounds, etc…) so I quickly began searching
for efficient shortcuts/techniques to move faster without
compromising the quality of my learning. Learning Chinese has
been so far the most complicated academic task so far in my life
(and I studied Industrial Engineering), thanks guys for
facilitating our lives. The quality of your work is inspiring ?
28:35
– Course
Updates
35:17

Movies!
This blog post explains the theory behind Movie Scenes and learning characters.
BRETT YOUNG ON" MAKE A MOVIE 已"

Yoko Ono and John Lennon are looking for a snake in the living
room of my childhood home. They each have an open box in one hand
and a hook in the other hand to capture it. Suddenly Yoko spots a
snakeskin in the corner and says "the snake left already" and
angrily throws down the box. The camera next shows outside the
house and a laughing snake is slithering away while the Eagles
"Already Gone" plays in the background.
38:14
JOHN GRIST ON" MAKE A MOVIE 百"

I am trying to make the room association stronger, so my actor
stands on the bed to paint the ceiling.

similarly in bathroom they sit in the bath.
39:26
ADAM CARDILINI ON"MAKE A MOVIE 话"

In this instance I was lucky with the props that I picked for
the two Hua's. In each version there is a different 'person'
represented by a prop – Chuck Norris and Lickitongue. My actor
for h-, Mr. Hankey, has evidently set up a councelling clinic in
my -e set bathroom. First to help Chuck TRANSFORM into Snow White
and to help Lickitongue TALK with a megaphone despite his big
tongue! Mr. Hankey such a helpful fellow. ?
41:14
JONATHAN PRITCHARD ON"MAKE A MOVIE 旧"

My friend Jennifer is in the bathroom of the Austin Zen Center
(where I remember standing OUtside of). She's sitting on the
floor meditating with a walking stick leaned against the wall and
the Sun is weathering the stick away until it crumbles, but she
stays unaffected.
42:08
ALINA DANA COROIAN ON" MAKE A MOVIE 门"

M-actor is in the KITCHEN of the EN-location and there's a
really big black scorpion climbing on the kitchen DOOR. M-actor
is frighthened so takes his huge EYEROPPER (prop for丶) weapon and
drops A DROP of phosphorescent green poison on the SCORPION
PINCERS (prop for ㇆). But the scorpion seems not affected. Then
he hits the SCORPION PINCERS with his magic fighting STICK (prop
for丨), but still there's no effect. The scorpion laughs and says
with human voice: I am the spirit of the Scorpio constellation,
you cannot harm me. A transparent big DOOR appears floating in
the air in the middle of the kitchen and the Scorpio (with a drop
of green phosporescent poison on his pincers and holding the
fighting stick) is suddenly disappearing through that magic
floating DOOR. Immediately after, the magic floating DOOR
disappears.
43:51

Actors!
This blog post explains the theory behind actors and Pinyin Initials.
DEV CHEN ON"CASTING CALL TU- 41/55"

Thor (God of thunder 雷神)
45:00

Props!
This blog post explains the theory behind props and Chinese character components.
ALINA DANA COROIAN ON"PICK A PROP 力"

Wu Geng Ji EMPEROR – he's actually a character from a Chinese
anime named "Wu Geng Ji " . This might be very obscure for lots
of people but if you resonate with the idea of a POWERful emperor
you can choose a real or fantasy emperor you admire as a prop.

WILLIAM EDMEADES ON"PICK A PROP 之"

A firework; to symbolise the 4th OF July

WILLIAM EDMEADES ON"PICK A PROP 方"

George McFly (Marty's dad) from Back to the Future, because he
was both a 'square' and a loser
48:14

Miscellaneous
48:17
DEV CHEN ON" IT'S A WORD! 记"

Re: 请记一下我的话 …. the above translation is "Please write down
what I say." …. would it not be more accurate to say "Please
remember what I said" or "Please remember my words"?
49:14
FRED SNYDER ON"IT'S A WORD! 中"

他的名字中有一个"A" vs 他的名字有一个"A" what does 中 add to the sentence?