Podcast
41. Shrek & Spock Play Ice Hockey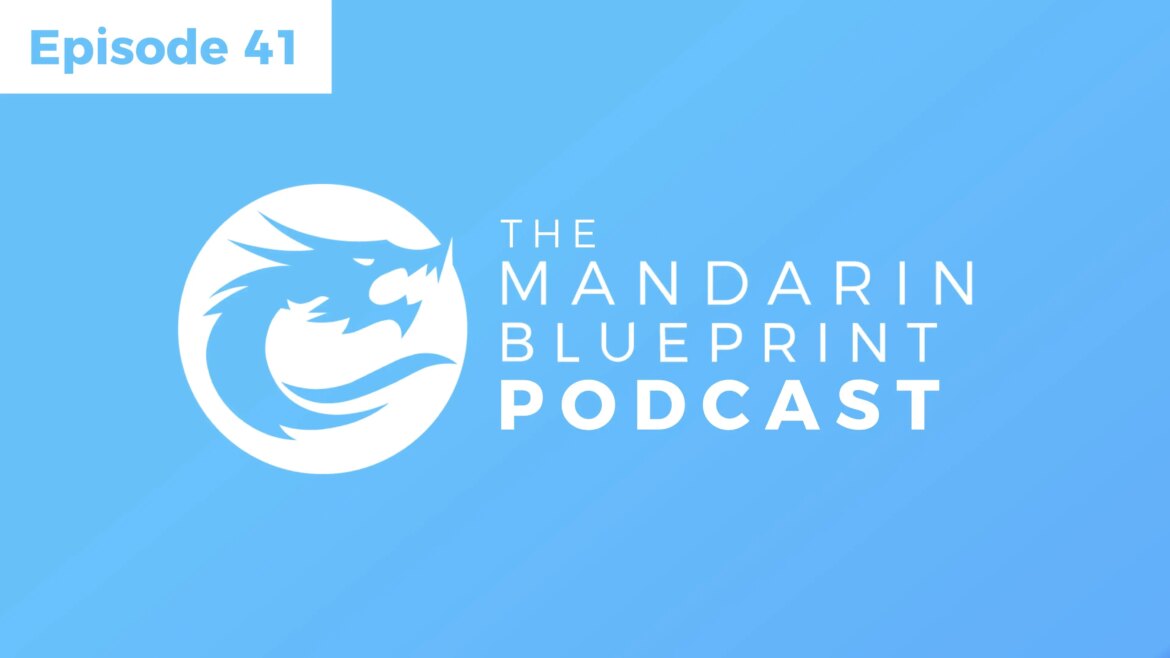 41. Shrek & Spock Play Ice Hockey
欢迎光临! Welcome!
You can now subscribe to the podcast by the links below, or you can subscribe by copying the following URL into your favorite podcast APP.
欢迎光临! Welcome!
You can now subscribe to the podcast on iTunes, Stitcher, Spotify, or you can subscribe by copying the following URL into your favorite podcast APP:
https://www.mandarinblueprint.com/feed/podcast/
The Mandarin Blueprint Podcast focuses primarily on The Mandarin Blueprint Method online curriculum. Creators Luke Neale & Phil Crimmins answer questions and comments, discuss topics related to China and Mandarin learning, and have special guests.
41. Shrek & Spock Play Ice Hockey
3:12

Props!
This blog post explains the theory behind props and Chinese character components.
WILLIAM EDMEADES ON "PICK A PROP ⺍"

Statue of Liberty, as ⺍ looks like a hand holding something up by the fingertips. And of course, Lady Liberty is always holding a torch.

XIAO TIAN ON "PICK A PROP 代"

An official (亻) substituting a footballer (弋 juggling a ball).

KENNETH MORGAN ON "PICK A PROP 人 亻"

For the first person prop I chose a Vietnamese sun hat and for the second a crutch which is what I immediately thought of when I saw it.

WILLIAM EDMEADES ON "PICK A PROP 求"

The prop could also have something to do with Friend Requests? So it could be someone that sends a lot of requests to people?

SANDY ON "PICK A PROP 囗 "

spongebob squarepants

SANDY ON "PICK A PROP 彳"

huge feather wings as they look like a wings on someone's back and I already had angel

NATALIA BEREZINA ON "PICK A PROP 乂"

Looks like scissors

SANDY ON "PICK A PROP 幺"

I imagined a small ant from cartoon xD

LIAM WILKINSON ON "PICK A PROP 言"

Stephen King

WILLIAM EDMEADES ON "PICK A PROP 火"

Volcano, or Prince Zuko from Avatar

ROGER GAUBERT ON "PICK A PROP 是"

Why not …two bees ? ( d'autant plus qu"elles font partie des espèces, innombrables, en voie de disparition…

SANDY ON "PICK A PROP 女"

i chose lipstick

ERIN ON "PICK A PROP ⺮"

First thing that came to my mind was the fighting scene in the bamboo forest in Crouching Tiger, Hidden Dragon. I could imagine Chow Yun Fat and Zhang Zi Yi (plus the soundtrack Tan Dun composed for the film gives background music).

But, I also like William Edmeades' panda idea, and could easily imagine 2 panda cubs.

I guess I'll see which can fit best into making the full character movie scene and choose based off that ?

NATALIA BEREZINA ON "PICK A PROP 元"

I went with an alternative meaning of 1 yuan coin.

NATALIA BEREZINA ON "PICK A PROP 宀"

I went with big cooking pot cover with handle.

NATALIA BEREZINA ON "PICK A PROP 此"

I heard 原来如此 many times in Chinese historical tv dramas. So I think of emperior's court minister in old time fashioned Chinese clothes.

WILLIAM EDMEADES ON "PICK A PROP 青"

Robin eggs

NATALIA BEREZINA ON "PICK A PROP 多"

I went with а big glass pot of colorfully coated chocolate candies like m&m's.

NATALIA BEREZINA ON "PICK A PROP 歹"

Chris Isaak because of his famous Wicked Games song.

ERIN ON "PICK A PROP 母"

Claire Dunphy from Modern Family or Rose Weisman, the mom in the Marvelous Mrs. Maisel

ALINA DANA COROIAN ON "PICK A PROP 丩"

Does "upside down chair" image look ok for this prop?

WILLIAM EDMEADES ON "PICK A PROP 豕"

Hamm from Toy Story
20:58

Actors!
This blog post explains the theory behind actors and Pinyin Initials.
ERIN ON "CASTING CALL NÜ- 48/55"

Former French president Nikolas Sarkozy

ERIN ON "CASTING CALL PI- 49/55"

A few more ideas:
Priyanka Chopra
Preity Zinta
Parminder Nagra (from Bend it Like Beckham)

ERIN ON "CASTING CALL XU- 50/55"

Since this can also be gods, there's also the option of Shiva, Shakti, Kri-SH-na or Vi-SH-nu. Several of these could be relatively easy to imagine, since some are depicted with blue skin.

NATALIA BEREZINA ON "CASTING CALL PI- 49/55"

Patricia Kaas

ALINA DANA COROIAN ON "CASTING CALL WU- 7/55"

General Woodalchi (historical character mixed with fantasy , as played by Lee Min-ho in "Faith" corean drama)

ALINA DANA COROIAN ON "CASTING CALL ZH- 10/55"

Lee Joon-Gi

ALINA DANA COROIAN ON "CASTING CALL 1/55 FOR "SH-" – SEAN, SHANE, SHAQ!"

If you are Romanian, these might be of help for you:
Șerban
Ștefan
Ștefan cel Mare

ERIN ON "PICK A PROP 台 "

When I saw stage actor on the anki card, my mind immediately went to Josephine Baker. Not only an extremely expressive stage artist, but also an interesting historical figure as well.

ERIN ON "CASTING CALL F- 21/55"

I've gone with Philippe Etchebest, a French chef who is also on the jury panel of Top Chef France. He's got a strong personality and an easily memorable face, so it's fun for me to conjure him up in my scenes

ERIN ON "CASTING CALL ZH- 10/55"

Just a small suggestion: it could be helpful to mention somewhere above in the notes that Jackie Chan is the actor suggested for the null initial that we will learn later on.

I had chosen Jackie Chan for my zh- actor, and could have chosen another for the null initial. But, I'm short on time, and nothing else was coming to mind. Luckily, I hadn't filmed many scenes with Jackie as zh- actor, so I just went back and re-filmed this character with the French actor Jean Dujardin as my new zh- actor. I pronounce his name in my head with an exaggerated English-speaker's accent speaking French to get the 'zh' sound ?

JOHN SPRAGUE ON "CASTING CALL KU- 22/55"

David Carradine was Kwai Chang Cane in Kunfu, the horrible old tv show from the early 1970's. His master was named Po too. I never saw Kungfu Panda.
27:30

Movies!
This blog post explains the theory behind Movie Scenes and learning characters.
XIAO TIAN ON "MAKE A MOVIE 或"

Harry Potter is in my back yard frantically trying solve a puzzle that will open the Rolling Stones mouth so it can breath. He is holding a sword and a halberd next to the mouth, poised to strike the lock that has sealed it; the wrong choice will pop the mouth. All he knows is that he can only use the sword or the halberd because the puzzle is "the edgy tongue gets to the point." Edge refers to the sword and point obviously the halberd.
30:05
WILLIAM EDMEADES ON "MAKE A MOVIE 水"

This one's a simple character, but I couldn't resist sharing the scene as everything comes together quite beautifully!

Actor: Shrek (shu-)
Set: Lounge of -ei set
Props: Spock (㇇), Hockey Stick (亅), and Ice Skates (冫).

Shrek and Spock are playing Ice Hockey with each other. They're so evenly matched (Shrek with his strength, and Spock with his intellect), that they soon begin to play so furiously and quickly that the ice begins to melt beneath them! Realising that the Living Room is now flooded with WATERSpock and Shrek both hold their skates in the air as they don't want them to get wet!
31:38
XIAO TIAN ON "MAKE A MOVIE 担"

On a dare from his band mates, Dave Matthews sat in front of my apartment taking on the huge task of incorporating a foam finger and a rooster into the lyrics of his next release. For inspiration, he propped up a foam finger next to a rubber chicken and jammed on his guitar singing unintelligible gibberish until daybreak.
33:36
CHRIS BOYD ON "MAKE A MOVIE 只"

The way i remember this was I am in my childhood bedroom. My dads friend Jack comes in and sees a giant snowman with a giant mouth. He looks at it and says WHAT THE HECK IS THAT? I then say its only a snowman, calm down.
35:15
WILLIAM EDMEADES ON "MAKE A MOVIE 丰"

Actor: Phil Crimmins (f-).
Set: Outside the entrance of my -eng set.
Props: Crucifix (十), Tweedledee and Tweedledum (二).

Phil and the twins were having a meaningful conversation when they both started to get hungry. Phil noticed that there was a giant crucifix at the start of the driveway. Looking too heavy to move he decided to kneel down and pray for food. Suddenly a nice steak appeared! Then 2, then 5, soon the twins joined the prayer session and before they knew it there was an ABUNDANCE of food!
36:52
ALINA DANA COROIAN ON "MAKE A MOVIE 介"

Firstly I thought under the umbrella there are "legs" (animal or human ) but then I observed the difference. But this confusion made me wonder if I could make a prop for 丿and 丨 like for example "pirate legs" (one normal leg and one wooden leg for the stick)
38:56
ERIN ON "MAKE A MOVIE 在"

Zach Galifianakis is in the bathroom of the little house we stayed in the h-IGH-lands of Sri Lanka (-ai set). He's shaving very carefully with a gigantic razor, when suddenly the electricity goes out (which it actually often did when we stayed there).

The camera then goes left to Ron Swanson ( 亻), who was taking a bubble bath before all the lights went out. He stretches his head around like the mom from the Incredibles movie & asks, "Hey Zach, where are you ?"

Then Zach Galifianakis takes a handful of magic soil from the pot next to him. He then throws it on the ground, making a poof of smoke and light. When the smoke clears, there's a spotlight on him, and a giant soil-made X marks the spot appears underneath his feet. Zach says in a funny voice, "I'm RIGHT HERE, silly!"
41:00
WILLIAM EDMEADES ON "MAKE A MOVIE 星"

This scene definitely writes itself when you have the Sun turn into the famous STAR of Bethlehem and have your actor bring some offerings for Baby Jesus!
42:56
CHAD RESSLER ON "MAKE A MOVIE 字"

Location: Childhood home (Backyard)
Actor: Billy Zane
Props: Macaulay Culkin and Cooking Pot Lid

I'm hanging out in the backyard of my childhood home with Billy Zane. He tells me he scored a gig on Sesame Street and he is going to be doing the LETTER "L". He asks if he could practice his skit for me real quick. Macaulay Culkin shows up and Billy Zane grabs a lid from one of my cooking pots. He puts the cooking pot lid on Macaulay's head and a drapes a giant letter L on him and says, ""L" is for LIDS kids, and what do we put lids on". He and Macaulay then go on to list a bunch of stuff with lids. He asks what I think of his LETTER presentation, and I tell him it's decent.
45:08
CHAD RESSLER ON "MAKE A MOVIE 定"

Location: Current Home (where i got ENGaged)
Actor: Diane (current landlord)
Props: Cooking Pot Lid and Rocket Launcher

I'm in my backyard and I hear a knock at the gate. It's my landlord and she states that she did not receive this months rent and is here to evict me. She pulls out a rocket launcher and sets it on the ground and puts a cooking pot lid over the barrel. She says that I have 10 minutes to CONFIRM payment was mailed or she will blow the house up. I quickly call my bank and ask them to give me the CONFIRMATION number from the check that was mailed. The lady says she will read it off and I put her on speaker phone. The teller reads off all the numbers, and my landlord looks at me and says, CONFIRMed, and packs up the rocket launcher and leaves.
47:18

Miscellaneous
GARTH GRESKIW ON "MAKE A MOVIE 话"

I like this review of theory (frankly because I don't practice enough) – but it is good to relearn the props that build new keywords (Did I say that right?)
For a young fella Phil is very savvy (savoir faire) and articulate (must be the jazz training)- and people tell me I am too critical whatever that means
48:14
ALINA DANA COROIAN ON "MAKE A MOVIE 兄"

My elder brother is already an actor…I'm afraid of confusion. Maybe I should change the actor, but I've already got used to him as an actor…
(I was talking about choosing a prop. I see now, after 2 days I have put the comment under the wrong video but don't know how to delete it from here.)
49:33
DANIEL LÉO SIMPSON ON "LEVEL 5 COMPLETE"

OMG this is so funny – After completing this lesson I thought, "Well I get it – just continue to mark down in my Excel file the actors, sets, props and I'm off to the next character" Sound familiar? Well it must have – because 10 minutes after completing Lesson 5 I get an email that says,
"You have reached a stage in the course where watching the videos may be feeling unnecessary. After all, how complicated is it to select and Actor or "Pick a Prop?" "
Hahaha – omg how did you know? LOL ?
Ok, ok – I will continue to go through the lessons w/videos and really do it right.
Thanks for the great course – I told you at the beginning 'Something wonderful is going to happen." And I certainly haven't been disappointed.
I was thinking this morning, It's not that the course is difficult – the truth is, the course is actually very simple. Pretty straight forward. But people's ability to follow-through and stick with something can be a challenge. So day by day we go – I don't want to look back and think – "Gee I should have stuck with this a year ago – imagine how far I'd be today…." So I just stick with it.
Charlie Chan say:
"Best time to plant tree… 20 years ago…
Second best time…. today."
55:51
JOHN SPRAGUE ON "SET THE SCENE -ANG 11/13"

I agree. People for actors and places for sets. But my 4th tone is a bathroom. I am having a terrible time thinking of places with bathrooms. I have only lived at 3 addresses in my life, worked at home 30 years, and I'm not very social. I have already used every home I can think of. I am using the Outback Steak House (australia… kangaroo) for my -ANG set…. I haven't eaten there in years, but I remember it well enough.
58:16
JAMIE FROM EMAIL

Hey guys,
I have just returned to the UK after a year long stay teaching in Beijing. I am keen to return to China but to study Chinese instead. When I was in Chengdu visiting my friend who lived there I really liked it.I was wondering if you guys could give me some info about where you did your studies in Chengdu? If you would recommend Chengdu as a place to study or if you think going somewhere else is in fact better?I am hoping to enter in the Feb semester and complete the MBPM which I have been working on before then! But currently just looking at all cities and weighing up choices.Advice really appreciated!
Best,
Jamie
1:02:34
JOHN SPRAGUE FROM EMAIL

Phil,
The comments you have made in several videos regarding pedagogy and various programs of study have been rolling around in my head.Do you suppose that there is some perverse masochistic expectation in western culture generally? Or a subconscious Protestant work ethic (if you can't do it right, do it hard hahah)that pervades educational systems? An expectation that to attain your goals
requires hard work and suffering.The method so far has been effortless. I won't say easy. I don't mean that. Passive isn't the word. Gentle? I mean information seeps in rather than being painfully forced in. It's too easy. No one got hurt. It isn't taking hours and hours of hand cramping
misery, bleary eyed reading. It sounds like you and Luke both did a good bit of that and I think it's what most people are accustom to and expect when tackling a difficult subject.
Just my 2 cents, no need to reply.