Podcast
39. "Shamefully" Bad Mandarin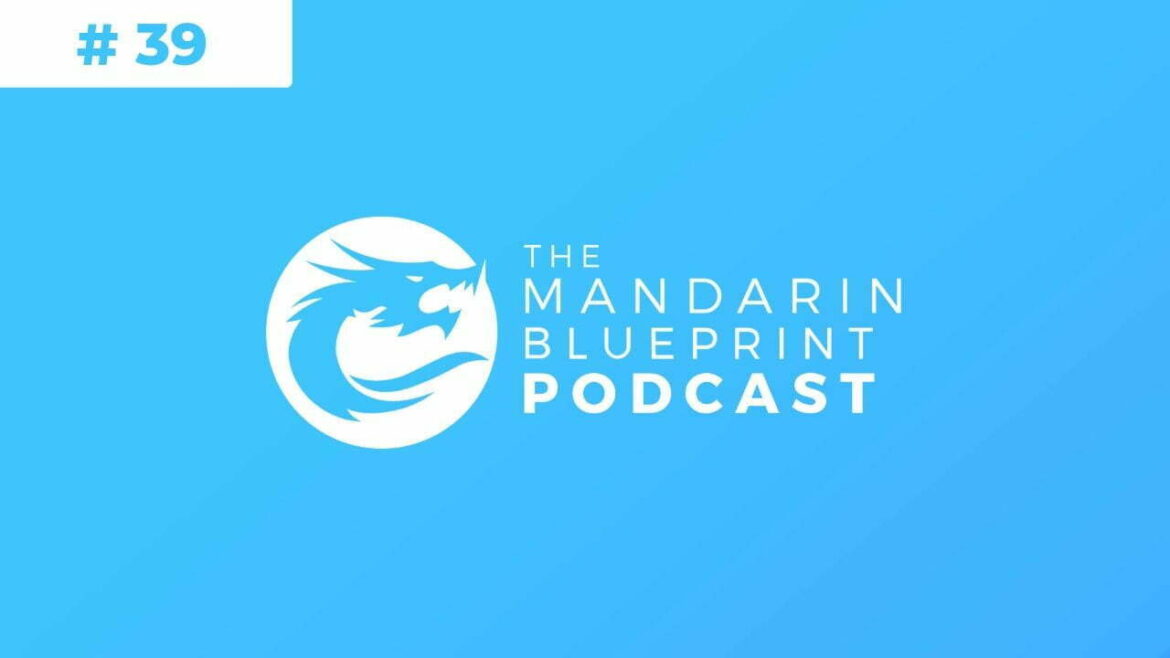 39. "Shamefully" Bad Mandarin
欢迎光临! Welcome!
You can now subscribe to the podcast by the links below, or you can subscribe by copying the following URL into your favorite podcast APP.
欢迎光临! Welcome!
You can now subscribe to the podcast on iTunes, Stitcher, Spotify, or you can subscribe by copying the following URL into your favorite podcast APP:
https://www.mandarinblueprint.com/feed/podcast/
The Mandarin Blueprint Podcast focuses primarily on The Mandarin Blueprint Method online curriculum. Creators Luke Neale & Phil Crimmins answer questions and comments, discuss topics related to China and Mandarin learning, and have special guests.
1:43

Conversation Connectors!
Get the PDF & Anki Deck for Free
39. "Shamefully" Bad Mandarin
02:28
TATIANA – FROM EMAILHi Luke,Thank you for your email.

My goals in Chinese is to be able to communicate.I've been working in Shanghai for 2 years and a half now and my Mandarin level is shamefully bad.Before I didn't really need it for my work, so this was okay, but for 2 months I've been working in a 100% Chinese environment that speaks almost zero English. This is why my first priority is to be able to talk!Of course, If I can be fluent it would be amazing. I have tried already several times to learn with private tutors, and it's been like you say in your videos, you learn for a short time but then you forget, so this has gotten me especially frustrated
and causes me to drop out after a couple of months.Your method seems somehow revolutionary (or at least I identify completely with all of the challenges and frustrations you have listed on your videos), so I'd really want to give this a try!I don't have much time to study. As I mentioned, I work full time, but the small duration of your videos are really ideal for when I have some free time in a taxi or something like that.Looking forward to reading you!
Tatiana
09:25
JOHN SPRAGUE – FROM EMAIL

The ePub has EXACTLY what I was lacking and EXACTLY what you described. Perfect.I think I need to, oh I don't know, follow directions better and read all the stuff you provided and do what I'm told.I'm practicing from them. I will do that as my warm up for my nightly study routine.I'm very lucky. I work 4 nights a week 9 to 6 for an outrageous sum of money. VERY solitary and quiet at night. I have a solid 6 uninterrupted hours, 4 days a week. I pace myself taking breaks but I have been studying hard ….unless tired.Finished Luke's pronunciation series. I had started your memory palace series before I had finished Luke's series.I have taken to downloading movies in Chinese. I have already found that older movies and movies in Cantonese (obviously) are not of any value to me. However, more modern movies in Mandarin are. Not only can I now clearly hear individual words (I even catch a few words I know) but I am getting a little more culturally appreciative in a non academic, organic way. I'm not sure I'm being clear.As a drummer you will appreciate this; I observe one difficulty second language English speakers have is that, even if their pronunciation is perfect, their word groupings produce the wrong cadence to a sentence and make it difficult for native speakers to
understand them. Listening to movies should give me a potential sense of those rhythms.Off to study, on lesson 56. I noticed I only have another 2000 to go.
Thank you,
John
18:47
AGA – FROM EMAIL

Hi Luke
I am currently based in China for work so yes, speaking and understanding is something I really want to do. Even more awesome would be to pass some levels of the national exams too but that is a song of the future.So, yes, answer is yes as it will make my outside of work life a lot easier, though WeChat translations and offline google translate are helping me a lot. But I feel I am missing out on so much more by not being able to browse chinese sites, local informations, events etc.And of course for work front it is an awesome skill!
Aga
22:50

Props!
This blog post explains the theory behind props and Chinese character components.
WILLIAM EDMEADES ON "PICK A PROP 穴"

I'm going with a Basketball hoop. But a shovel could be another option as well ?

WILL HENRY ON "PICK A PROP ⺧"

A taxidermied cow head

WILL HENRY ON "PICK A PROP 角"

Or… maybe it could be an instrument like Trumpet, French Horn, Trombone or Tuba

JENNIFER KOSCHE ON "PICK A PROP 正 – ?"

This prop was hard for me to choose. I have no idea about weapons so I could not go with the suggestions (I absolutely don't know which gun shoots more or less accurate).

So I chose a school table with stool for 正 because you have to listen accurately to what your teacher has to say when you are in class.
For ? I chose a hammock, because ? looks a little bit like a hammock unter a tree. AND you can not "sit straight" or "so accurate" in a hammock.

JULIAN LAFFEY ON "PICK A PROP 龸"

Native American headdress comes to mind

CONNOR GRIFFITH ON "PICK A PROP 了"

Scythe

CONNOR GRIFFITH ON "PICK A PROP 辶"

Gotta go with that freshly paved road just for the smell it gives off … just awful.

CONNOR GRIFFITH ON "PICK A PROP 牙"

Like the idea of the Sun Uniform form the Jimmy Dean commercials, I gotta go with a tooth costume here.

WILLIAM EDMEADES ON "PICK A PROP 刀"

For sword theme for the刂 prop, I'm going with Sting from The Hobbit. But other notable suggestions could be a Minecraft sword, Excalibur, or the Sword of Gryffindor.

SANDY ON "PICK A PROP亅"

Crochet needle

WILLIAM EDMEADES ON "PICK A PROP 耳"

Going with the Extendable Ears from Harry Potter, that allow the user to listen in on a conversation they wouldn't have otherwise been able to listen to.

LIAM WILKINSON ON "PICK A PROP 天"

I already have doors and clouds as other props in my scenes so I think I might mix those up with pearly gates. I'm going to go for Sky Vodka. I've not had much of it myself but it has that distinctive dark blue bottle and I think it could be funny to cause characters in scenes to be drunk and do things they usually wouldn't.

CONNOR GRIFFITH ON "PICK A PROP 上"

First thing that comes to mind is a Fire Hydrant… I could imagine it shooting off and the water going up into the air

WILLIAM EDMEADES ON "PICK A PROP 召"

Albus Dumbledore

ERIN H ON "PICK A PROP 正 – ?"

After going to thenounproject.com and searching the word accurate, one of the icons in the results was a tuning fork. This then gave me the idea to use a tuning fork for 正, and a mechanical metronome for ?. Both represent accuracy to me, and the little 人- like part at the bottom of ? looks like the swinging motion a metronome makes.

CONNOR GRIFFITH ON "PICK A PROP 占"

Kinda reminds me of a bottle of perfume… Perfume occupies your stench

CONNOR GRIFFITH ON "PICK A PROP 是"

I feel like a guru would also be a good prop to use as they are BEing in the moment and this character kind of looks like a person. My prop is going to be Alan Watts

WILLIAM EDMEADES ON "PICK A PROP 井 "

I'm sticking with the default Well, but some notable ideas could be a musical instrument/artist as 井 looks like the musical notation of a sharp symbol ♯.
It also resembles a hashtag #, so it could be an Instagram model perhaps?

WILLIAM EDMEADES ON "PICK A PROP 山"

It could also be The Mountain from Game of Thrones!

MEL ON "PICK A PROP 丷"

From STL…California can keep the Rams! XD ♪♫

WILL HENRY ON "PICK A PROP 史"

Prop: Indiana Jones

WILLIAM EDMEADES ON "PICK A PROP 果"

A Wumpa Fruit from the game Crash Bandicoot.

WILLIAM EDMEADES ON "MAKE A MOVIE 刀"

I'm sticking with the default Knife Handle, but some other good ideas could be a Guitar Clamp, or the head & trigger for those cleaning sprays like 'Ajax Spray & Wipe'.
42:25

Actors!
This blog post explains the theory behind actors and Pinyin Initials.
ERNESTO PROVENCIO ON "CASTING CALL 2/55"

In reply to Sandy: LOL I thought the same thing. Pulling out the fb app and looking at my friends lists! Have to pick wisely, they're going to help me learn Chinese!

Sandy's comment: if you can't remember anyone with "g" now , search ur contacts or fb friends.
it's really helpful and I found many options I can choose.

DANIEL LÉO SIMPSON ON "CASTING CALL QI- 19/55"

Cheech & Chong
Oh wait. That won't work for female will it? LOL

JOHN SPRAGUE ON "CASTING CALL NI- 8/55"

hahaha 1:50:

"Nicki Minaj is……"

Glancing away, down and left, long pause.

"… ostentatious in her style".

What a polite description of her appearance, sir. Is the word in Chinese "temporary secretary"?
45:03

Movies!
This blog post explains the theory behind Movie Scenes and learning characters.
SANDY ON "MAKE A MOVIE 只"

hmm
The only thing I can think about is the song "only you can make this world …"

So the scene as follows : My male John is trying to sleep in my childhood bedroom when rolling stone is trying to get him to stay awake with her with dramatic "you are the only one I got .." and that's when the song plays in the background but then a spider walks under the rolling stone mouth so it was terrified in a funny way causing the male actor to laugh really hard.
46:15
WILLIAM EDMEADES ON "MAKE A MOVIE 穿"

I've got Chewbacca (chu-) outside the entrance of my -an set, with the props: Basketball hoop (穴), and Dentures (牙).

Poor Chewy is shivering outside without his fur coat on! He looks around and notices a basketball hoop next to a sign saying "Slam dunk this hoop to win a furry coat!". Chewy promptly takes out his dentures, and slam dunks the hoop like Mike, and a section of the wall goes back, revealing Chewy's iconic fur coat. He quickly WEARS his coat looking all snug, and roars in delight.
48:15
SANDY ON "MAKE A MOVIE 认 "

Set : school
Props : megaphone , umbrella

So Rahma (my friend) doesn't want to go to the class, so she uses the umbrella to hide her face and went to bathroom to hide there till the class is finished, that's when the school's megaphone called her name and ordered her to return to class.
49:48
SANDY ON "MAKE A MOVIE 识 "

Nick is soooo creative, although I don't know the actor I smile at his scene.

so mine,
my props : megaphone, oliver twist
keywords : books ( reading always reminds me of knowledge )

So scene as follows: Oliver Twist is sitting on the kitchen floor reading a book and there is a couple of other books beside him when Shady (bad guy from childhood) holds a megaphone next to Oliver Twist and try to distract and bully him.
52:23
SANDY ON "MAKE A MOVIE 马"

props: half horse statue ( from spirit stallion movie), cigar and toilet
sets: airport

Michael is loading his bags (including toilet and half horse statue) on this wheeling ring in airport that weighs bags before going to the plane.
He puts the statue on the toilet so the guy who was on the computer told him to put everything individually and throw away the cigar he was smoking with an angry face (cuz honestly, who flies a toilet from one country to another ?!)

So he went to move the statue with the cigar in his hand, cigar touched the statue so horse made this animal sound so Michael was so surprised that the cigar falls beside the toilet.

The guy behind computer looked at him as he is crazy and ordered the airport police.
53:55
CHAD RESSLER ON "MAKE A MOVIE 很"

Location: GirlfriENd's apartment (Living Room)
Actor: Hu Jinato
Props: Steven Seagal (as he would have looked in the movie "Above the Law") and Sledgehammer

I'm sitting in the living room of my girlfriend's apartment working on characters when, suddenly, Hu Jintao appears saying he has been sent back to help me with this character. Just then, Steven Seagal comes in and asks how he can help as well. I tell them I'm learning the word for VERY and Hu Jintao says that is easy to remember. He stands in front of Steven Seagal with a sledgehammer and says that Seagal is not only fast, but VERY fast. Hu Jintao tries several times to hit Seagal with the sledgehammer, but he is able to deflect it every time. Hu Jintao reminds me to think of how Seagal was VERY fast if I wanted to remember the meaning of character.
56:09
IJA AMRAHI ON "MAKE A MOVIE 乍"

Keyword : For the First Time
Actor : Zachary Levi
Props : Loser, Gandalf's staff and Parent Trap twins
Set : My previous apartment in Australia (A-)

For this scene, I had my Zachary Levi directing the first rehearsal of Frozen the Musical in the backyard of my apartment in Australia.

The twins were playing Elsa and Anna, re-enacting the scene from the Coronation Day with the song "For the First time in Forever"

When Elsa said "Tell the guards to open up the gate", the loser ran into the scene with his Gandalf staff, slamming it down on the ground and said cheekily "You shall not pass!"
57:34
NATALIA BEREZINA ON "MAKE A MOVIE 相"

I want to share a story about "each other". My Xi actress and her clone are exiting from my -ang place. It's winter and it snows heavily. A big eyeball flies up to them and speaks with tiny voice: "Follow with me, I know where to get a Christmas tree". The camera stays directed on the entrance, in a minute both actresses return with a fur tree. The snow is all other their coats and hats they start to clean up each other.
59:13
CONNOR GRIFFITH ON "MAKE A MOVIE 占"

I had Jackie Chan in the bathroom of my set which is in a dormitory. All the stalls are occupied and the only hole left is the giant mouth. Jackie chan takes the wand to force open the mouth and immediately relieves himself.
1:00:28
WILL HENRY ON "MAKE A MOVIE 扫"

My supervisor is sitting in the armchair of my ao-set's living room and has a large pig nose in the spot where his normal nose should be. He explains to me that having a giant pig nose isn't so bad except for trying to clean all the hard to reach areas. Just as he says this, his index finger grows nearly a foot in length and he sticks it in his nose to clean it.
01:01:32

Pronunciation
JULIAN LAFFEY ON "NEW VOCABULARY UNLOCKED! 便宜"

Note that this a new pronunciation for this character. Could you say something about it? Does it happen a lot in Chinese?
01:04:40

Miscellaneous
SANDY ON "MAKE A MOVIE 兑"

is it fine that I sometimes remember the character but can't remember the scene so well?
1:05:58
SANDY ON "MAKE A MOVIE 吗"

A set to me is the Airport, so is it fine to make the scene where the flights take off ?!
1:07:10
NELSON DZIDZORGBE KWAKU AKPABLI-TSIGBE ON "PHASE 1 – HOW TO LEARN CHARACTERS FASTER THAN EVER"

This method of learning to speak, read and write Mandarin is great. I love it. After reading this first phase, I can identify, pronouns and write tán. Above all, I understand what it means. Great work done by originators of this method. I am grateful.
1:08:11
JOHN SPRAGUE ON "NASAL FINAL UANG (WANG): 忘 WÀNG,爽 SHUǍNG"

Living in DC, I have heard many, many second language english speakers try to use curse words etc. It almost always goes badly making them sound just silly. If the subtlety of English curse word usage is any indicator, I should think to stay clear of Chinese curse words until I'm very comfortably fluent.
1:09:29
KEITH WILKENS ON "MAKE A MOVIE 找 "

I thought that 找 zhǎo meant 'to look', and zhao3 dao4 meant 'to find'? As dao4 when it follows the verb means a completed action. Subtle difference I know, but just thought I'd ask!
1:10:15
ROSAN BISHWAKARMA ON "ANKI DECK(S) INSIDE – LEVEL 12 COMPLETE"

In reply to Debra Jansen: Thanks for this super helpful comment! I find that fictional characters – when they are cartoon or animated characters – to be difficult. Will definitely check out your approach.

Thanks for sharing.

Debra's comment: I found in analyzing, along the way, my approach to movie making, that I was really struggling with fictional characters so I tossed them all out and created animal characters which worked so much better for me. Most of my sets are in Africa so Mr Buffalo (bu) and Mr Hyena (hu) just made for more memorable movies. It increased my progress immensely! All this to say that a solid process , which your course certainly is, allows nicely for tweaking to fit individual needs. Many thanks and I look forward to the next levels.
1:11:56
WILLIAM EDMEADES ON "我和爸爸"

Even though this story isn't long, I was quite touched!

The story: 我的爸爸是一个工作很认真的人。所以他陪我的时间很少。他从早上到下午一直在工作。下班以后,他觉得太累了, 所以也不会陪我玩儿。我每天一个人吃饭。我长大以后就去了别的地方。我得到了别人的帮助,开了一家公司。到现在,公司至少成立5年了。但我再也没和我的爸爸联系过,因为我不想回到以前的生活。5年以后,我又回到了家乡。我的爸爸60岁左右了,我们见了面,然后一起吃了饭。爸爸对我说了对不起。我才发现我一点儿也不讨厌我的爸爸,相反,我一直都很爱他,也很想他。