Episode
69. 1000s of Brains Are Better Than One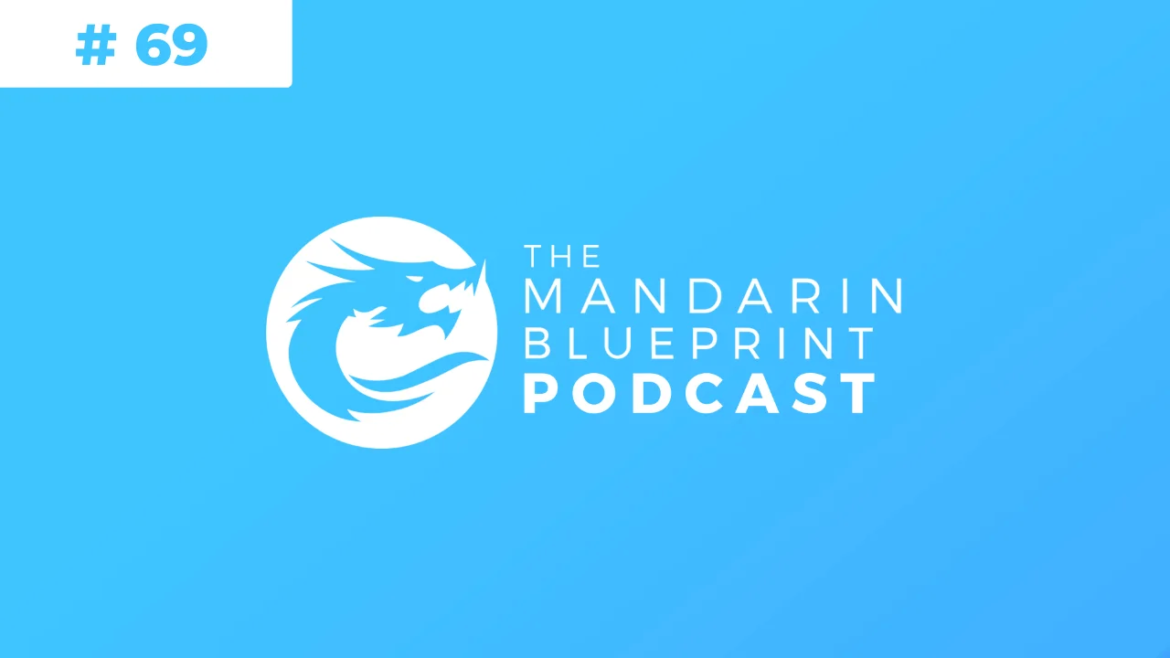 69. 1000s of Brains Are Better Than One
Podcast Duration: 01:04:58
欢迎光临! Welcome!
You can now subscribe to the podcast by the links below, or you can subscribe by copying the following URL into your favorite podcast APP.
The Mandarin Blueprint Podcast focuses primarily on The Blueprint online curriculum. Creators Luke Neale & Phil Crimmins answer questions and comments, discuss topics related to China and Mandarin learning, and have special guests.
Want to learn how to speak fluent Chinese fast? Join our free Webinar right here.
欢迎光临! Welcome!
You can now subscribe to the podcast on iTunes, Stitcher, Spotify, or you can subscribe by copying the following URL into your favorite podcast APP:
https://www.mandarinblueprint.com/feed/podcast/
The Mandarin Blueprint Podcast focuses primarily on The Mandarin Blueprint Method online curriculum. Creators Luke Neale & Phil Crimmins answer questions and comments, discuss topics related to China and Mandarin learning, and have special guests.
69. 1000s of Brains Are Better Than One
3:40

Miscellaneous
DAN BY COMMUNITY

I'd like to be able to tell people about the mandarin movie method in Chinese. Is there any example of Phil or Luke doing this? or any written piece? I need some vocabulary like – memory palace, memory champions, remembering pi to 100s of decimal places etc.

Links in Response to Dan's Question:
Phil from Mandarin Blueprint on Chinese TV Show "Mr Jiong"
Mandarin Blueprint Featured in China News!
8:03
XIAO TIAN BY COMMUNITY

Can an action be a prop? For example, curious about using the summoning spell accio from Harry Potter for 召.
10:43
DARIAN WAWER BY COMMUNITY

Hello, I have a question regarding props and movies.

Background info: I am learning Traditional Chinese by attending an intensive Chinese course in Taiwan. I am at texbook PAVC 2 so I memorised several hundred characters but I was hopeful that I could incorporate MBM for more efficient and comprehensive memorisation. I have prior experience in using mnemonics and I already assigned all sets and actors.

I want to use MBM to learn Traditional Chinese characters but I have run into a few problems:

1. Props: turns out they are not equivalent to radicals and as you guys answered in another video response, they are somehow created arbitrarily if you find them to be commonly appearing in other characters and to keep the "3-prop-limit rule". The problem that this creates for me:

a. You don't seem to provide access to any comprehensive list of props that I could use to learn new characters outside of MBM.

b. I don't know which parts of characters I should turn into props. So, for example, every week I need to learn ~50-100 new words for my course. In order to use MBM I would need to have a 'props list' so that I can use it on my own to learn those characters and/or I would have to somehow realise which parts in any given character are best turned into a separate prop.

b2. How much overlap is there with radicals? How many more props beyond radicals are necessary for this method? Any advice on how to decide what to make into a prop?

c. I don't know how much your props (made for Simplified characters) should differ from props intended for Traditional characters.

2. Movies: I know how to make a movie for a 1-character word. How do you memorise words made of 2-4 characters?

I will be grateful for addressing my concerns and any helpful advice you can provide.
22:50
DAVID CHANG ON"IT'S A WORD! 吗"

In the sentence 你知道入口在哪里吗, is 吗 redundant? I thought 哪里 was
enough to establish a question.
24:21
GREGORY SAVAGE ON"PROBLEM INITIALS Z & C (AND S)"

I was practicing this lesson around a Taiwanese friend and she
was disappointed with the translation of hanzi as Chinese
characters.
Her opinion is that it is the words of the Han as opposed to all
Chinese speakers.
26:16
TYSON ON"NEW VOCABULARY UNLOCKED! 看法"

Can you help me differentiate between 想法 and 看法? Are they
interchangeable?
看法 is translated as "opinion" in all the examples, but "opinion"
is not given as one of its definitions.
"Opinion" is one of your definitions for 想法 , but none of the
examples translates it as opinion.
How to understand these words?
27:48
– Course
Updates
30:17

Movies!
This blog post explains the theory behind Movie Scenes and learning characters.
CHAD RESSLER ON"MAKE A MOVIE 红"

I'm giving Hu Jintao a tour of where I work as he is visiting the
U.S. and giving me Chinese lessons. I show him our little break
room in the back where, of course, we have our calendar with
scantily clad females. For December, it is a very attractive
Chinese girl in a very short red silk dress leaning seductively
up against an I-Beam at a construction site. Suddenly, Hu gets
very angry and starts yelling in Chinese. Thanks to my studies
with the Mandarin Blueprint, I suddenly realize that he is
yelling "that is my daughter" and his face turns RED with anger!
32:20
CHAD RESSLER ON"MAKE A MOVIE 约"

Location: Father-in-law Ed's house [outside the entrance]
Actor: Randy "Macho Man" Savage
Props: Silk Dress and Spoon

I am at my father-in-law's house where we are shooting a telethon
raising awareness for colon health. The Macho Man and his
sidekick Miss Elizabeth are there and callers are standing by to
assist people in making appointments with their doctors for a
check up. There is a large board in the background that reads
"Appointments Made" and the numbers are continuously added as
people call in. Macho Man is standing with Elizabeth and she is
wearing a red silk dress and holding up a spoon where she
delivers a message to the audience on the importance of eating a
bowl of high fiber cereal to maintain your colon health. At the
end of their message, the Macho Man encourages all viewers to
call in and, for every appointment made through the telethon, a
donation is made to colon cancer research.
34:40
KIKA BISOGNO ON"MAKE A MOVIE 乞"

CHIquinquirá finally comes to my house to apologize. In my
LIVING ROOM, the LOSER with her TAIL tucked firmly between her
legs and in front of all our friends, has no choice but TO BEG my
forgiveness for making fun of me and telling everyone that beauty
crown would be hers. I won and she didn't.
35:52
KIKA BISOGNO ON"MAKE A MOVIE 吃"

I hear noises outside my house. I open the door and I see
CHarlie Chaplin right at the ENTRANCE. I ask him what he wants
but he doesn't talk, he just points his finger at his BIG MOUTH.
He is so dirty and smelly, he looks like a BEGGAR. He keeps
pointing his finger at his mouth and then, it dawns on me! Of
course, he's a silent movie actor. He's telling me that he wants
TO EAT.
37:41
KIKA BISOGNO ON"MAKE A MOVIE 气"

After realizing that she is not as beautiful as she thought, she
truly feels like a LOSER. CHIquinquirá runs to the BATHROOM,
grabs a RAZOR and chops off her ponyTAIL. She shrieks in agony as
she sees herself in the mirror, crying so much she can hardly
breathe. "What have you done?" I ask. "Leave me alone, I need
some AIR" !" she says, as she leaves the house in a hurry.
39:12
KIKA BISOGNO ON"MAKE A MOVIE 飞"

Freddie (Mercury) always comes to Aikido practice on the back of
his pet Crane. The SensEi waits for him at the ENTRANCE of the
dojo to see the amazing flight maneuvers of the bird but today
they crashed landed on the grass. Lots of ICICLES accumulated on
the crane's TAIL so he could barely FLY
40:19
JOHN GRIST ON"MAKE A MOVIE 担"

My actor Damian is NOT squeamish, so after trapping the rooster
with a giant finger, he plucks it and puts the body in a coffin.
(as an undertaker would)
41:17
JEFFREY HERZOG ON"MAKE A MOVIE 识"

Sean Connery is standing in the kitchen of my childhood home
holding a megaphone while observing that weird ghost looking
thing from Minecraft. He takes over the persona of James Bond and
begins interrogating the weird anomaly for answers (knowledge)
But as the character does in Minecraft the ghost is only able to
make unintelligible baby noises.
42:11
KIKA BISOGNO ON"MAKE A MOVIE 况"

I go to my estrANGed husband's house to get the last of my
stuff. He tells me that he's put everything in the BATHROOM so I
open the door but instead of boxes, I find the KOOl-Aid man on
the tub. He looks so pale, I quickly realize he is in an
emergency SITUATION. He looks dehydrated and needs help. "Please,
fill me with ice blue lemonade and lots of ICICLES !" He begs. I
call my BIG BROTHER who had been waiting for me "Hurry, hurry! I
need help saving our childhood friend"
43:45
KIKA BISOGNO ON"MAKE A MOVIE 日"

Robert (Downey Jr.) is such a bad influence. He told my brother
he knew how to hide a RAZOR in his MOUTH. Being the eternal
copycat, my brother asked him to teach him. They went to the
BATHROOM to use the mirror while trying but in his first attempt,
my brother cut his tongue very badly. There was blood all over
the sink. He said. "Don't be a sissy, your tongue will be fine in
a DAY!"
45:20
KIKA BISOGNO ON"MAKE A MOVIE 旧"

While shopping at my mother's gOUrmet Store, Ginger (Rogers)
noticed a suspicious man following her closely, up and down the
aisles. She then remembers seeing the guy's face in an OLD
newspaper. He was a suspect in a kidnapping case!. She decided to
make a run for it. She hid in BATHROOM and then, using a
broomSTICK she found behind the door, she managed to push open
the WINDOW, just wide enough to climb out and escape.
46:32
KIKA BISOGNO ON"MAKE A MOVIE 旦"

Diego (Maradona) has been suffering from psychotic episodes (too
many drugs!) and he is so delusional, he thinks he's a Vampire.
Last time he was at grANdma's, he left the house at midnight and
then came back just at DAYBREAK. He was desperately trying to
enter the house through the BACKYARD WINDOW, cutting the wire
mesh with a RAZOR but the wires caught his shirt and he couldn't
get in. He was screaming madly "The sun is coming out! The sun is
coming out! Oh, no…ARGHHH I'll go up in flames!!!"
47:41
ALINA DANA COROIAN ON"MAKE A MOVIE 你"

亻the JOKER
尔 Moses with the STONE SLABS with the 10 commandments (THOU shalt
not…) engraved on them

Script: Nicole Kidman in the Living Room of my Childhood Home is
attacked by THE JOKER. Scared to death she begins to pray so
MOSES appears floating in the air (with the STONE SLABS with the
10 commandments engraved on them): Thou shalt not kill ! he says
to the Joker and kicks the JOKERS's right arm (right arm to
emphasize the order of the characters) with the STONE SLABS .
48:45
TYSON ON"MAKE A MOVIE 么"

I followed Zach Morgan's lead from the last "Pick a Prop" for 厶
as a triangle. (Thanks!)
Background of scene: I've been to many wedding receptions where
the new Bride and Groom have to kiss every time a song plays with
whatever word was selected to be the kiss trigger (or whatever
other trigger the couple allowed/picked…).
My scene: Wedding reception on the roof of my old house (a large,
flat roof). Every time Michael Jordan hits the triangle with the
samurai sword, the couple must kiss. (Imagine kiss sound here.)
Simple.
50:48
ALINA DANA COROIAN ON"MAKE A MOVIE 小"

Prop(s):
亅Hockey Stick
丶丶 (Drop x2)

Script: Sinead O'Connor (xi- actor) in the Living Room of *ao
location and she is attacked by the huge Ogre (from the Puss In
Boots story). She only finds to grab a Hockey Stick and she hits
(vertically) the huge Ogre's face. 2 drops of tears burst out of
Ogre's eyes and the Ogre begins to shrink , becomes SMALLer and
SMALLer – at first he becomes SMALL as Sinead O'Connor, than as
SMALL as Puss In Boots (guest actor) ,then he finally becomes as
SMALL as a mouse. Puss In Boots appears running and saying: I'll
eat him now ! But when he is in front of the small mouse, he
shouts amazed: Oh, but this is the little super-cute and friendly
STUART LITTLE (new prop for 小) !
52:18
IJA ON"MAKE A MOVIE 群"

Keyword : A crowd
Actor : The Queen
Set : My rENtal house in uni
Props: Warden Norton (from Shawshank), The mouth and a flock of
sheep

A flock of sheep has gathered in the kitchen of my -EN set,
protesting against the mouth who wrongly accused them of being
the main cause of Brexit. The sheep traded banters with the
mouth, and Warden Norton came into the scene to control the
crowd.

He then called upon the Queen to explain the misunderstandings.

The Queen reassured that the sheep won't be turned into
scapegoats and Britain is due for an election to resolve this
matter.

Warden Norton warned the mouth to not cause any more unnecessary
commotion.

The mouth sheepishly apologised to everyone and the crowd finally
dispersed.
53:51
HEATHER ON"MAKE A MOVIE 化"

Ron Swanson and the Hulk are facing off in the bathroom of my
halls at university. Ron Swanson is holding a can of 7up. He
downs the 7up, crushes the can and holds onto it tightly in his
left hand (my right as he's facing me). With a roar, he suddenly
TRANSFORMS into a giant Ron Swanson, growing bigger and bigger,
tearing through the upper floors and destroying the building.
Still holding the 7up, he takes one step and squashes the Hulk.
55:18
IJA ON"MAKE A MOVIE 乏"

Keyword : Weary
Actor : Freddie Mercury
Set : My apartment in Australia
Props : Zorro (之) and Samurai sword

Freddie finally found a quiet place to write – in a small corner
inside the kitchen of my Australian apartment. He finally feels
alive and going to have himself a real good time.

But Zorro suddenly barged in and challenged him for a sword
fight.

Freddie, getting weary with all these interruptions, grabbed a
samurai sword and accepted his challenge.

A few hours later, both men were exhausted and Zorro asked for a
break.

Freddie, already furious from all the random people disturbing
his peace and quiet, blatantly refused Zorro's request. "Don't
stop me now!", he said.

The fight continued.

Zorro somehow then managed to distract Freddie and made his
escape with nothing but blood on his face.

Urgh. What a big disgrace!
56:44
MICHAEL ROTCHFORD ON"MAKE A MOVIE 长"

I have decided to go with one movie scene to cover both cháng
and zhǎng. This was pretty difficult but after the fifth rewrite
I got it right for me. My brain sometimes sticks when a character
like 行 is either háng or xíng. Now, whether its the 5 rewrites or
not, I instantly know it can be either and it pops instantly to
mind when I see 长.

My scene.

An endangered and rare ice skating giraffe has been separated by
a frozen river between the kitchen and bedroom of my ang house.
Mother giraffe was able to skate across the river to the kitchen
where it is being held by CHarlie with a LONG hook. Meanwhile
across the river in the bedroom George Washington is trying to
get the baby giraffe. It's obvious that the baby still needs time
to GROW and DEVELOP before it can acquire the ENHANCed ability to
ice skate. G.W.has to administer a sedative via an arrow in order
to safely bring the baby to its mother.

I'm still not sure that this is better than writing 2 different
scenes for the same character. I guess I will see it's better as
time goes on.
58:14

Actors!
This blog post explains the theory behind actors and Pinyin Initials.
CHAD RESSLER ON"CASTING CALL XU- 50/55"

I had decided to go with WWF Wrestlers for this category, and
for 'xu' I assigned Ric Flair.
58:53

Props!
This blog post explains the theory behind props and Chinese character components.
ADAM CARDILINI ON"PICK A PROP 匚"

I went with a big red Horseshoe Magnet. Like you see in old
loony toons cartoons. Hopefully I can get some use out of
magnetising things in my scenes!

TYSON ON"PICK A PROP 匚"

An open safe

PABLO PRIERI ON"PICK A PROP 另"

The character reminds me of a centaur, so I just imagine a
centaur version of Freddy Mercury singing "ANOTHER one bites the
dust" ?

JAY A ON"PICK A PROP 友"

Chandler
Monica
Joey
Phoebe
Rachel
Ross

Maybe even use whichever works best in a given scene

MAKAI ALLBERT ON"PICK A PROP 长"

dachshund dog

JAY A ON"PICK A PROP 言"

_The Monster Book of Monsters_ from Harry Potter. Perhaps not
"literature" but should be fun in these movies.

WILLIAM EDMEADES ON"PICK A PROP 暴"

Nuclear bomb, I feel that would be an appropriate prop choice
for 暴 :p

TYSON ON"PICK A PROP 己"

A woman's compact mirror (seeing yourself…)

TYSON ON"PICK A PROP 已"

a bottle-opener

CHAD RESSLER ON"PICK A PROP 合"

Lego Pieces (could be a house/barn)

PABLO PRIERI ON"PICK A PROP 内"

Schrodinger's cat inside a box

XIAO TIAN ON"PICK A PROP 穴"

Looks like a spaceship beaming something up. A spaceship might
be a good fit for several characters that contain 穴, such as 空
and 究.

WILLIAM EDMEADES ON"PICK A PROP 以"

以 – Malcolm X, famous for his "By any means necessary" speech

XIAO TIAN ON"PICK A PROP 刀"

They look like a meat cleaver (刀 ) and a melon knife (刂)

XIAO TIAN ON"PICK A PROP 至"

Train station is great because 至 is a component of 到.