Episode
64. Turning Water Into Juice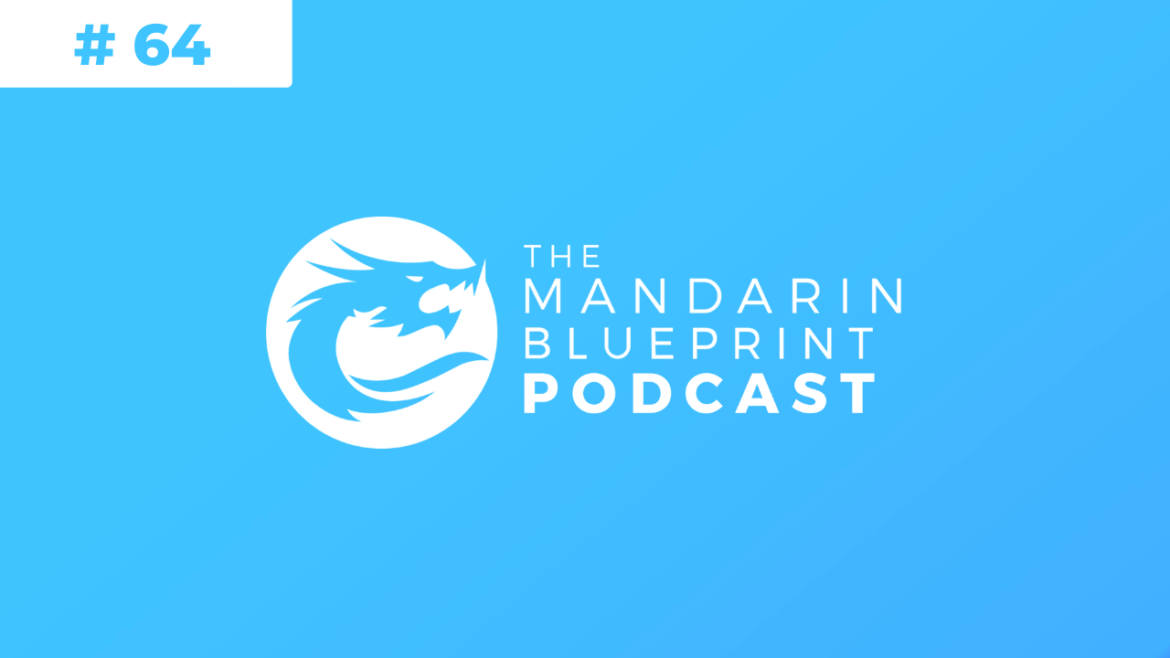 64. Turning Water Into Juice
Podcast Duration: 01:03:31
欢迎光临! Welcome!
You can now subscribe to the podcast by the links below, or you can subscribe by copying the following URL into your favorite podcast APP.
The Mandarin Blueprint Podcast focuses primarily on The Blueprint online curriculum. Creators Luke Neale & Phil Crimmins answer questions and comments, discuss topics related to China and Mandarin learning, and have special guests.
Want to learn how to speak fluent Chinese fast? Join our free Webinar right here.
欢迎光临! Welcome!
You can now subscribe to the podcast on iTunes, Stitcher, Spotify, or you can subscribe by copying the following URL into your favorite podcast APP:
https://www.mandarinblueprint.com/feed/podcast/
The Mandarin Blueprint Podcast focuses primarily on The Mandarin Blueprint Method online curriculum. Creators Luke Neale & Phil Crimmins answer questions and comments, discuss topics related to China and Mandarin learning, and have special guests.
64. Turning Water Into Juice
0:00

MB Featured in Chinese Media!
China News Feature on Mandarin Blueprint
2:04

Miscellaneous
CHAD RESSLER BY EMAIL

Oh good, I'm glad he put that on the podcast. I did end up getting all appx 1100 sentences I was behind all finished and I am current (just finished character 329). I definitely feel different with my reading ability. It's not something I can put into words, but it's kind of like when I have to mount a big 20in tire which is difficult and heavy and then the next car has a 15in tire and I can do it easy lol. I see certain sentences now in Anki that were more difficult for me to read that now I just look at the characters and I don't even really translate in my head, I just know what it means. I also noticed that I'm recognizing more when I'm watching Chinese movies. And it's not just individual words, but I can get whole sentences.

I think that is important for people to know that the bold claims made about the course are 100% true…you will learn it at the level claimed…if the course instructions are followed lol. I went from zero Chinese on January 19th of this year to where I am now at a pace I'm comfortable with.
Chad
5:39
ALINA DANA COROIAN FROM MB COMMUNITY

Hi friends,

I was wondering if you have some personal strategies or thoughts for still making some progress when you go through periods you don't really have enough free time for Chinese.
It is already a month and a half I really struggle but feel like there's no much progress because of the lack of time. I manage to repeat with Anki the Hanzi sets but that is all I managed to do daily. There were some days I could do more, but things go repeatedly this way that I do not have continuity in anything else and it's becoming more and more frustrating. All kind of unexpected happenings with doctors, with my children and so on keep coming. And winter holidays will come soon, that means children will be home all day long, so I don't feel very optimistic.
Any ideas ? How do you organize yourself? What do you find very important to do daily as a minimum, to feel like it's still a progress until better days will come?
12:04
CARLA SANDERS BY EMAIL

I'm loving this new approach. I've been hacking away at learning Mandarin on my own (with occasional help from Chinese friends) for about 4 years with minimal progress. They tell me my pronunciation is good ( one helpful thing about having Chinese friends to listen to!), but I've really struggled with vocab. Having 3 levels of this to learn has been rough (I'm 60, and not as quick as I used to be!)–I'm so happy to have a way to integrate tones, characters and pinyin together! I read "Moonwalking With Einstein" several years ago, and have used some of the memory palace techniques for other things… But I never would have thought to use that in this way. Thanks! I also love how linear your approach is. I'm done with hop-skipping- and-jumping through video-based programs, trying to figure out where the heck I am!

One question–i used the Kajabi app for the pronunciation part of the program, and it was fine. But nothing seems to load when I click on the mastery programs. I emailed the app developers, but haven't heard back. Any ideas?

非常感谢!Carla
14:42
ADAM CARDILINI BY COMMUNITY

G'day Folks,

I am slowly getting through the early stages of MBM and have accumulated a few words made up of two characters, e.g. 的话. I have associated these with an image as suggested but they just aren't sticking. I have found it difficult to pick an image for these and don't feel like I'm doing a good job at associating the characters and words.

I would love to hear how you have been approaching the Word Reviews. What have you found works for you?

It's frustrating because despite finding the single character process very successful I have a stack of Word Reviews in my anki deck that I stare at blankly and repeat 10x before I can mark as 'good' for the day.

Cheers,
Adam
19:30
JAY A FROM MB COMMUNITY

​评论 1

Is there noted anywhere any correlation between TMBM and HSK?

I believe long-term plans are to get the course lessons all the way through HSK 5 or 6; but I'd be interested if there're any intermediate checkpoints. E.g., Once your through MBM Level x, you should be able to pass HSK y.

I trust that OCLO is the better order, and TMBM the best method, for learning spoken Mandarin. Nor am I planning on taking HSK. I'm mostly just curious, but it would also be useful for calibrating any outside reading; like graded readers, The Chairman's Bao, and such.

Not looking to get certificate, more interested in selecting appropriate content from other sources. For which, I thought HSK-level was sort of a common denominator. The Chairman's Bao definitely has its content broken up that way. I've seen it elsewhere as well. Don't really want to wait until after MBM Intermediate/HSK4 to try and get a book or something. Not when there's content advertised at lower HSK levels.

I just checked Mandarin Companion. They don't seem to use HSK, so maybe my assumptions are wrong. They use number of unique characters — Level 1: 300 unique chars; Level 2: 450 unique chars; etc. But, probably not the same first 300 or 450 you chose for OCLO. I'll bet there's good overlap, though. So might try the 300 char stuff when I get to between 300-350 chars from MBM.

You mentioned in a podcast that you were working on getting something going with Mandarin Companion, so my best, no-guess option is probably that. I'm only on char 188, so I've got time. Hopefully you'll beat me and have that all ready to go by the time I reach 300!

Thanks for the responses and for all your hard work.​
25:00
GEORGE ON" MAKE A MOVIE 时"

Thank you for your timely response.

Your response is no doubt an excellent answer to a question I did
not ask.

Trying to re-frame my question. One Mandarin syllable consists of
three letters, "s", "h" and "i". The same syllable may also be
described as consisting of an "Initial" a "Tone" and a "Final".

In this instance, we are concerned with only the Initial and the
Final, we will not consider Tone.

Together, the Initial and the Final constitute the full and
complete Pinyin syllable as expressed by letters from the Roman
alphabet. In this particular case, those letters are "s", "h" and
"i".

The web page of "MAKE A MOVIE 时" states that the Pinyin syllable
"shi" consists of an Initial that is "sh". And the goes on to say
that the final of the "shi" syllable is "NULL".

In this case, I take the use of "NULL" to be similar to the
concept of an Empty Set, that is to say, a set containing no
elements.

In the case of the Pinyin syllable "shi", a Final syllable of
"NULL" would not contain "I".

My question becomes "shi" is the syllable. The Initial is "sh-".
The Final is NULL. Why did the "i" vanish?

The final sentence of your reply puzzles me.

'In other words, the "i" in "shi" isn't representative of sound,
so "i" doesn't get represented by a set.'

Are you saying that in the MB modified Pinyin table ***only***
those letters that are sounded are assigned letters; while
un-sounded letters ***not*** represented by letters?

For example . . . plumb = plum, knight = night, yacht = yat, etc.
29:17
ELARY HALL HAS ON"NEW VOCABULARY UNLOCKED! 对面"

Why doesn't the first sentence use Zai instead of shi?

你对面是一个美女。

English:

Across from you is a hot girl.
31:12
JOHN GRIST ON"MAKE A MOVIE 习"

the title has all the information except the meaning
Level 8 || Character #60: 习 xí
could that be added?
33:46
JOHN GRIST ON"MAKE A MOVIE 勺"

the scene could be in a kitchen bathroom bedroom or outside set.

Would it be better to tie it to the kitchen, filling a tea pot
with the dropper?
looking for spoon in the drawer or making a Mexican wrap on
kitchen table?
35:30
KATHLEEN GANS ON"MAKE A MOVIE 然"

I have looked this character up in several dictionaries and not
one mentions "appearance" as a definition…
37:32
KATHLEEN GANS ON"MAKE A MOVIE 楼"

A lot of these YouTube links are broken. Would it be possible,
going forward, to name the podcast # and the time stamp.
37:59
DAN ON"PICK A PROP 勹"

I missed when this prop was covered ⺈.
The flashcard links back to this video, but there is no mention
of it?
38:39
WILSON WIN ON"TUTORIAL: MB'S SPECIAL EPUB FILES FOR PRACTICING PINYIN FINALS"

I'm on the go and not always connected to the internet to access
google drive files. Can you still provide the ePub files as an
offline option as well. The google slides audio files are also a
bit difficult to maneuver on a phone as well (smaller screen).
Thanks.
42:44
JAY A ON"NEW VOCABULARY UNLOCKED! 可是"

Where does 不过 fit in? It seems I've seen it in many GB
sentences, but that may just be because we hadn't learned 可是
until now.
45:00
FRED SNYDER ON" IT'S A WORD! 中"

Thanks for the answer Phil. Many times I fall back on the same
explanation when teaching my friends English.. "it just doesn't
sound natural!" Or a native speaker wouldn't say it quite that
way. A reminder that language is more art than science.
46:30
ADAM CARDILINI ON"TIME TO GET REAL ABOUT SENTENCES"

That was really motivating. Being able to understand each
sentence shows is very satisfying. Thanks!!
47:02
GARTH GRESKIW ON"NEW VOCABULARY UNLOCKED! 以下"

Luke and Phil, I appreciate your care in crafting the perfect
sentences to test and practice our growing vocabulary. ?
57:50
– Course
Updates
51:25

Movies!
This blog post explains the theory behind Movie Scenes and learning characters.
ELARY HALL ON"MAKE A MOVIE 没"

Matthew McConaughey trying to talk sancho Panza out from
underneath a tiny table in the kitchen. "The water DOES NOT HAVE
any gluten! Its gluten free Panza!" "You know I'm gluten
intolerant, Matthew, and I just can't take it anymore!"
53:10
JAY A ON"MAKE A MOVIE 为"

Two copies of WINNIE THE POOH are in the BATHROOM of my -EI set.
They are playing muskateers, using extra large EYE DROPPERS as
pretend swords. They have just defeated the bad guy by disabling
his BULLDOZER (my prop for 力). One winnie is standing on the
raised dozer scoop, the other is down on the ground. They tip
their eye dropper blades to each other as they declare, "all FOR
one, and one FOR all".
55:24
WILLIAM EDMEADES ON"MAKE A MOVIE 汁"

Keyword: Juice
Actor: Cousin Jake (zh-)
Location: outside entrance of childhood home
Props: Hose (氵), Christian Cross (十)

It's a hot day outside and Jake was looking for something
refreshing to drink. Looking around he sees a cross and a hose,
then he has an idea. He picks up the hose and cross then he
commandeth of the hose to bringeth forth juice! Juice then gushed
out. And so it was done, Jake had turned water into juice.
56:29
IJA ON"MAKE A MOVIE 港"

Keyword: Harbour
Actor: George Clooney
Set: My in-law's house in ampANG
Props: Water bottle, Abacus, Snake skin suit.

It's post-election day and George Clooney is in the bedroom of my
-ANG set, preparing for a pro-democracy demonstration with his
wife in Fragrant Harbour.

He packed in a water bottle, a bullet-proof snake-skin suit and
an abacus to perform headcounts of the demonstrators.
58:04
WILLIAM EDMEADES ON"MAKE A MOVIE 演"

Keyword: To Perform
Actor: Yoko Ono (yi-)
Set: Living room of -an set
Props: Hose (氵- btw SO many hose props in the Intermediate course
haha, over a third of the characters so far have it!), and Shere
Khan from The Jungle Book (寅)

Yoko Ono is hosting a new show called "Nature's Got Talent" in
the living room of my -an set. Shere Khan is the first in the
audition line. After a quick backstory he gets underway, with an
eyebrow raised by Yoko Cowell. Khan grabs a nearby hose and
starts PERFORMING by dancing, and doing tricks. Bored, Cowell
slams the buzzer followed by Khan crying and running offstage.
59:13
DEBORAH DRISCOLL ON"MAKE A MOVIE 百"

My son Beren walks into the bedroom of our old house, with a
giant pencil in his hand. He sees a giant white paint tin with a
brush sticking out of it. He balances the pencil on top of the
brush and spins it around so it flies up into the air like a
helicopter. He counts as it whizzes around the room 100 times.
Suddenly it drops from the sky and lands on its side with a loud
bang. (If he character was on its side it would look to me like
the number 100!)
1:01:04

Props!
This blog post explains the theory behind props and Chinese character components.
WILLIAM EDMEADES ON"PICK A PROP 单"

A duck bill could also be an option as well

RIVER NIXON ON"PICK A PROP 见"

A magnifying Glass

RIVER NIXON ON"PICK A PROP 首"

Nearly Headless Nick

CONNOR GRIFFITH ON"PICK A PROP 亡"

Considering this kinda of looks like a grill to me, in order to
make it cause things to perish I went with the brazen bull.

CONNOR GRIFFITH ON" PICK A PROP 方"

Rock 'Em Sock 'Em Robots. Alternatively a wrestling ring

WILLIAM EDMEADES ON"PICK A PROP 发"

An envelope

CONNOR GRIFFITH ON"PICK A PROP 丙"

Dynamite Plunger

CONNOR GRIFFITH ON"PICK A PROP 氏"

The Smith agents from The Matrix

EUAN GRANT ON"PICK A PROP 贝"

Shell OIL

CHRIS ON" PICK A PROP 大"

WWE Roman Reigns, nickname The Big Dog

EUAN GRANT ON"PICK A PROP 页"

Bastian – 'The Neverending Story'