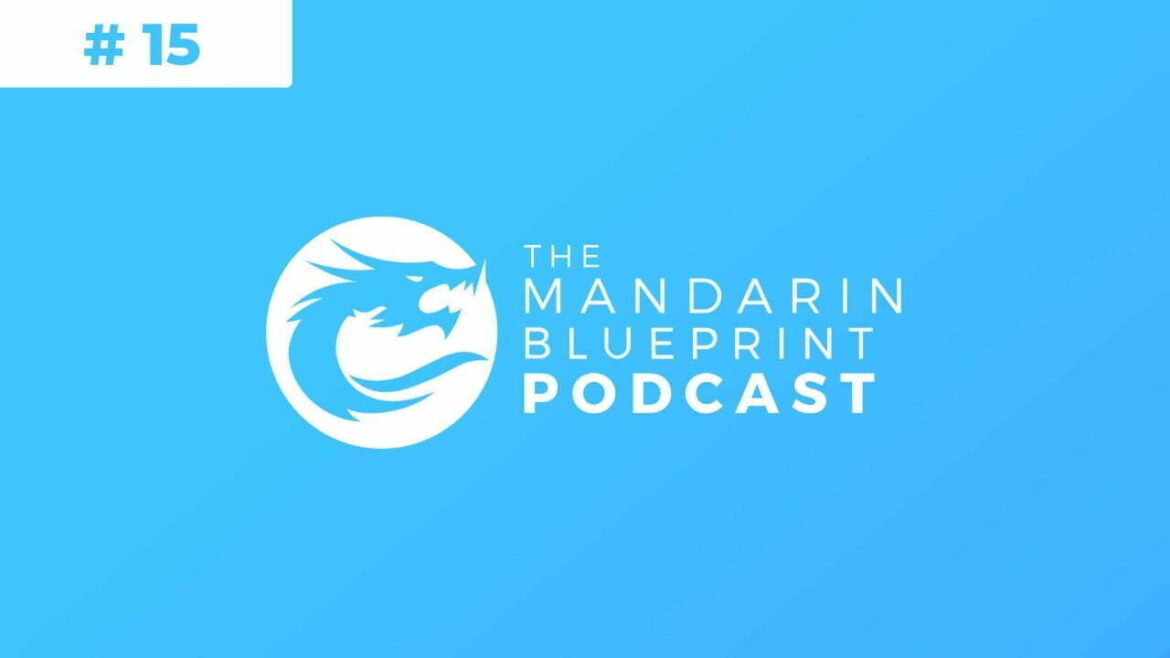 欢迎光临! Welcome!
You can now subscribe to the podcast by the links below, or you can subscribe by copying the following URL into your favorite podcast APP.
欢迎光临! Welcome!
You can now subscribe to the podcast on iTunes, Stitcher, Spotify, or you can subscribe by copying the following URL into your favorite podcast APP:
https://www.mandarinblueprint.com/feed/podcast/
The Mandarin Blueprint Podcast focuses primarily on The Mandarin Blueprint Method online curriculum. Creators Luke Neale & Phil Crimmins answer questions and comments, discuss topics related to China and Mandarin learning, and have special guests.
00:00
– Updates – Luke just finished a couple of e-books
02:15
–
Updates on the expansion of the character order
09:50
– WeChat version of the course
10:40
CHAD – FROM EMAIL

Something I was thinking about today. When you guys or other people who teach Chinese say that we are going to learn the most common 5-600 characters is that pretty standard across all programs or is there a significant difference in what characters are considered standard?
14:43
RYAN SMITH ON CHARACTER #144: 门 MÉN PICK A PROP

The Door of Durin (entrance to the Mine of Moria) makes for a great, distinctive door to use. Especially great because their glowing nature makes them pop out in scenes a bit more.

SIDNEY GREEN ON CHARACTER #264: 艮 GÈN PICK A PROP

I used a picture of a guy cutting himself shaving with a blunt razor blade. The emphasis in the picture is on it being very blunt and so painful.

JAY ANDERSON ON CHARACTER #12: 午 WǓ PICK A PROP

To me, this looks like an old-timey key positioned ready to go into the lock. Which, I know you say here and in the podcast, "then that's it! for you it's a ___". But, it leads me to more general angst I'm having. How do I know I'm not picking something that's going to be an obstacle for me later on? E.g., I imagine we'll get to "key" eventually, and maybe it turns out to be a component for other things. Then I need a prop for it and I've already built an association with key and this component. (Now, taking a casual look at 钥匙, I'm guessing that's probably not actually the case for "key", but hopefully, you get my point.) I'm surely overthinking and/or not yet trusting my memory, imagination, and capacity to distinguish between two different keys, or whatever; but it would be good to hear your insights on "what if I choose something that I later want/need for something else?"

CHAD RESSLER ON CHARACTER #114: 几 JǏ PICK A PROP

Witness stand.

The first thing that came to mind was the movie "A Few Good Men". So I look at this and see the front of a witness stand with Jack Nicholson sitting there.

KNOW NONAME ON CHARACTER #475: 九 JIǓ PICK A PROP

A cat with 9 lives
22:00
JULIA MELNIK ON CHARACTER #12: 午 WǓ CASTING CALL

Wookie, Starwars.

KAI ON CHARACTER #84: 目 MÙ CASTING CALL

Mufasa for me

ABIGAIL ON CHARACTER #36: 况 KUÀNG CASTING CALL

Katniss Everdeen (Hunger Games)

YARDEN IZAK ON CHARACTER #139: 去 QÙ CASTING CALL

I chose RAY CHARLES as a significant character in the music world ! and also cause I love him:)
24:25
JULIA MELNIK ON CHARACTER #12: 午 WǓ MAKE A MOVIE

To me, this sign resembles a bird sitting on an electric pole. So, Wookie from Starwars enters my childhome's bedroom, eating a loaf of bread. He hears the sound of clock striking NOON and says: Time to feed birds! He opens the window and сhops up the loaf. A lonely bird sits down on an electric pole near the house's wall. Sounds: bird's tweet, slight electric buzz.
30:50
WILLIAM EDMEADES ON (BONUS) CHARACTER ANALYSIS OF 习 XÍ

Would 习俗 also mean 'tradition'? Like something the culture has practiced through countless generations?
32:56
RYAN SMITH ON CHARACTER #141: 法 FǍ MAKE A MOVIE

For my keyword connection for the abstract idea of "method", I went with the Weissenborn bassoon method book. I used that book for years while learning bassoon, so it's easy to visualize my copy's beat up pages with the slightly tattered green cover.
34:55
CHAD RESSLER ON CHARACTER #117: 想 XIǍNG IT'S A WORD

The song "Xiang Ni De Ye" by Guan Zhe is great listening practice for the 3rd usage of this word. That song also has several other words we have learned up to this point in the course as well.
36:31
JAY ANDERSON ON CHARACTER #13: 年 NIÁN MAKE A MOVIE

I'm seeing 午 with a bent razor blade between the two horizontals. That works for me because 午 is an electric can opener, not cowboy boots. And bending the razor blade when it gets jammed in there also gives the extra down stroke.

(movie-wise: There's a New Year's ball sticking to the can opener magnet, which grinds loudly as it spins and the can opener plays a really bad rendition of Auld Lang Syne. The cacophony is driving Nancy crazy, so she tries to kill the machine with the razor blade.)
38:40
CHAD RESSLER ON CHARACTER #116: 心 XĪN MAKE A MOVIE

Location: Girlfriend's Apt (Outside the Entrance)
Actor: Shauna (Girlfriend)
Props: Drops of Water and Hook

I arrive at my girlfriend's apt to take her on a date and she has made me one of her projects to tell me that she is in love with me. She meets me outside of the entrance and gives me a snow globe that has a HEART she made with a hook through it and the inside of the snow globe surrounded by 3 large drops of water. She tells me that out of all the fish in the sea that I caught her HEART.
40:50
FENG ZHE 冯哲 ON YOU DID IT!!!

I just want to say that this is one of the best courses I've ever done. Motivating, inspiring, educational, practical, entertaining! I did this at about 8 months into my Chinese learning as a review of pronunciation(even though my pronunciation was already not too bad). So glad I did, it really made me aware of many pronunciation points to pay attention to, as well as other general language/Chinese aspects. I am going to start the Mandarin Blueprint course. Thanks again, guys!
45:11
FENG ZHE 冯哲 ON MOVING FORWARD: THE ROLE OF A TUTOR

My experience with Chinese teachers is this: all they want to do is give you new vocabulary. They do not seem to understand the concept of practicing what you've already learned but not had a chance to use. Teaching equals giving you new words in their minds (which incidentally is easier for them). It really annoys me.
47:06
YARDEN IZAK ON CHARACTER #144: 门 MÉN IT'S A WORD

我一点也不觉得丢人 Can you guys explain this sentence?
一点 little bit
也 also
不觉得 dont think/feel
48:53
TOM ANDERH ON PROBLEM INITIAL X & SIMPLE FINAL I (YI): 习 XÍ

Hi there. I find it not too difficult to produce the J and Q sound, however, I find it extremely difficult to hear the difference. Is there any advice on how to better be able to distinguish these two sounds? Thank you. Tom
53:31
GARETH DAWSON ON "PROBLEM" INITIALS OVERVIEW

Why does s not go with z and c?