Podcast
20. Big Brothers, Fathers, & Headmasters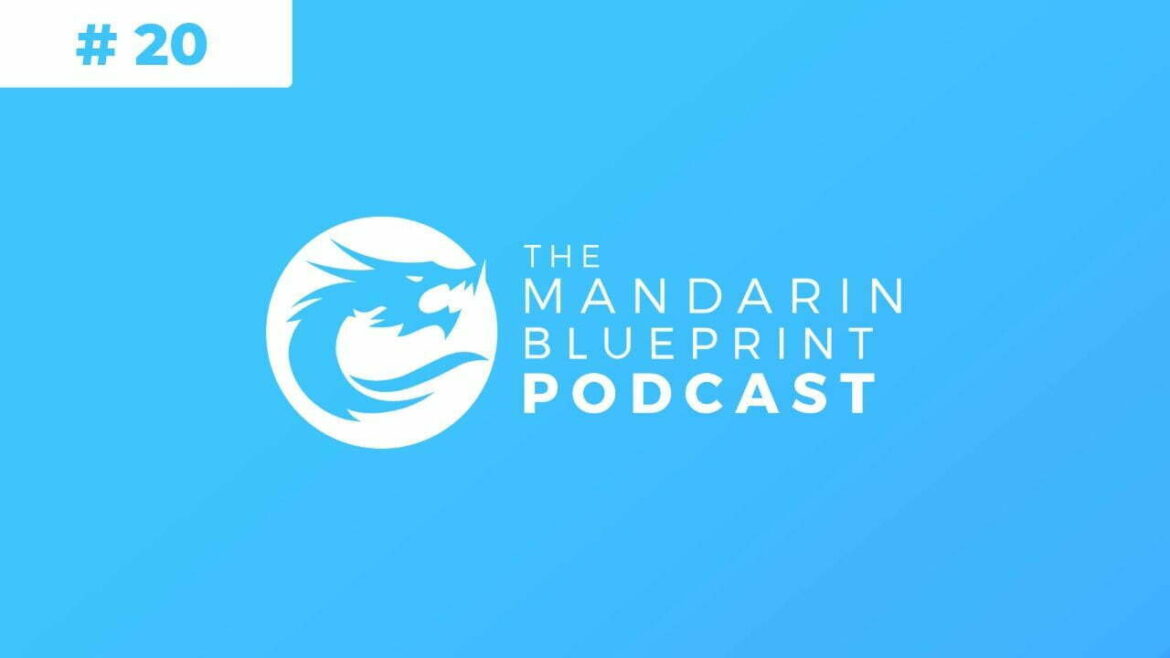 20. Big Brothers, Fathers, & Headmasters
欢迎光临! Welcome!
You can now subscribe to the podcast by the links below, or you can subscribe by copying the following URL into your favorite podcast APP.
欢迎光临! Welcome!
You can now subscribe to the podcast on iTunes, Stitcher, Spotify, or you can subscribe by copying the following URL into your favorite podcast APP:
https://www.mandarinblueprint.com/feed/podcast/
The Mandarin Blueprint Podcast focuses primarily on The Mandarin Blueprint Method online curriculum. Creators Luke Neale & Phil Crimmins answer questions and comments, discuss topics related to China and Mandarin learning, and have special guests.
20. Big Brothers, Fathers, & Headmasters
00:55

Props!
This blog post explains the theory behind props and Chinese character components.
WILL HENRY ON CHARACTER #22: 兄 XIŌNG PICK A PROP

I like the idea of "Big brother" checking in on you. I've decided to go with a security camera

WILLIAM EDMEADES ON PICK A PROP ?

Bit of a silly question at this point, but I just want to be sure. Does the prop have to be a horse's head (or related to a horses head)? Coz I'm imagining it more as a boomerang.

CHAD RESSLER ON CHARACTER #161: 大 DÀ PICK A PROP

I went with Zeus/Apollo from the TV show Magnum P.I.. They were Higgins' dobermans.

WILL HENRY ON CHARACTER #304: 首 SHǑU PICK A PROP

Perhaps an old fashioned headmaster, complete with mortarboard, cloak and whipping cane.
03:46

Actors!
This blog post explains the theory behind actors and Pinyin Initials.
CHAD RESSLER ON CASTING CALL 45/55

Chinese Actress Fan Bingbing

DEV CHEN ON CASTING CALL 16/55

Shamu, Shazam, Shane, The Shadow.

WILLIAM EDMEADES ON CHARACTER #23: 兑 DUÌ CASTING CALL

Don't forget Dr. Emmett Brown from Back to the Future!
05:08

Movies!
This blog post explains the theory behind Movie Scenes and learning characters.
CHAD RESSLER ON CHARACTER #159: 你 NǏ: MAKE A MOVIE

Location: Childhood Home (Living Room)

Actor: Nicki Minaj
Props: Chuck Norris and Ten Commandments Tablet

I'm hanging out with Nicki Minaj in the living room of my childhood home and Chuck Norris is there trying to teach her about the Ten Commandments. He has a replica of one of the tablets and he is going over each of the commandments with her. Nicki doesn't understand the concept of "Thou" and Chuck explains it to her. However, she doesn't seem to get it and starts doing some freestyle rap but using it completely wrong and out of context. Frustrated, Chuck roundhouse kicks the big tablet, shattering it, and yells "It means YOU!".

JULIAN LAFFEY ON CHARACTER #309: 甘 GĀN MAKE A MOVIE

For 'willing' I use George Bush Jr and Tony Blair holding hands – the coalition of the willing.

CHAD RESSLER ON CHARACTER #160: 您 NÍN: MAKE A MOVIE

Location: Girlfriend's Apt (Kitchen)
Actor: Nicki Minaj
Props: Chuck Norris, Ten Commandment Tablet, Heart

I'm standing in the kitchen of my girlfriend's apartment watching some YouTube videos and I come across a new Nicki Minaj music video. Grateful that Chuck Norris taught her what "Thou" really means, she decided to cast him in her new video called "You" (Respectful) [because it doesn't have any swearing in it]. In the video, Chuck is standing on a dance floor in the shape of a heart with the replica of the 10 commandments tablet just like when they were together the first time. Nicki's song is all about that time he taught her with him shattering the tablet in the end just like he did before. Being RESPECTFUL of Chuck's beliefs, Nicki did not swear in the video "YOU" at all.

SOLEDAD MORILLAS ON CHARACTER #17: 八 BĀ MAKE A MOVIE

Hi everyone,

I have a doubt. Thing is I am Spanish, and although my English is good enough to follow the lessons, at being studing Chinese with this English method, I wonder myself if I should record my movie -to remember- either in English or Spanish, my mother tongue language. May that influence I learn or remember quicker if I record my movies in Spanish?

WILLIAM EDMEADES ON CHARACTER #22: 兄 XIŌNG MAKE A MOVIE

I'm an older brother, can I use myself? In a similar fashion to the set we imagined for 介?

WILLIAM EDMEADES ON CHARACTER #27: 识 SHÍ MAKE A MOVIE

I'm gonna have my actor (Sean Connery) teach Oliver Twist to say "knowledge" like Tai Lopez using the megaphone.

Tai Lopez was famous for the way he says "Knowledge" (as "Naar-Lidge") is iconic and he says it in all his videos.

DEV CHEN ON CHARACTER #29: 吗 MA MAKE A MOVIE

One really sweet and quite unexpected side effect for me just occurred using the Mandarin Blueprint method. One of my actors is my dearly departed Dad. In setting a particular scene I recalled and referenced a special moment that we had shared so many years ago that was buried inside my memory. It was really nice remember him in this way and brought a smile to my face :-).

WILLIAM EDMEADES ON CHARACTER #23: 兑 DUÌ MAKE A MOVIE

Anyone who's seen Full Metal Alchemist can use the Law of Equivalent Exchange (basically saying you can't create something from nothing) that's mentioned so many times on that show!
18:16

Pronunciation
DANIEL MOREL ACOLATSE ON TONE CHANGE RULES PART 3: 3RD TONE

What if you have three third tones following one another? Will the tone sandhi be applied or not?

MARCO FUSARO ON PROBLEM INITIALS ZH, CH, SH & R OVERVIEW

Amazing course guys, can't wait to be fully ready to speak with chinese people! ?

I already spoke with some people, and they are getting everyhting i say! ?

凱榮 ON UNIT 3 WRAP-UP

Hi Luke and Phil.

I have a couple of questions about the tongue position for the retroflex initials. The tongue should be by the roof but it shouldn't necessarily be touching?

Also, for the SH sound with the non-i final, what is the correct tongue position? i.e., "shu" or "sha" It's hard to keep the tongue at the same position by the roof of the mouth throughout. Is the correct way to keep it near the roof, similar to "shi"?
23:20
JOHN HAY ON 玩儿 WÁNR NEW VOCABULARY UNLOCKED!

Should sentence 3 not be: Let's go to the park together TO PLAY! Or have I overlooked something concerning 玩儿?
24:56
DEV CHEN ON LEVEL 4 COMPLETE

I'm salivating for that Level 5 gravy! ?
25:19
CHAD RESSLER ON 大人 DÀRÉN NEW VOCABULARY UNLOCKED!

In alot of Chinese movies set in ancient times (e.g. Brotherhood of Blades) you hear this word alot but it seems to mean like Excellency/Lord/Sir. I'm guessing it also has another meaning that isn't used anymore?
27:04
HARRY C BY EMAIL

Hi guys,
Huge fan of MBM, I'm on character 105 now and keep progressing daily. I just thought of something after watching your video at the end of level 12. You talk about wanting to have a community eventually, where everyone is helping eachother. I think that would be great and it's an exciting idea, but I feel like the website and the comment system in its current state isn't a great platform to achieve that goal.
Right now, there isn't a good way for your students who are really passionate about MBM to interact with eachother and talk about MBM in general and exchange ideas and such. Commenting on videos only allows a very limited community, because, for example, I'll never see any new comments in previous videos anymore. Along with that, there isn't a good way to contribute to comments that new students bring up in the early videos.
My idea is to basically have a forum type of place for MBM students and fans of MBM. Not only would this be a place to create a real community, but it would also be a great way for you guys to expand your influence and get more people to hear about you. Even though you guys had a bad experience with Reddit a few weeks ago, my suggestion would be to create a subreddit for MBM and tell everyone signed up with MBM about it. That way, anyone can make posts and comment on posts and comment on eachother's comments. It would solve all the issues I've mentioned, and it's one of the most popular internet platforms currently (in fact, it's how I heard about you guys). I know you guys mentioned a chinese language forum in one of your podcasts, but I bet it gets a lot less traffic than reddit.
Hope you'll take my suggestion into consideration, because I'd love to be able to visit an MBM forum/subreddit and contribute to your product, which I've become really passionate about in the past month.
Thanks
30:35
CHAD RESSLER BY EMAIL

Quick question. How exactly do you ask for the check in a restaurant? I figured I would practice here on lunch, but the girl didn't seem to understand me. So I talked with the guy at the counter. He said that mǎidàn is a verb, but Pleco lists it as a noun? He said that the correct word is jīpiào, but Pleco says it means plane ticket? I was doing hunky dory up to the point of asking for that check!
33:25
JEREMIAH BY EMAIL

Dear Luke and Phil,
I appreciate how you guys expanded the free trial materials recently to allow me to peek a bit more at your overall roadmap. After looking everything over, I'm sold.
Right now I'm going through your pronunciation course as a review. When that's finished, I'm going to subscribe and start working through the main course.
I don't know how many clients you get who are in my position – folks who have studied for a period of time already, and who have made it to maybe an intermediate level the hard way. Maybe you get quite a few.In any event, my plan is to start using Mandarin Blueprint as the main locus of my language studies. I'll still go to my uni classes (a requirement for my visa), but I'm going to focus on your materials. Really excited about what you've put together.
I'm wondering if it would be useful to you guys for me to keep a sort of running journal of how it works for me – a sort of extended testimonial? Assuming it goes well, such a record could be useful in promoting your course among students who aren't starting from scratch, but who would like a better and more organized overall system. I'm happy to do this, so just let me know if you'd be interested.
Cheers,
Jeremiah