Podcast
67. Learning, Reviewing & Acquiring Mandarin Chinese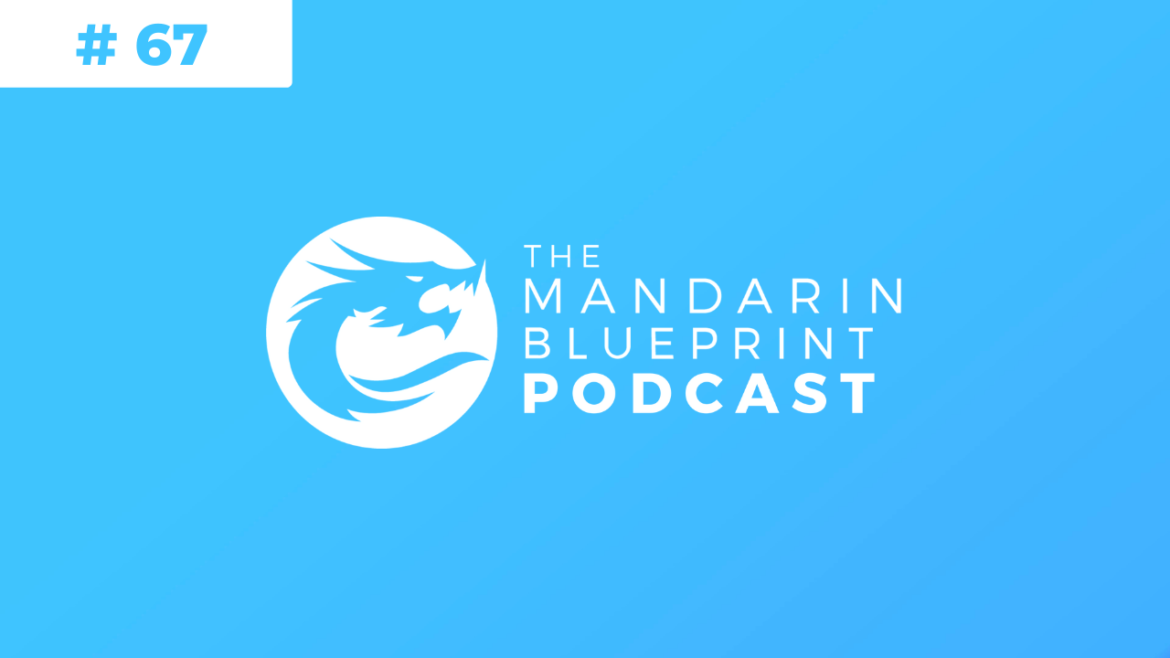 67. Learning, Reviewing & Acquiring Mandarin Chinese
欢迎光临! Welcome!
You can now subscribe to the podcast by the links below, or you can subscribe by copying the following URL into your favorite podcast APP.
欢迎光临! Welcome!
You can now subscribe to the podcast on iTunes, Stitcher, Spotify, or you can subscribe by copying the following URL into your favorite podcast APP:
https://www.mandarinblueprint.com/feed/podcast/
The Mandarin Blueprint Podcast focuses primarily on The Mandarin Blueprint Method online curriculum. Creators Luke Neale & Phil Crimmins answer questions and comments, discuss topics related to China and Mandarin learning, and have special guests.
67. Learning, Reviewing & Acquiring Mandarin
2:20

Miscellaneous
JAMES LIMACHER BY EMAIL

Thanks, Phil! I just signed up for the lifetime access!

I have been studying Mandarin on and off (more off than on) for a while now, but found I was at a point where characters were absolutely going to be essential for me to move forward. So when I started reading about Mandarin Blueprint I was excited to learn that you developed your methods because you reached the same conclusion.

I certainly hope it won't be a "lifetime" before I reached a useful level, but having an open-ended subscription makes me feel more comfortable. Plus I am pleased to be able to add my support for the work you have done to benefit all learners of Chinese.

Best,

Jim
5:42
ABIGAIL JANE FARNWORTH BY EMAIL

Hi Luke & Phil,

You've said before you want feedback on MB, and I came across a really interesting article on one guy's frustrations in learning languages (using Anki) this morning. The comments are worth reading too. It collates many people's experiences of learning languages, and it made me reflect too. Encouragingly, he seems to have come to many of the same conclusions and methods that you have ?

https://www.dannycrichton.com/2016/05/15/the-near-impossibility-of-learning-languages/ and the follow up article https://www.dannycrichton.com/2019/08/26/how-i-use-anki-to-learn-korean/

Something else I've struggled with in Anki is synonyms. Maybe for some sentence cards we need more than one gapped sentence to make it clearer which character/word it is? I regularly Google the difference between certain characters/words and make a note of the 'rules' (eg. for 可是 & 但是, 再 & 又, 在 & 着, 还 & 也 & 还有, 另 & 再, 同 & 一样, 记住 & 记得, 每天 & 天天, 一点儿 & 一下 & 一会儿, 样& 相). I know you say not to worry so much about 'rules' and that you pick up nuances while reading etc., but it's frustrating if I always get the same card wrong just because I pick the synonym!

There are also some sentence cards where I think more than one character could fit (but they result in different meanings) eg. 来/去(I've resorted to putting in brackets 'not 去'!)…In a recent call with Luke he suggested adding pictures, but it's still unclear to me with characters like 来/去. Sometimes I copy & paste the sentence into Google Translate to 'test' my own idea of which other characters could fit…maybe this is a bad habit? I know Google Translate isn't reliable.

I can identify with the issue of Anki reviews taking up the bulk of my (hour's) study time each day, meaning I'm not learning anything new and feeling discouraged at not progressing. Typically I have 100 reviews per day, and by the time I've done my reviews, checked the difference between 2 similar characters/words, gone back into a lesson to check something, my hour is up ? or sometimes I can squeeze one or two new characters in plus their accompanying props and words. Question – when you have a long dialogue on a sentence card, should you read the whole thing out loud each time? (this can take a while, especially if there are lots of top-down words!)

…But I liked this comment: (hopefully it will motivate me to get through my flashcards faster rather than seeing them as the bulk of my study each day)

But I never considered that "learning Chinese" was equal to "doing flashcards".
To me, doing flashcards doesn't count, at all. It's like washing the dishes after cooking.
Learning Chinese is something I do by reading books, talking, watching TV every day.
Adding flashcards and repeating flashcards with a SRS repetition system is just the best and most efficient way to remember those things that I learned.

This comment suggests another way of using Anki, what do you think?:

Thanks for that article, it really struck a chord with me. For my Chinese studies, I have a few 1000 flashcards in another system, but working through them every day feels so dull that I also quit. Years ago.
Now I restarted with Anki, but instead of entering words I use audio snippets from an online podcast database and complement self recorded English translation. So while driving my car to work, I can have Anki play my English audio to me and then I can say the phrase in Chinese. If I want to, I can check the Chinese audio. I can also then replay the Chinese audio listening for the correct tones or take my time to play around with the words, forming different sentences…
I found this:

Much more engaging than studying only words

Way more efficient in improving my ability to form sentences

More efficient in actually retaining the vocabulary

But I'm still LOVING the course, thank you so much for all you do ? (I still squirm with delight each time you address one of my questions in a podcast!)

Best,

Abi
27:39
WILLIAM EDMEADES BY COMMUNITY

Hey everyone!
Don't know if this makes any sense but does anyone else feel that every time you read Chinese sentences (especially Anki reviews) it kinda feels like you're "gaining xp" and then eventually "leveling up" your chinese fluency?I say this because, to me, it feels that way every time a "breakthrough" moment happens like the ones that Luke and Phil keep talking about.Is it just me or does anyone else feel the same way?William
30:23
GEORGE SPAIN-WARNER BY COMMUNITY

Hi there,

This might be one for Luke and Phil, however you guys might know too. Just wondering if once i've completed the first 300 characters i'll be ready to take my HSK 3 exam? i.e. are the first 300 characters on this course the same as the 300 req for the HSK 3 exam?

Thanks a lot!
35:13
DANIEL LÉO SIMPSON BY COMMUNITY

Hey everyone – say, I've done about 500 of the 2000 lessons for the Foundation course and want to go back and do the whole thing again just to really reinforce what I've learned and to pick up on anything I've missed. Is there a way to "reset" my progress to zero? It's not a big deal if not but I just thought I'd ask.
And thank you!
Daniel
37:20
JAY A ON"NEW VOCABULARY UNLOCKED! 关心"

I'm curious about any insights you might have on this word. With
the closed/locked up/shut down meanings given for 关, my
native-English-speaking brain wants to associate the exact
opposite meaning to 关心。Maybe there's some cultural perspective
that makes the connotation clear; or, maybe there's an ancient,
no longer used, meaning for 关 in this case. Not vital for
continuing MBM, of course, just a personal fascination with
etymology.
41:49
TYSON HOFFMANN ON"PICK A PROP 气"

Phil gives many ideas for "gas," but the previous video with
Luke had 气 described as "air." I know that it can mean both, but
it's a bit of a misdirect, right?
44:26
ABIGAIL ON"IT'S A WORD! 被"

What does 走 mean in 那只狗被人偷走了? Is it part of a compound verb
偷走(my guess from Pleco!)
48:10
ABIGAIL ON" LEVEL 18 UNLOCKED CONVERSATION CONNECTORS"

What does 一起来 add to the phrase: 今天我们一起来看一下…? Can the phrase
make sense without it?
49:33
– Course
Updates
55:16

Movies!
This blog post explains the theory behind Movie Scenes and learning characters.
ABIGAIL ON"MAKE A MOVIE 长"

I have 2 parts to my movie scene, the first part is cháng
(long), the second is for zhǎng (to grow).

Actors: ch=Chad, zh=Giovanni
Set=hair salon (my hairdresser is called ANGela, the first scene
takes place in the reception, the second scene takes place in the
main salon)

Chad is very proud of his LONG hair so he wants to make sure the
hair salon won't make a mess of it. But as he tries to make an
appointment, he sees people ice skating on the ceiling. He tries
to back out but they are pulling him back with a hook (like the
Lonely Goatherd scene from the Sound of Music) Luckily he has a
sonic screwdriver and manages to free himself and runs away as
fast as he can!

***

Chad spots Giovanni in the salon and is amazed at how much his
hair HAS GROWN. So he decides to trust them and walks back in to
make an appointment.
1:00:02
DEREK HAUNG ON"MAKE A MOVIE 占"

Had Jacky Chan in the bathroom in my house, occupying the
washroom, stirring the mouth of the toilet and it's contents with
a massive magic wand/stick.
1:01:02
JEFFREY HERZOG ON"MAKE A MOVIE 从"

This is great a memory I already have is standing in my godmom's
(Rebecca strong's) kitchen and water is pouring through the wall.
I'm trying to find out where it's coming from. In my scene Jesus
Christ is standing in the kitchen and water is spraying from the
kitchen wall, he puts up an umbrella when all of a sudden another
hole opens and more water comes out so he opens another umbrella,
the whole time searching for where the water is coming from.
Is this a good scene?
1:03:09
KIKA BISOGNO ON"MAKE A MOVIE 人"

I just bought my boyfriENd a new PRUNING KNIFE and now his
roommate Robert (Downey Jr.) wants one too! Everyone knows he's
not a responsible PERSON so I begged him never to leave it in the
kitchen unattended and asked him to cover the blade with BANANA
peels as an extra safety measure.
1:04:05
KIKA BISOGNO ON" MAKE A MOVIE 从"

I was walking along the Club House cafeteria when, all of a
sudden, Confucious appeared out of nowhere, riding a wild horse.
"What the hell are you doing? you almost ran over me", I
screamed. "I come FROM the stables. Somebody spiked my two SPURS
and now this horse is out of control. HELP!" he replied.
1:06:00

Props!
This blog post explains the theory behind props and Chinese character components.
MAKAI ALLBERT ON" PICK A PROP 言"

J.D Salinger

WILLIAM EDMEADES ON"PICK A PROP 廴"

廴- Mr. Fantastic from Fantastic Four or ElastiGirl from The
Incredibles

WILLIAM EDMEADES ON"PICK A PROP 廴"

A trampoline could be another option as well as they stretch

WILLIAM EDMEADES ON"PICK A PROP 林"

Winnie the Pooh "100 acre woods"

WILLIAM EDMEADES ON"PICK A PROP 未"

未 – Going with the idea of "teenager" ('not yet' meaning), so
I'm picking Ferris Bueller