Case Study – Kevin Jackson From New Zealand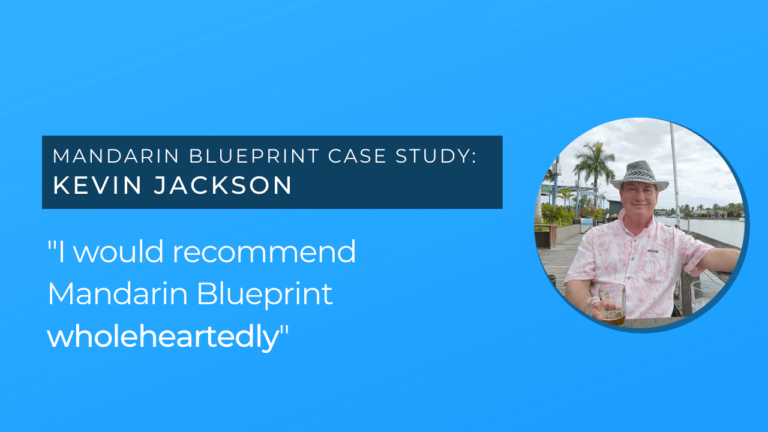 Self-Introduction
I was born in the UK but now live in Blenheim, New Zealand. Since I work in aviation and I am based in Wellington, I stay in a studio flat near the city center during the week and pop back to our proper home in Blenheim – normally on a ferry across the Cook Strait – at the weekends.
I left school at 16 having hated pretty much every second of it, where I failed miserably to get on with French. However, when life took me to other parts of the world, Germany with the Army, Poland with a training job, I didn't have a great deal of difficulty absorbing enough language to get by. This might not seem important, but this experience combined with a distrust of the usefulness of formal education encouraged me to look very positively at the Mandarin Blueprint approach.
What Problem Were You Facing That Caused You to Search for a Chinese Course?
I had no specific reason to learn Mandarin – I was intrigued by the advert for the Pronunciation Mastery Course on Facebook during the lockdown for Covid 19 and took a chance. I looked at it as getting something positive out of the enforced time working from home – and that has worked out well for me.
What Would It Mean for You Personally/Work if You Succeed in Learning Chinese?
There is some interaction with Chinese people in my job, but everyone speaks English in the aviation world, so I see this more as a personal achievement.
Once we can travel internationally again, I am sure that we will take a holiday in China or Taiwan.
How Long, On Average, Does It Take You to Learn a Character?
That is very difficult to say because some characters seem to stick more easily than others – and I haven't yet worked out what it is about my scenes that make some more successful than others. I don't 'see' things in my mind in the way that other people clearly do which is a bit of a disadvantage, but the Hanzi Movie Method does work for me, it just seems to work in a way that I don't fully understand yet.
How Long Did It Take You to Get to That Speed?
You are excellent at motivating your customers, but I am certainly not a high-achieving client! I am getting better, but I have not mastered the Hanzi Movie Method completely yet. It is difficult linking scenes to the keywords for me, but at least I know I need to work on that area.
Which 3 Parts of MB Have Made the Biggest Impact?
Overall what I have liked is the common sense approach to language learning without worrying too much about traditional learning methods and the passion that shows through in everything you do.

A few things that have really stood out to me are:
Tongue position – the insistence on getting the tongue position right is so simple and yet quite obviously the key to good pronunciation.

The structure – you have clearly put a huge amount of time and effort into the course – and it shows.

The trust that you have generated in me. I am now completely confident that if you say 'don't worry about something' or 'this might not seem a useful character, but …' there is a very good reason for that and I am happy to go with you.
What Results Have You Achieved & What Impact Has It Had On Your Life?
I have acquired a very interesting hobby that will last a lifetime. I can practice this hobby without any particular equipment and virtually anywhere. The impact has been that it has opened a window into another world.
What's Your Experience Been of the Community Aspect of the Course (Comment, Community Forum, etc.)?
I've not really engaged with the forum. However, I feel that I should do more but I am a bit constrained.
I have the luxury of unlimited fiber broadband in Blenheim, but during my working week in Wellington, I have to pay for WiFi so I tend to do what I need to do to learn another character and then leave it at that.
I do Mandarin Blueprint, Anki, and an app called Chinese Skill every day.
What Were You Skeptical About?
Because I struggle to visualize people I was a little unsure. I learned that I can't do this as easily as other people when I had to do an NLP-type course with work – however, I have made this work – I just don't quite know how I did it.
I have learned to trust you and I now know not to worry if I can't get a character straight away, Anki will fix that for me.
Any Suggestions for How We Can Improve the Course?
It would be great if the Pronunciation Mastery Course lessons would be revisited at the right times throughout the course.
Is there a way to protect your intellectual property but allow me to download your lessons to watch on the go?
I don't really listen to the podcasts because they are a bit long – have you thought about doing two shorter podcasts a week instead?
Would You Recommend MB? Why or Why Not?
I would recommend Mandarin Blueprint wholeheartedly. The Hanzi Movie Method which sits at the heart of the course really works. It allows you to deal holistically with learning all the elements of, what can seem at first glance, a pretty impenetrable language very efficiently and in a way that is so personal that it feels as if you are teaching yourself.
I have learned to trust the Mandarin Blueprint Method and if I am given a character to learn, I feel confident that there is an extremely good reason for that character to be presented at that particular time in that part of the course.
Luke and Phil do an excellent job, and they are so passionate about teaching Mandarin that they seem to be providing 1-1 tuition.
I get a lot out of my daily practice, but they provide a lot of advice on how to get even more out of the lessons and how to boost your progress.
I have barely scratched the surface of the resources that they provide. But, I have plenty of time – Mandarin Blueprint has led me into an endlessly fascinating hobby that has given me a window into a whole new world. I'm going to be enjoying learning Mandarin for years and years to come.
There are cheaper resources out there – and I have used some of those myself to widen my exposure to the language and culture – but you get what you pay for. The Mandarin Blueprint Method works and once you see how much Phil and Luke have put into this course you will see it has good value.
Have a very happy and prosperous new year.
All the best,
Kevin