Less Than 1 Minute to Learn a Chinese Character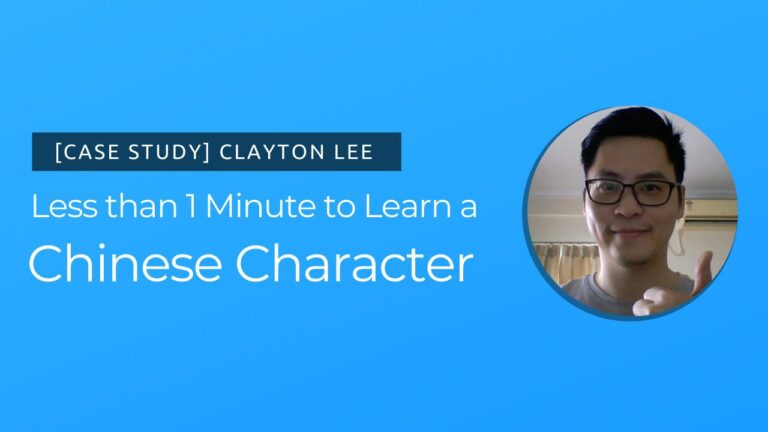 "I'm at character #190 and am very confident that I have memorized all prior characters. I am surprised at how quickly I can recall the pinyin or meaning when reading. I have also impressed my native-speaking friends"
Self-Introduction
Hello! I have a bit of a unique upbringing. I am a 4th generation Hakka who grew up in India. As the Hakka people originated from China, the Hakka language has some similarities to Mandarin. We use the same characters as Mandarin but have different pronunciations. I always had issues with learning Mandarin characters via the traditional memorization method. I studied a few years of Mandarin classes as a child but barely remembered any characters.
What problem were you facing that caused you to search for a Chinese course?
I recently traveled to Taiwan and was embarrassed to be unable to read, speak, or understand the language. Coincidentally, I also had some free time and decided to fill it with a productive endeavor such as learning Mandarin!
What would it mean for you if you succeed in learning Chinese?
It would first shatter my long-held belief that I was 'bad at languages', and would allow me to communicate with a large portion of the world's population, which can never be a bad thing.
How long, on average, does it take you to learn a character?
And how long did it take you to get to that speed?
Currently, it takes less than a minute to learn a character, solidified over a few minutes of ANKI practice over the following few days. Initially, it took about 5 to 10 minutes as I was getting used to the Hanzi Movie method. However, my speed increased drastically after a week or two. Of course, it depends on how much focus and time I put into the Mandarin Blueprint system.
Which three parts of MB have made the most significant impact?
1. The Hanzi Movie method – Memory Palaces are not a new concept to me but this course systematically lays the groundwork required to use this method effectively. At first, I just wanted to learn to converse in Mandarin. I am pleasantly surprised at the speed that I can learn characters, pinyin, and speak at the same time.2. Your Flashcard decks – To have someone build out a deck of ANKI flashcards in a systematic way is a huge time saver. I didn't expect it to be so useful.
3. Your videos are very valuable. Having access to another student's perspective does help when caught in a bind. I find Phil and Luke's videos to be motivating, and I think it speaks to their genuine desire to teach.
What results have you achieved & what impact has it had on your life?
I'm at character #190 and am very confident that I have memorized all prior characters. I am surprised at how quickly I can recall the pinyin or meaning when reading. I have also impressed my native-speaking friends
As a side effect, I have noticed increased cognitive ability. It's almost as if learning Mandarin forced my rusted brain to start running again.
Were you skeptical about anything going into the course?
I did not expect it to be so easy to learn characters and pinyin. Your methods for doing so were very effective.
Any suggestions for how we can improve the course?
My only suggestion is to add a few videos in chapters 13 onwards. Perhaps just during the chapter review? It's a little jarring from videos every lesson to none at all. I do not need to be hand-held through the entirety of the course, but it somehow seems less personal now.
​Would you recommend MB? Why or why not?
Absolutely! Why? Because it works!