Mandarin Blueprint Featured in China News! 中新社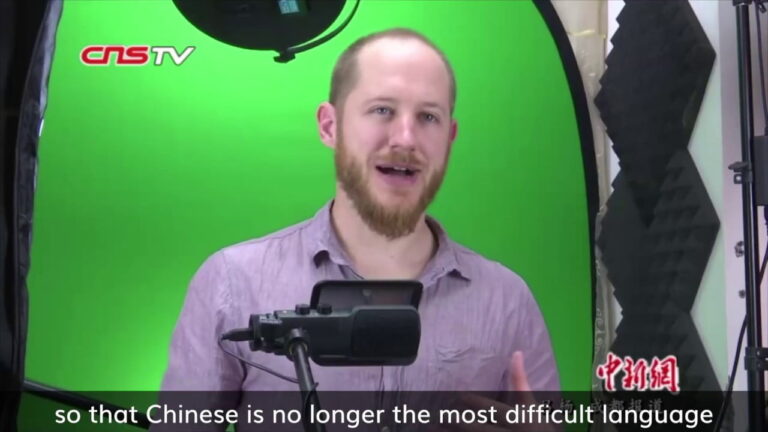 Mandarin Blueprint Featured in China News!
Below is the English translation from the video of Mandarin Blueprint featured in China news. Further below is the original Chinese transcription.  
Mandarin Blueprint Featured in China News – English Translation
[synchronous sound] You can learn the vocabulary faster by reading this passage.
  [narration]On December 3, surrounded by lights, facing cameras and microphones, and speaking fluent mandarin, the American young man, Phil, started recording a new video course. His studio at home in Chengdu is only six to seven square meters. But from 75-year-old senior citizens to 18-year-old high school students, more than 7,000 Chinese language-lovers from around the world learn from Phil's courses through the Internet. And the courses are produced in this small room. For the past four years, Phil has often created online courses in here.
  Fans, black tea made from old tea plants, ink and wash paintings, Chinese elements can be seen everywhere here. Phil told the reporter that he loves Chinese culture, especially the Chinese language and characters. When Phil entered Sichuan University to learn Chinese in 2014, he tried many methods to memorize Chinese characters with his classmates. After several tries, he found a "secret recipe" suitable for foreigners to learn Chinese characters. Through this method, Phil passed the test of HSK-Level 6, the highest level of the Chinese proficiency test, in only two years.
  [synchronous sound] (Chinese language lover Phil) The Chinese language in and of itself is very interesting. Our learning methods are also very effective, we learned much faster than all of our classmates, so we wanted to share with them the methods that can make people learn Chinese characters very quickly. If you can learn Chinese characters, you will realize that the language is very logical.
  [Narration] The most effective of Phil's learning methods, among others, is called 3D spatial imaging, which is to correspond the initial consonants, finals, tones, radicals, and meanings of Chinese characters with homophonic or meaning related objects, scenes, and actions. 
  [synchronous sound] (Chinese language lover Phil) We use the shorthand skill of 3D spatial imaging in teaching because it's hard to remember the characters on paper. However, if we could visualize the components of a character, then use our imagination to turn them into an object, person, or place, we can better remember that character. 
  [Narration] Phil shared his "secret recipe" with other classmates without reservation, but from then on, he began to "teach people to fish". A week before graduation, Phil obtained Sichuan province's first Entrepreneurship visa by submitting his business plan and started his business. From the live in-person teaching in the early days to the later live webcast teaching, and to the current video course recording, his audience has spread all over the world, and the numbers are growing.
  In order to make the audiences learn Chinese more quickly, Phil's team also collected various newspapers, magazines, and books, and built a large database of billions of Chinese characters. Every Chinese character can be calculated through big data to find out the high-frequency words that appear in daily life, and then give these words priority in the learning sequence. Phil said that so far they have completed 4,000 lessons and increased their team members to 10. He hopes to create a platform where people in all time zones around the world can learn Chinese together so that Chinese is no longer the most difficult language to learn in the world.
  [synchronous sound] (Chinese language lover Phil) Mandarin has about 420 syllables, 1200 (or so) if you include tones, but as a comparison, English has 16,000 syllables. In English learning, the rules are vague and not unified, as the language has many origins. However, if you learn Chinese characters well, because Chinese is a very logical language, a very unified language, the language is actually very easy to learn. Our greatest plan is to help humanity realize that Chinese is not the most difficult language to learn in the world.
Chinese Transcription
【同期】你看这段话可以更快地习得里面的词汇。
  【解说】置身灯光环绕,面对摄像头和麦克风,说着流利的普通话,12月3日,美国小伙从云又开始了新视频课程的录制。位于成都家中的工作室虽然只有六七平方米,但上至75岁老人,下至18岁高中生,全球各地7000余名汉语爱好者通过网络学习到的从云教学课程,都是在这间小房间制作而成,四年来,从云经常要一个人在这里完成网络课程的制作。
  扇子、古树红茶、水墨画……从云的家里中国元素随处可见。从云告诉记者,他很喜欢中国文化,尤其喜欢汉语和汉字。2014年进入四川大学学习汉语时,从云和同学曾采用多种方法来记忆汉字,几经摸索,他找到了适合外国人学习汉字的"秘方",通过这种方法,从云只花费两年时间便通过了中国汉语水平考试中的最高级别考试——六级考试。
  【同期】(汉语爱好者从云)汉语本身是一种很有趣的语言,我们的学习方法也是非常有效的,我们学习的速度比我们所有的同学还要快得多,所以我们想分享给他们方法,可以让人很快就学会(汉)字。如果能学会(汉)字,那么大家都会意识到汉语是非常有逻辑的。
  【解说】从云众多学习方法中最行之有效的方法叫"立体成像学习法"。通过把汉字的声母、韵母、音调、偏旁部首、含义,分别对应成谐音或意义相关联的人物、场景、行为。
  【同期】(汉语爱好者从云)我们的学习技巧是使用一个立体成像的速记方法,因为在纸上的字是很难记住,但是如果我们可以把每个汉字的组成部分具体化,然后在我们的想象里变成一个东西,或者一个人,或者一个地方,这可以让我们更好地记住。
  【解说】对于自己的"秘方",从云毫不保留地分享给其他同学,但从此他便开始了"授人以渔"的生活。毕业前一周,从云通过提交创业计划书申请到了四川第一张创业签证,开始了创业之路。从创业初期的线下汉语教学,到后来的网络直播教学,再到现在的视频课程录播,他的受众已经遍布全世界,而且人数还在不断增加。
  为了更快捷学习汉语,从云的团队还搜集各类报纸、杂志、图书,建立了有上千万个汉字的大数据库。每一个汉字都可以通过大数据计算出这个汉字在生活中出现的高频词语,优先进行学习。从云说,目前他们已经完成了4000节教学课程的制作,团队也增至10人,他希望能打造一个全球所有时区的人都能共同学习汉语的平台,让汉语不再是世界最难学的语言。
  【同期】(汉语爱好者从云)普通话差不多只有420个音节,如果包括声调是1200(多个),但和英语相比,英语有16000个音节。学习英语,因为有那么多来源(形成的)语言,所以规则并不统一,很不明确。但是,如果你学好(汉)字,汉语是一种非常有逻辑的语言,很统一的语言,所以其实是非常好学。我们最伟大的规划就是,让人类(们)意识到汉语并不是世界(上)最难学的语言。
Learn how to read, write, understand, and speak Mandarin Chinese like a pro by gaining access to our patent-pending curriculum, The Mandarin Blueprint Method. Everything you need to master Mandarin Chinese packed into 4,500 lessons. Start your 14-day free trial and gain access to our entire curriculum right now.
Related Posts